Written by Mab Sidam
22 December 2022
The following chart shows where the 32 NFL teams stand relative to each other in stopping the pass and stopping the run: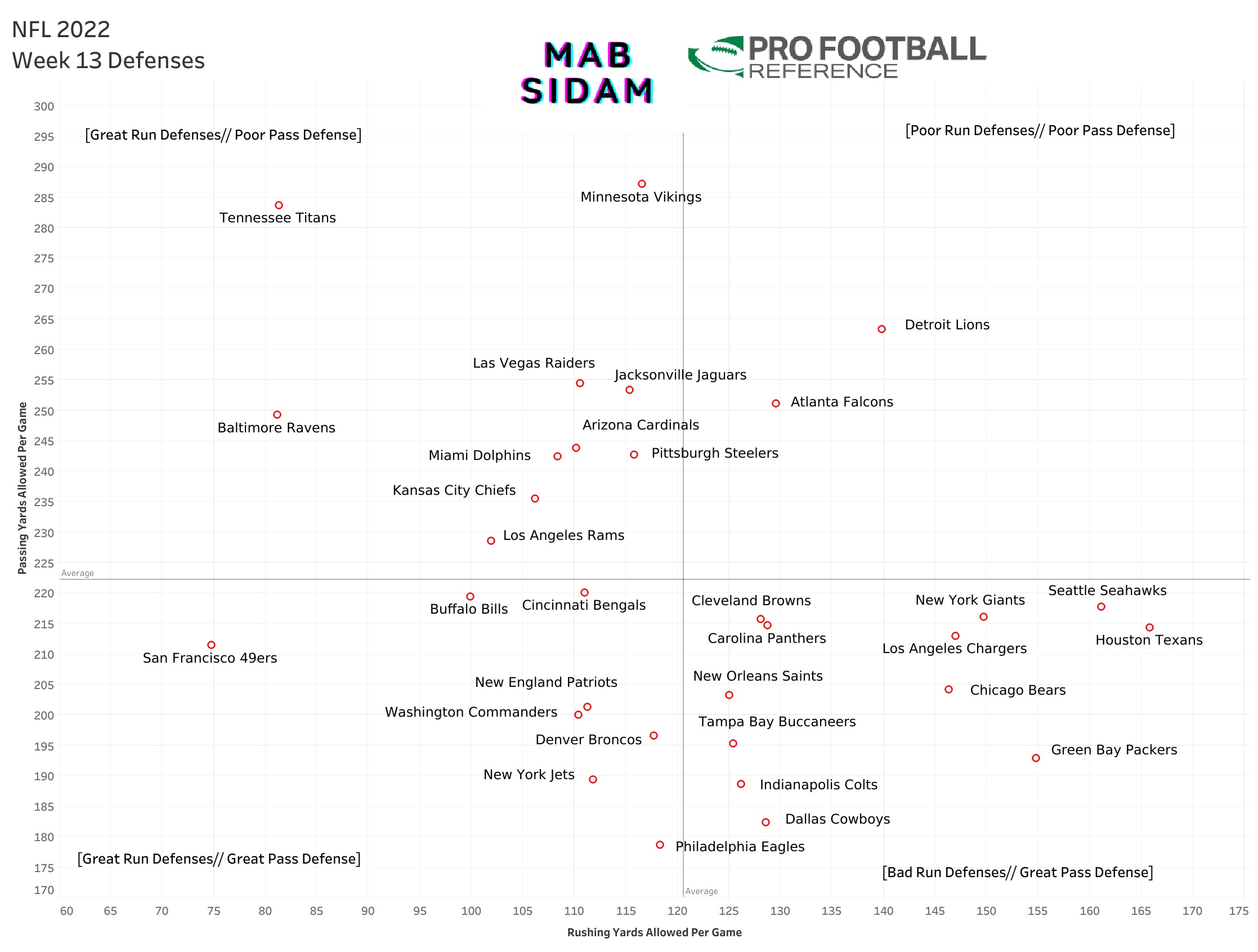 Outright Horrible Defenses
Detroit Lions - Defensive Coordinator: Aaron Glenn
Former pro bowl corner Aaorn Glenn has had a turbulent first year as Lions defensive co-ordinator. The former Saints defensive backs coach has yet to have an impact on the Lions secondary, the Lions are the NFL's worst pass defense. The linemen of the Lions are the stars of the show, good at delivering pressure/getting sacks but struggle to stop the run.  
If Glenn is to keep his job it'll be my molding that talented defensive line(led by rookie star Aidan Hutchinson) into a force. The secondary needs a serious talent injection before any scheme play can help them.


Atlanta Falcons - Defensive Coordinator: Dean Pees
Coach Pees retired as Titans DC in 2019 and only stepped back into the game when former Titans OC Arthur Smith got the Falcons job, safe to say Pees is a bit rusty with his play calling. The Falcons defense holds up like wet papermache. 
The Falcons secondary has been a question mark all year highlighted by the week 7 loss where Joe Burrow and the Cincinnati Bengals tore the Falcons secondary to shreds.
The Falcons defensive line has also been quite disappointing this season. Rarely putting the QB in pressure situations and one of the lowest sack totals in the NFL. The frontline at least performs well in rush situations leaning into star defensive tackle Grady Jarrett. 
I am not an ageist, many old coaches Pees age perform well in college and the pros but it would be best for the Falcons to move off Pees to breathe some new life on that side of the ball.


Outdated Defenses; Good Run Defense/Bad Pass Defense
Tennessee Titans - Defensive Coordinator: Shane Bowen
Minnesota Vikings - Defensive Coordinator: Ed Donatell
Baltimore Ravens - Defensive Coordinator: Mike Macdonald
Las Vegas Raiders - Defensive Coordinator: Patrick Graham
Miami Dolphins - Defensive Coordinator: Josh Boyer
Arizona Cardinals - Defensive Coordinator: Vance Joseph
Kansas City Chiefs - Defensive Coordinator: Steve Spagnuolo
Los Angeles Rams - Defensive Coordinator: Raheem Morris
Pittsburgh Steelers - Defensive Coordinator: Teryl Austin
Jacksonville Jaguars - Defensive Coordinator: Mike Caldwell
Whether it's star defensive-minded head coaches like Mike Vrabel or Mike Tomlin, new defensive coordinators such as Ravens coach Mike Macdonald, or career coaches such as Chiefs coach Steve Spagnuolo many are failing to update their scheme to the modern NFL. It's a passing league not a running league. In the yesteryear of the NFL a dominant rush and run unit was enough to make for a contender, but today that seems like a straight road to .500 season. 
These teams almost sell out on the pass to deliver as much pressure as possible, they struggle when the offensive line is able to withstand the pressure and the QB gets an opportunity to pick apart their weak secondaries. In this passing era, receivers don't need many opportunities to hurt a team while defenses like the ones above give them plenty of opportunities to make plays.
Modern Defenses; Good Pass Defense/Bad Rush Defense
Seattle Seahawks - Defensive Coordinator: Clint Hurtt
Houston Texans - Defensive Coordinator: Lovie Smith
New York Giants - Defensive Coordinator: Don Martindale
Los Angeles Chargers - Defensive Coordinator: Renaldo Hill
Chicago Bears - Defensive Coordinator: Alan Williams
Green Bay Packers - Defensive Coordinator: Joe Barry
Cleveland Browns - Defensive Coordinator: Joe Woods
Carolina Panthers - Defensive Coordinator: Al Holcomb
New Orleans Saints - Co-Defensive Coordinators: Ryan Nielsen and Kris Richard
Tampa Bay Buccaneers - Co-Defensive Coordinators: Kacy Rodgers and Larry Foote
Indianapolis Colts - Defensive Coordinator: Gus Bradley
Dallas Cowboys - Defensive Coordinator: Dan Quinn
The above teams are great at limiting passing opportunities for the offense by either playing great coverage or talking the ball away. In the modern NFL which leans so pass heavy, stopping a team's ability to move the ball through the air almost disarms the opposing offense. 
The Cowboys defensive unit is the best example of this unit; a devastating pass rush that forces the QB into uncomfortable pass situations with a secondary lurking for turnovers.
The perfect example of what the rule has made defenses is "Play The Ball Not The Man". In the past linebackers ran around trying to make monstrous hits. Rule adjustments to reduce the risk of concussions changed that and altered what it means to be a "good defense".
While no defense wants to give up a first down to the opposing offense, the Cowboys defense is prioritizes defending long passes over yards running. For example, it is better to allow a 10 or 15 yard run in comparison to 30 to 35 yard throw. Selling out on the run, allowing easy rush yardage to more effectively limit the pass is the modern NFL defensive formula and the Cowboys do it perfectly.
Micah Parsons heavy pass rush style is a throwback to past linebackers of yesteryear, modern linebackers should look to disrupt the ball in the air rather than pressure the thrower.

The Elite; Good Pass Defense/Good Rush Defense
San Francisco 49ers - Defensive Coordinator: DeMeco Ryans
Buffalo Bills - Defensive Coordinator: Leslie Frazier
Cincinnati Bengals - Defensive Coordinator: Lou Anarumo
New England Patriots - Defensive Coordinator: Matt Patricia
Washington Commanders - Defensive Coordinator: Jack Del Rio
Denver Broncos - Defensive Coordinator: Ejiro Evero
New York Jets - Defensive Coordinator: Jeff Ulbrich
Philadelphia Eagles - Defensive Coordinator: Jonathan Gannon
In this passing era the above group have figured out how best to limit an offense. These defenses consist of pass rushes that deliver consistent pressure, many open field tacklers and find ways to force turnovers. 
The 49ers are not only the best example of this group but are also the best defense in the NFL. Their defensive frontline that is almost unblockable and their linebacker unit flies all over the field and takes the ball away in so many varied ways. The 49ers are great at forcing the QB to make uncomfortable throws to well-covered receivers. Star linebacker Fred Warner is the future of NFL linebackers, an absurd athlete who is as disruptive in the run game as he is covering someone in the passing game.
The Patriots defensive unit is held back by nothing but coach Belichick's ego to not hire a proper offensive coordinator. The unit does everything well but can't overcome the poor offense.
The Cincinnati Bengals defense is a surprise elite unit. They struggle to deliver consistent pressure but they take the ball away and limit the run. Paired with an explosive offense this formula is more than enough to succeed in the modern NFL.
The Jets, Broncos and Commanders are the conundrum of the modern NFL.
Their elite defensive units are offset by poor QB play in a quarterback's league. It speaks to how offensively favored the rule book leans now, because having an elite defense does not guarantee a competitive season, barely even guaranteeing a winning record. The Jets and Broncos situations look bleak. Their defensive-minded head coaches must find better QBs soon or risk wasting their elite defense which only grows older and more expensive every passing season as the team plays musical chairs with QBs.
The Eagles and Bills seem to be the best blueprint available for overall team play. They have great pass and run units that take the ball away and QBs who don't waste those opportunities. Coupled with a run-heavy approach, these eats some time off the clock allowing the defense to get some extra rest between possessions.
"Can NFL defenses ever stop offenses from setting leaguewide records every season? The short answer, I found, is no. The longer answer is that there are some ways to introduce new schemes and develop more flexible athletes, but that answer also ends in a no……The rule changes are designed to make the game safer. But half of the league—as in every defender and every defensive coach—is left trying to figure out what to do." -Kevin Clark, The Ringer