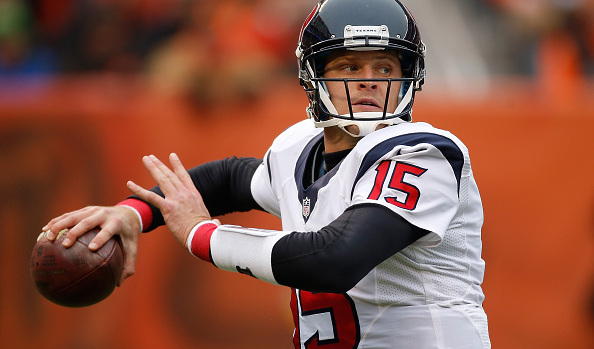 If you watched the Houston vs. Cincinnati game, I hope you were tipping your figurative (literal is fine too) cap to me. I'm not wrong about QBs…and ta-da: Ryan Mallett has now been revealed as a fraud. He was never 'the answer' for Houston and was never close to being on the list of best fantasy football keepers. If you haven't already, start getting your Tom Savage Dynasty stashes together…as I advised two weeks ago (and back to June 2014).  Here is a list of some trends in the NFL fantasy world.
 — Isaiah Crowell had the TDs, but Terrance West won the carry-count tally 14-12. Both are decent, but maddening, non-PPR RB options week-to-week.
 — Time to start taking rookie IDP Telvin Smith a little more seriously. One of our 'deep NFL fantasy sleepers' a couple of weeks ago, he posted 13 tackles/10 solos. I look forward to re-watching this game to see if he was playing ILB a bunch…and thus may stick at that position rest of 2014 given the Jags ILB issues (he is an OLB by trade).
 — Andrew Hawkins is very much in play for a PPR Flex option week-to-week, and is one of the better sleeper picks for this week. The Josh Gordon factor helps him a ton; it does not hurt him for output. When Hawkins is not drawing heavy coverage he is free to roam, and allows Brian Hoyer just hit him with simple passes he can 'catch & run' with.
 — I've been making excuses for Reggie Wayne in my mind for weeks. I tend to have a bias against veteran players, but Wayne is still a very good NFL WR…and works with a top QB—all things good for Fantasy. I tried to be sure not to have a bias. However, he looked slow and clunky in this game…and has looked that way a lot recently. I'm about ready to jump ship of being favorable to him.
 — Dan Herron was more favored than Trent Richardson in their Week 12 game —just like Ahmad Bradshaw was. It looks like Herron is the Colts RB to have now…just assume he is 'Bradshaw-lite' going forward. He'll hold that until (if) Zurlon Tipton gets his shot. 
 — If Blake Bortles is not the worst QB in the NFL, I'm not sure who is.
 — I love the way Jerick McKinnon is working on the field, but the stink of Norv Turner's offense clings to him for FF-purposes. He's never going to get TDs in this terrible 2014 offense.
 — I knew Matthew Stafford was fading, but 13 TD/10 INT thrown in 11 games this season…wow.
 — I buy LeGarrette Blount as the power RB for the Pats for the rest of 2014, a RB who is more talented than Stevan Ridley or Jonas Gray.
 – Kenny Britt's stat line will look like crap, but he had a 50+ yard TD catch stolen from him on a pathetic penalty on the O-Line, having nothing to do with anything. He lost his TD catch, and thus lost the Rams' momentum that was about to knock the Chargers out early.
 — Another week, another Russell Wilson 70+ yard rushing effort. He's done so in five of his last 8 games, and three-straight. Just as I have been harping on: He's usually giving you 7 to 17 Fantasy points per game with his feet before you start looking at the passer totals.
 — Another week, another low output in the 2.0s for yards per carry for Andre Ellington. When Arizona fades to end the season, they'll blame Drew Stanton, but they should look at the RB management…and the total collapse of Michael Floyd.
 — Considering how badly Odell Beckham Jr. humiliated the Cowboys pass defense. What do we think Jordan Matthews might accomplish against them on Thanksgiving Day? Or when they play again two weeks after that? Mark Sanchez suddenly has a little more value watching Eli Manning not-struggle with Dallas.
 — Last week, RG3 died to me along with all mobile-QBs, and then I was surprised that the same sentiment hit a few in the national media as well last week. This week, I'm totally over Jay Cutler. I was never a huge fan, but I bought into Trestman + awesome WRs = Cutler FF-good. Umm, no. It's cliché, but true…Cutler is the most 'sad sack' QB in the NFL. No more benefit of the doubt in 2014 from me. No more 'he might' thoughts in a great matchup. I'll just assume he'll disappoint and then raise half an eyebrow if he tosses 3 TDs. Two Detroit matchups the next four weeks…no thanks.
– R.C. Fischer is an NFL Draft analyst for College Football Metrics.com, and a football projections analyst for Fantasy Football Metrics.com. His group also provides player projections for Advanced Sports Logic's football software "The Machine." See "The Machine" here: The Machine via FFM