Written by Mab Sidam
15 December 2022
The following chart shows where the NFL's pass rushers stand with respect to pressuring the quarterback and total sacks through Week 14 of the 2022 season: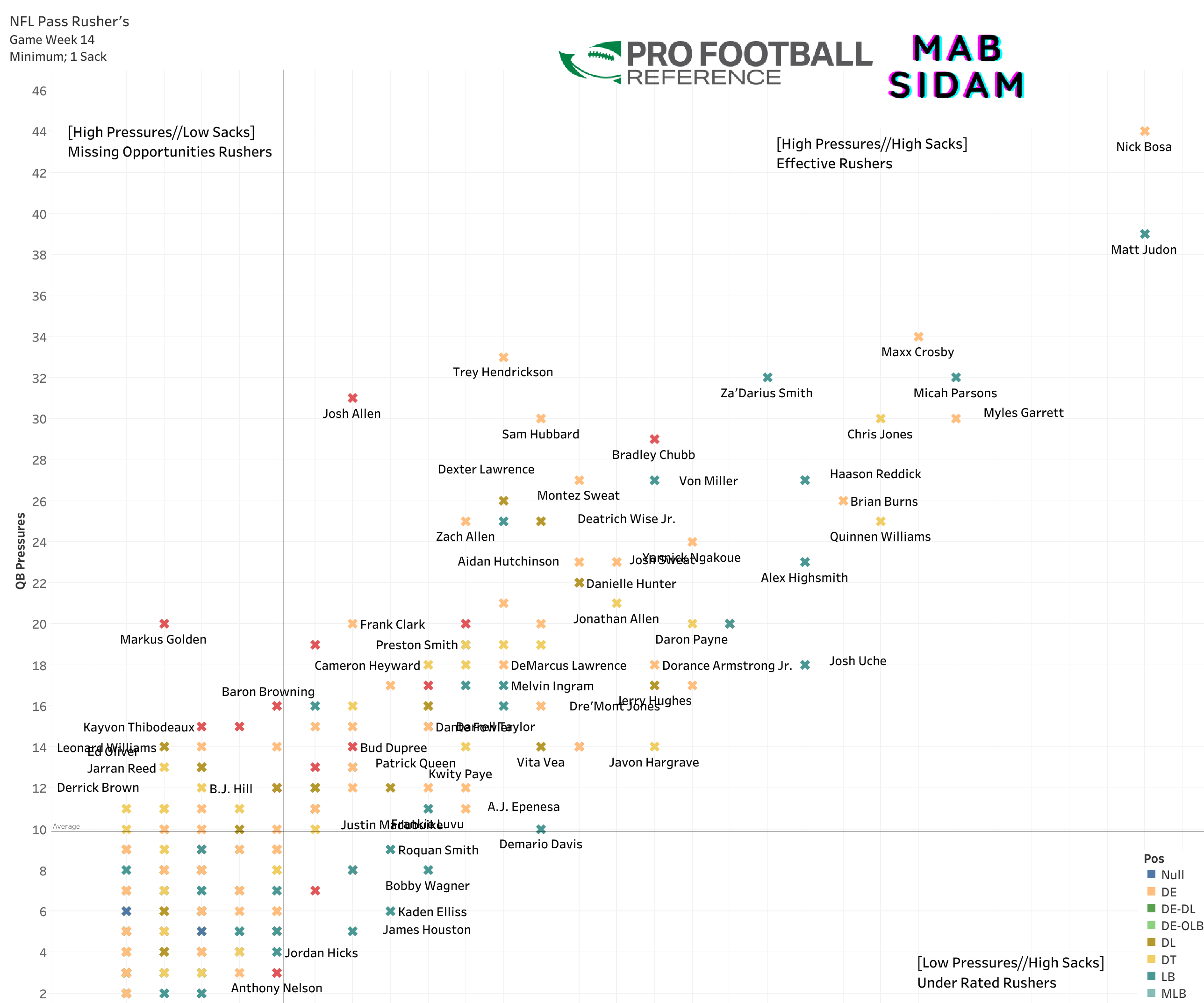 #1. Nick Bosa - San Francisco 49ers
Through the 2022 regular season, defensive end Nick Bosa is making a case that he's the best defensive player in the NFL on the best defense in the league. Bosa leads the league in sacks, quarterback hits  and quarterback pressures and was named NFC Defensive Player of the Month in November.
The star of the show for the 49ers defense is their hellacious front, which delivers pressure from the edge and the interior. Bosa has not been a one man show and Defensive Cordinator, DeMeco Ryans, moves Bosa across the line to confuse and overwhelm the offensive line.
Nick Bosa is one of the most refined pass rushers active today, he beats tackles with powerful hands, bursts of quickness and a full toolbox of rush moves.
Bosa could play faster but still always seems to be around the ball. A nightmare for any offensive line.


#2. Matt Judon - New England Patriots
During the 2021 NFL offseason Bill Belichick spent $163 million in free agency. Judon's emergence as an elite defensive weapon saves that offseason from being one of the worst in NFL history.
Matt Judon has a great mix of size, athleticism and production to match what Bill Belichick paid for when he signed him from the Ravens. The Patriots defensive lineman is great at using his hands and making use of his sturdy build to bull rush offensive linemen. Judon makes hard initial contact with the offensive lineman with both arms, looking to drive the lineman back, establish control, and then flow to the ball carrier or quarterback. Judon is a true backfield disruptor. 
The disadvantages are few but they do limit his ability, the former Raven is 30 years old and lacks the flexibility and fluidity of his younger years, he has questionable change-of-direction skills. Judon doesn't show the twitchiness to dip a shoulder or really bend at the corner.


#3. Maxx Crosby - Las Vegas Raiders
Since being drafted, Maxx Crosby has been one of the most consistent performers on the Raiders' defense. The argument could be made that he was the best draft selection when Mike Mayock was at the helm of the Las Vegas front office. Crosby is one of the NFL's most active players at the line of scrimmage. Crosby has a long explosive frame, the Raiders defensive lineman beats up tackles with inside and outside rush moves laced with a creative use of his speed. Some teams have resorted to holding to slow Crosby down, hoping the referee doesn't notice.
Crosby, of all defensive linemen, is arguably the best open field tracker and tackler who runs down ball carriers consistently.
Crosby is always putting heat on the QB, but doesn't drop the QB as much as he probably should.
#4. Micah Parsons - Dallas Cowboys
"I mean, I tell people I'm going to be tired, but you're going to be more tired than me because I'm never going to stop," Parsons said. "And I practice that way. I work that way. Just being relentless, understanding that anything can happen on the field." - Micah Parsons.
Despite this only being Parsons second season, he has already emerged as one of the NFL's premier defensive pass rushers. Parsons is an odd match up, a linebacker with an elite mix of power, speed and flexibility. He seems undersized for an attacking offensive linemen but plays way above his weight to deliver pressure to the QB. Parsons reaction time is also excellent when the pass rush does not get home, Parsons is usually lurking around looking to put an end to a play.
Parsons sideline-to-sideline speed is one of the few weaknesses in his game. He is much faster vertically than he is horizontally, this hinders his run defense that is not as deadly as his pass rush skill. A case could be made that Parsons works well as a surprise pass rusher or with extra help from the defensive line delivering pressure. 

#5 Myles Garrett - Cleveland Browns
Without a doubt the most gifted pass rusher on this list.  Garrett's burst off the line of scrimmage is absurd for someone his size, he has natural power that overwhelms offensive lineman and mixes these physical gifts with polished rush moves/techniques.
Garrett is a very capable run blocker but is not meant to hold the point in the run game, rather he is more of a disruptor playing downhill. 
It's time for the rest of the Browns defense to step up as Garrett continues to be a monster and a nightmare for offensive coordinators. Since joining the Browns, Garrett has been excellent and is playing at a remarkably high level. Surrounding him with better talent will allow for more production from an outrageously talented defensive lineman.