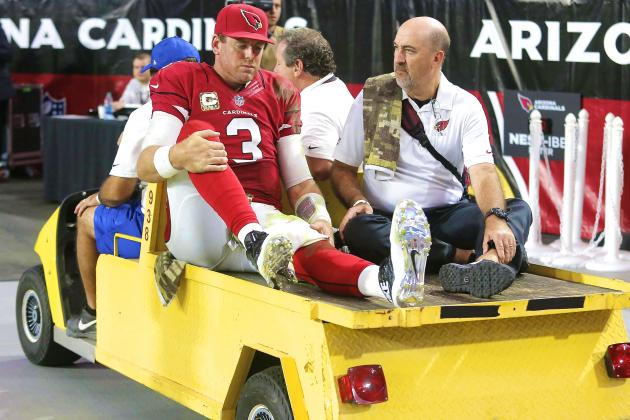 I'm guessing Carson Palmer is done for 2014, and you may or may not know…but I believe Drew Stanton is better than Carson Palmer, watching/scouting their preseason and regular season work. I'll use him as a QB2 for BYE week/injury emergency needs. I'd also rather have Stanton than Mark Sanchez for FF-purposes.
 — The Tampa Bay backfield is going beyond MAT-BACK (menage' a trois backfield)…they're headed into whatever clever thing I might think of for four RBs working in a stew of FF-confusion. I still Doug Martin is their main guy, but that will be mostly meaningless because the team is so embarrassingly bad. I suspect the whole Charles Sims hysteria will get a big time look the next few weeks…a hunch that the team tries to give proof for all the praise they've heaped his way. I don't see it. Please, see your College Football Metrics scouting report for more info on why Sims is not likely a future star. Mike James is even getting specific situation touches (and has been successful as one of the better NFL fantasy sleepers).  Here is a list of some trends in the NFL fantasy world.
 —  I know we all hate Torrey Smith, but he has 6 TDs in the last 7 games. Steve Smith has one TD in his last six games.  
Best Fantasy Football Keepers - 
 —  Colin Kaepernick is fading fast, and (surprisingly) the media is talking up that he may not be 'the guy' for the 49ers. His numbers are getting weaker and weaker each week. I wonder when Harbaugh leaves if this will be some serious QB chaos in 2015+.
 — Charles Clay the past two weeks: 6.0 rec. for 55.0 yards and 0.5 TDs on 8.5 targets per game. He's bumped back up to top-12 useful all the sudden.
 —  Jarvis Landry is right on the edge of being called 'Ryan Tannehill's favorite WR'. Season high 7 catches/10 targets this week.
 —  Bryce Brown may have started the re-arrival process: 6 catches for 52 yards (and one goal-ine fumble) this week…and a very purposed attempt to get him the ball in the passing game. He also had 7 carries. This puts a ding in Fred Jackson's PPR production. Spiller-FJax now becomes FJax-Bryce…and it will be tough figuring out how they will be used. Bryce was the #1 guy in this game once he started to pop…and it was the end of Anthony Dixon. FJax is always going to get work, but Brown can be so special…he might take a bigger bite than many expect.
 —  Cincy IDP LB Emmanuel Lamur in two full starts (with V. Burfict out): 9.5 tackles per game.
 — If you didn't already, you missed your 'trade Hillman high' window. It's over. Montee Ball will be back this week, and who knows who will get carries one drive to the next, but it won't be anywhere near enough for Hillman to matter for FF.
 —  Take away the one game IDP LB Danny Trevathan started, and IDP LB Brandon Marshall has averaged 9.1 tackles per game. He has 10 or more total tackles in two of his last three games.
 — Mychal Rivera's last three games: 7.0 rec. for 61.7 yards and 1.0 TDs on 9.3 targets per game…making him one of the top TEs in Fantasy Football all the sudden. He has been one of the best fantasy sleeper picks all season and is really starting to shine.
 – This was the best possible WR-TE-RB group + best Head Coach…i.e best situation Jay Cutler could ever be in for his career, and he has butchered it (like all his other opportunities).
The only reason anyone would care about WR Brandon Marshall is because of Cutler, but this all appears dead. How exactly does Cutler turn this around to suddenly be good…when he never really has been, but for a flash earlier this year. As Cutler fades, so does Marshall to a 2nd or 3rd-tier WR. This could be the last season for Cutler in Chicago…he might even get the hook this season, but Chicago has no other viable QB of the future. This is going to be ugly considering $19M still due to Cutler, and no QB on the horizon right now. 
The Bears management sold their soul to Cutler…and heads should roll for it. The football media has more angst for Andy Dalton and Alex Smith…but at least they get their teams to the playoffs. 
– R.C. Fischer is an NFL Draft analyst for College Football Metrics.com, and a football projections analyst for Fantasy Football Metrics.com. His group also provides player projections for Advanced Sports Logic's football software "The Machine." See "The Machine" here: The Machine via FFM