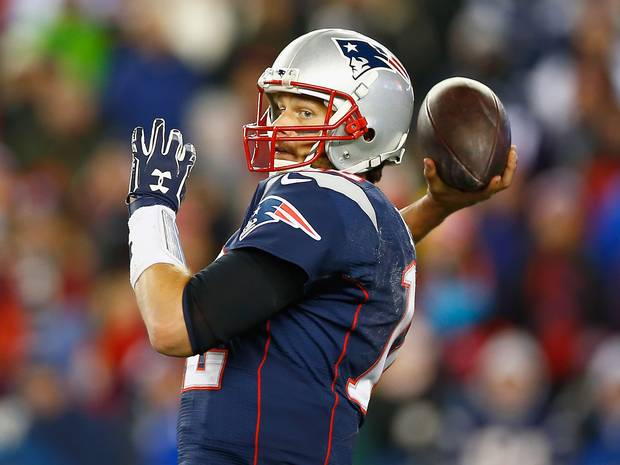 Never doubt Tom Brady and Bill Belichick.
My big lesson from this week: It's fun to making sweeping judgments of teams week-to-week, early in the season (or anytime in the season). Constantly reading the tea leaves to find the strand of DNA to prove a point…comparing who they beat prior, and what teams the teams they beat…beat prior, etc. It's neat fodder. It is mostly a meaningless exercise. The Patriots aren't dead. The Saints aren't dead. The Seahawks weren't the best team in football. The Bengals weren't the best team in football. The Chargers weren't the best team in football. The Cowboys weren't the best team in football. The Broncos aren't dead either.
Teams with elite QBs and best fantasy football keepers are never 'dead'. Teams with really good, but not elite QBs, hit hot streaks…that fizzle eventually, but heating up down the stretch…those non-elite/very good QBs could win a Super Bowl. In the end, elite QBs answer the bell more times than not. The six-win teams right now: Foles, C.Palmer, Brady, Big Ben, Peyton, Stafford, and Luck likely to join them tonight. Where are Brees, Romo, Rivers, and Rodgers? Either leading their division or are a game back. You don't think Stafford and Palmer belong with the other QBs on the 6+ wins YTD list? Give it some time…their teams are more likely due for that 'hot streak' comeuppance. It's amazing how simple, and maddening it is: QB means everything.
Why a trend doesn't happen of every NFL team carrying 4-5 QBs in hopes of finding 'the one' (or two) is beyond me…especially the teams with garbage at QB.
I thought the Patriots would stumble with this schedule stretch, but they are mowing through it. You can call it 'caught up in the moment', but I vote that Tom Brady is the best QB of our generation, not to mention the number of NFL fantasy sleepers he has created. That's not a new thought for me, I'm just re-reminded of it with this game. How Brady does it with Jonas Gray and Brandon LaFell as key pieces…I just bow in reverence.
Whenever Brady and Payton are pitted head-to-head…Peyton looks rattled-anxious-frustrated more times than not, and Brady never does. Peyton is amazing…but you start to wonder if he is Carmelo Anthony (not off-the field, but on it). He's respected for his offense, and he is going to score big/rack stats, and he's going to keep shooting to drop 50 on you when the game is way out of hand…there is no 'off' button to his stat accumulation (great for FF), and we love the gaudy numbers, but when he faces really high-pressure/elite opponents…he fades a little. The last two seasons Denver has faced SEA-NE-IND…they are 2-5 in those games.
Peyton is great at his craft, but he just isn't in Brady's class when push comes to shove…it's not an insult, because…who among us is better than Brady? No one. 
Denver has built a war machine geared up for 2014…and has again lost to Seattle and New England already this season. It has to mess with their psyche going forward if they face them again in the playoffs, no?
 — As we resurrect Patriots-love, and learn never to jump to major conclusions too early…I will nonetheless make a call to 'bury' a player…
Top Fantasy Football Keepers -
Wes Welker (3 catches for 31 yards on 7 targets) is officially 'no more' (to me). Not that I've been an advocate or a holder of his FF-stock, but you see him kicking around in cheap FF-deals or see him on waiver wires…and it makes me stop when I see 'the name', and I pause to consider. Nostalgia days are over…so is Welker for FF. I'm sure he'll have a throwback 6-7+ catch game with a TD ahead, but no thanks. I'm not going to sit around and wait for that. He is playing slow, and mostly ineffective in a high capacity offense. His targets, and putput keep dwindling.
 — Shane Vereen (11 carries for 29 yards, 5 rec. for 38 yards and 1 TD on 10 targets) FF-works in tough games/against tougher opponents, and is FF-death when the Pats are just sitting on a bad team. When the Pats are just salting away games, they run heavy…and do so (now) with Jonas Gray (12 carries for 33 yards, 1 target), inexplicably. I will not question Belichick…I just know I have to plan for this in Fantasy Football. The schedule ahead favors tough games for New England…and thus more Vereen, but it's always dicey trying to guess Vereen episodes.
Against MIA-KC-CIN-NYJ-DEN (Major events/tough opponents): 4.6 catches, 85.4 yards, 0.8 TDs per game
Against MIN-OAK-BUF-CHI (Weak opponents/Games they got out big): 2.5 catches, 29.3 yards, 0.0 TDs per game
BYE-Indy-DET-GB-SD-MIA ahead should be more up Vereen's alley than not…
 — Jonas Gray's two games, so far, as the 'starter': 14.5 carries, 59.5 yards rushing (4.1 ypc), 0.0 TDs, 0.0 receptions per game. I still think we haven't seen the last of Brandon Bolden (who would be one of the better deep-deep-deep fantasy sleeper picks right now).  
 —  How does Julius Thomas (2 rec. for 33 yards and 1 TD on 2 targets) no longer exist? His targets from Week-2 on: 5-4-7-6-6-6…and now 2 in this game (5.1 per game since Week-2). He really hasn't been a major part of this offense this year…aside from the incredible red-zone/end-zone looks.
 —  In the three games since Jerod Mayo was lost for the season, IDP Jamie Collins has posted three 10+ tackle games in-a-row: 13-11-11 (11.7 per game).  He's become a definitive start each week; no questions asked.
– R.C. Fischer is an NFL Draft analyst for College Football Metrics.com, and a football projections analyst for Fantasy Football Metrics.com. His group also provides player projections for Advanced Sports Logic's football software "The Machine." See "The Machine" here: The Machine via FFM