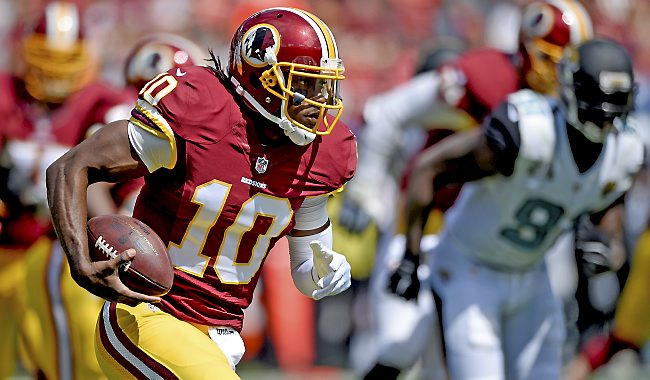 QB Fantasy Football News -
Many questions will be answered when Robert Griffin III, ex-stud fantasy QB, takes center stage in Minnesota today against a very vulnerable Minnesota Vikings defense. The most important one will revolve around how well he is he able to move on the field and whether or not he will be ale to run the ball. For RG3 to be at his best, he has to have his astonishing quickness and stunning mobility. Without those two game-changing attributes, he is nothing more than a flat footed disaster.
The Redskins offense has been a mess all season long and many hope that RG3 is the ticket to turning that around. There's certainly been some division in the locker room since Griffin went down during Week 2 with a dislocated ankle and landed himself in QB fantasy news for his injury.
There's no question that RG3 is an upgrade over Kirk Cousins and Colt McCoy IF he is healthy, but even after practicing this week, few people know what to really expect.
If Griffin isn't close to 100 percent, there will be loud and furious calls to reinstate Colt McCoy. RG3 is far from a traditional quarterback and is NOT going to be successful hanging back in the pocket looking for open receivers. His best chance for success is to be his run and gun self and that will only happen if his ankle is really able to stand up to the test.
Stay updated on QB news with Fantasy Focus.