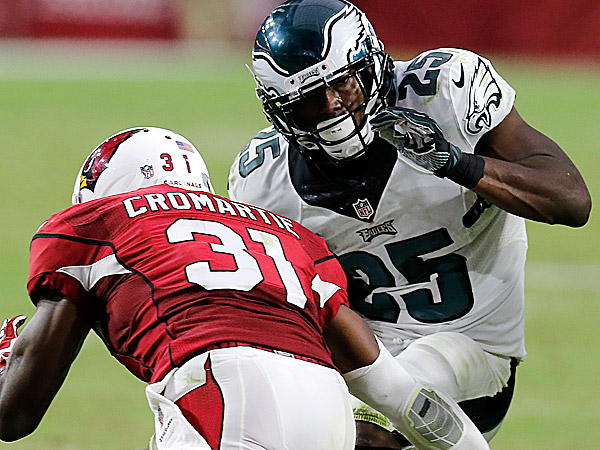 RB Fantasy Football News
There's a certain amount of trust that goes into selecting your first round draft pick. You know the risks up front, your top pick could get injured or suspended, but at least you know that they when they are on the field, they will take care of business. Eagles running back LeSean McCoy has been a stunning exception to that rule. McCoy hasn't even been a top 15 fantasy RB all season long and the harsh reality for fantasy owners has set in.
"RB News: Trusting Shady McCoy as a week-to-week staple for one of your two running back spots is no longer an option."
Take Week 8 for example. 21 carries for 83 yards. 8 points in standard fantasy scoring. The player? Shady McCoy. The rub? This type of performance is something Shady has established as an average (maybe even an above-average!) outing.
Through seven games, McCoy has rushed for 422 yards at 3.6 yards per carry. Additionally, he has scored only one touchdown. Last year through seven games, he had 685 yards and three touchdowns. Now, that's not the biggest gap, however he also had 267 yards receiving versus only 74 so far this year.
It doesn't matter who or what is at fault. You can blame the offensive line, Darren Sproles or global warming, but fantasy owners have been blindsided by McCoy's shady play.
What's most troubling though, beyond McCoy not equaling his pace of a season ago, is the lack of explosive games that have become a staple over the course of his career. Save for last week's breakout, 149 yard performance against the Giants, Shady has no 100-yard games. Throw in the fact his only touchdown came in week 2, and it is unreasonable to rely on him for double-digit fantasy points, let alone a huge 30-point game sprinkled in somewhere along the way.
The Eagles stand at 5-2, firmly in the playoff hunt, with many positives to point to. Their running game is not one of those positives when looking at the season as a whole. Currently, they rank a middle-of-the-pack 14th after ranking 1st, and by a wide margin, last year.
If Philadelphia is to squeak out important matchups such as this week's tough loss to Arizona, their running game needs to be better. And at the forefront of their improvement will have to be McCoy. However, based on a string of disappointing fantasy outings, owners can't wait for that to happen.
One option would be to sell high and get something in return for Shady. There may be players in your league who still find the allure of having McCoy appealing. If they are willing to offer you a running back that can start week-to-week, pull the trigger. If you can't come to terms with letting him go, study each matchup carefully to determine whether or not he should be starting, or whether another option can help you get the win.
For example, next week the Eagles take on the Houston Texans and their 20th ranked rushing defense. The Texans allow over 118 yards per game on the ground, but they also have a player named JJ Watt, who is good at football. Another factor to consider would be Houston scoring 22.1 points per game in, also ranking 20th in the league. This means the Texans are not likely to sprint out to a huge lead and force the Eagles into playing catch-up. There still may time to try and establish Shady running the ball.
We didn't think we would be at this point with McCoy, but you must consider these factors and more in terms of his position in your lineup. Through seven games, the evidence clearly shows: Shady McCoy was not worth a top pick in the draft, and you must mix and match to overcome this weakness on your squad.
Keep reading ASL for the latest in RB fantasy news!