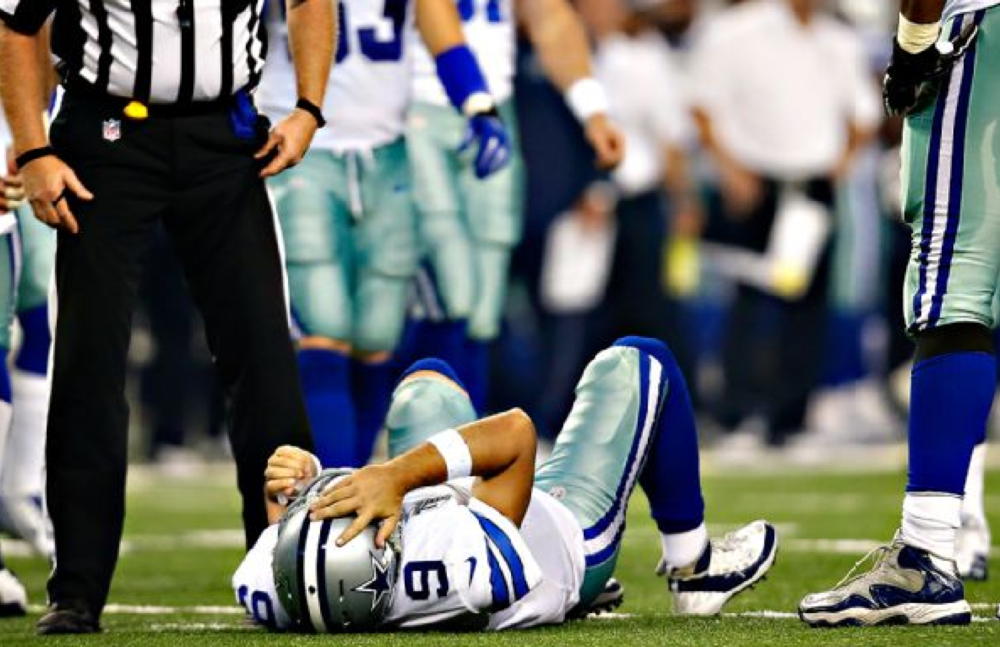 The Dallas Cowboys saw their 2014 season flash before their eyes Monday night as quarterback Tony Romo lay flat on his back after being pummeled by Redskins linebacker Keenan Robinson.
The 34-year-old quarterback has had his back surgically repaired twice, landing him on the NFL injury updates list, and that's exactly where he took the shot from Robinson. He crumpled to the turf as Cowboys fans and fantasy owners held their collective breaths.
Romo was taken in for X-Rays and when they came back negative, the coaching staff made a highly questionable decision and stuck him right back into the game. Romo was clearly in no shape to play and backup quarterback Brandon Weeden had already engineered 10 points for the struggling Dallas offense.
Romo went on to lose the game in overtime and was slow and sore when he left the stadium. An MRI will determine whether or not Romo suffered any additional damage, but the team is reporting that the beleaguered quarterback will limp away with just a muscle contusion.  We will keep an eye on him in our fantasy injury updates column.
This will be a short week for Romo and the Boys who are scheduled to play at home against a Cardinals defense that shuts down the run and will force Romo to throw.  Stay connected with Fantasy Focus for the most up-to-date injury updates.