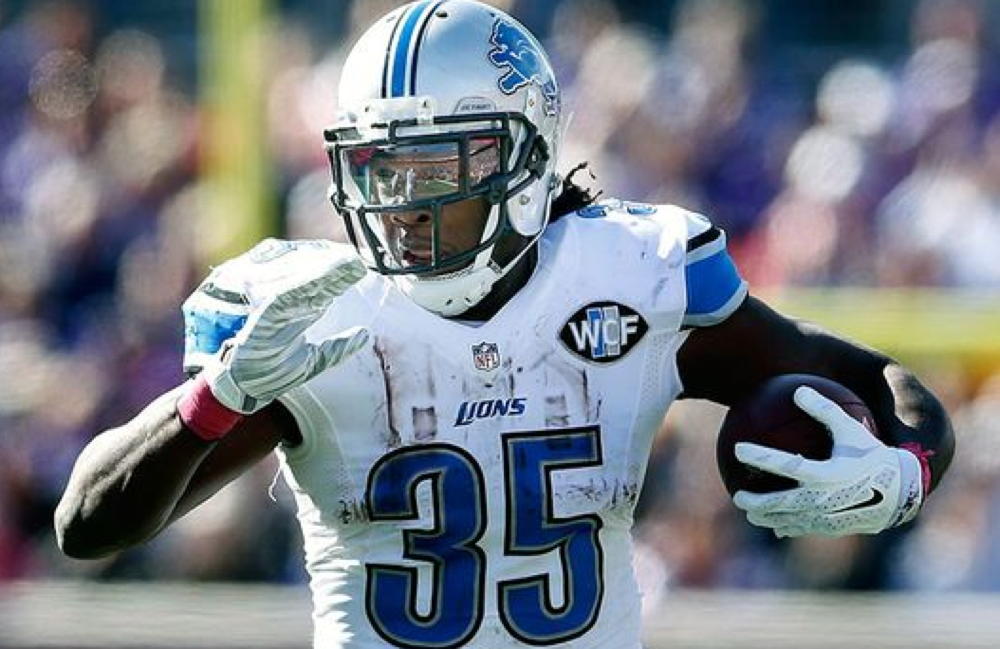 NFL Fantasy Sleepers - 
The Detroit Lions have to be the worst 6-2 team in the history of football, but 6-2 they are. The Lions don't have a long list of best fantasy football keepers and should really be a nice 4-4, but now they are likely headed to the playoffs. They tried desperately to lose this game…they got down quick, but not insurmountable (obviously). They totally abandoned the running game and instead tryied to overwork Theo Riddick (3 carries for 5 yards, 8 rec. for 74 yards and 1 TD on 12 targets)…which was a big mistake.
During the 2nd-half, the team remembered it had Joique Bell (14 carries for 39 yards, 2 rec. for 22 yards on 3 targets) on the roster, and recalled the Falcons have no run defense. Bell had some huge plays…not as much long/crazy gainers, as they were critical extra effort plays that changed the course of the game by extending drives.
This week, Riddick will be the one of the fantasy RB sleeper picks that Fantasy analysts slobber over. He's a marginal talent…I mean marginal. He's Fozzy Whittaker good. Feed any NFL-worthy RB 12 targets…and you might get eight catches too. Riddick cannot carry Reggie Bush's (DNP) jock, but the controversy is on now…at least for a week. This is the NFL, so I guess I won't be shocked if Riddick hones in on 3-4-5 targets a game, taking them from Bush. When Bush is back…this RB situation is probably a full-on mess.
We all used to worry about a RB getting knifed in on for a 'split' of work load. From now on…you'll wish you had a RB 'only' stuck in the dreaded 'split' role. We now have the rise of the 'Menage a Trois Backfield' (MAT-BACK™…I'm testing that as the coined phrase). STL…CLE…ATL (kinda)…and now, maybe DET is headed there next week (and SD headed there soon too). It's not an RBBC, where you have three guys with different talents, that are used situationally (like the Saints). This is MAT-BACK™…anyone could be the guy at any given time.
It's smart football given the RB landscape. RBs have short shelf-lives, are often banged up week-to-week, and are no longer the key to winning in the NFL. Instead of 'all-in' on Darren McFadden and Chris Johnson for $8-10M a season…now you can cobble together a stable of four cheap RBs, with 1-2 of them undrafted free agents, and the others mid-round picks. Instead of selling out everything based on one guy, you do the ultimate 'hot hand'…MAT-BACK™. Keep the defense guessing. Keep your RBs fresh. Spend on the O-Line, and everywhere else….save at RB.
It's exactly what I would advocate as NFL GM. If I stumbled into an elite RB, I'd wish him well once his contract was up. There is no reason to spend big money on one RB. They are not worth it…because of the injury/short shelf-life nature that comes along with them. The path to NFL success is not the old Rams with Eric Dickerson.
The era of 'RB first' in Fantasy Football is dead…only it doesn't know it yet. Look at your redraft RBs to start 2014…look at them now. Look at them three weeks ago. Wait until you see them five weeks from now. 'RBs are killing you' because the RB landscape is changing in the NFL. It's hard to count on any of them anymore. If you get a Forte, Demarco, etc.–you ride that train as far as it will take you, no questions asked. However, you know, it's only a matter of time before one of them gets hurt…even if a sprain that puts them in question for 1-2-3 weeks. That's why the NFL is shifting to MAT-BACK™.
As if Fantasy GMs didn't have enough to worry about, here are some trends in the NFL fantasy world.
 —  IDP Paul Worrilow (4 solo tackles) has 74 tackles through eight games (158 tackle pace for the season), but he has six or fewer tackles in his last six games. He has faded from becoming a lock for 8-10+ tackles a game. His role has changed a bit in this defense. Still doing well, but the off-the-charts 200+ tackle possibilities are fading.
 — Matt Ryan (20-27 for 228 yards, 2 TD/1 INT) really looks bad. I realize some/much of this can be attributed to the O-Line play, but I think some of it falls on poor decision-making. He's a nice 'B' grade QB…he's not an 'A', as many hoped. Nothing wrong with being a nice 'B'. I don't think there is a buy low opportunity here for 2014…this team is a sinking ship.
For a Dynasty outlook, there will be new coaches in Atlanta next year, and Ryan's main TD connection is a free agent thatwill leave (Antone Smith). Ryan's a 'B' talent, with great WRs and a dome stadium–with the right coaching staff he could be a 'B+' performer, or the wrong group (liek if Norv Turner arrives next year) he would be shackled to a 'B-' performer. We'll have to see after Mike Smith is fired in January.
We might be on the verge of a coaching change mid-season anyway…it's probably 30-70 that Mike Smith gets fired during this current BYE week. One more loss, and it's 80-20 he's gone the following week.
 –Both teams get a week off…so you would suspect with two more week's rest, Calvin Johnson is back for the Detroit playoff run. Calvin can be had in deals reasonably right now. Most FF-teams that have him, have been burned by his absence…and many are in a 2-6, 3-5 panic. Until someone officially says 'Calvin is ready', the mystery right now is a little too scary for a Fantasy GM, who is a loss away from season effectively over. What if he never comes back? What if comes back and re-aggravates? The 'Calvin is ready' message, if it is true for Week-10, will not be spoken until past Week-9 because of the BYE…which gives you about 6-8 days to try to roll the dice on a nervous redraft GM for an acquisition if you want.
My take on trading for a mysterious (due to the injury) Calvin (or AJG): The odds are you are going to 'not win' the Fantasy title, no matter how good your team is. It's just the nature of the random, statistical beast. You can play to win…or play not to lose. If you can reasonably snatch Calvin away this week…it could reverse fortunes or solidify a war machine you've already built. That's IF he comes back as normal Calvin…there has to be that risk premium in your dealings. Don't give away a top player, in an even exchange for him…why take on the risk just have the name? You might be able to deal two 'fake' 'B+' talents (fake as in, the masses love their shooting star moments of late) to a Fantasy GM who is desperate for quantity over quality. Include guys like Branden Oliver (you should have dealt already), or Shane Vereen from last week, or Mark Ingram from this week…bottle up two faux, hot potato stars for Calvin if you can afford to do so in a redraft.
– R.C. Fischer is an NFL Draft analyst for College Football Metrics.com, and a football projections analyst for Fantasy Football Metrics.com. His group also provides player projections for Advanced Sports Logic's football software "The Machine." See "The Machine" here: The Machine via FFM