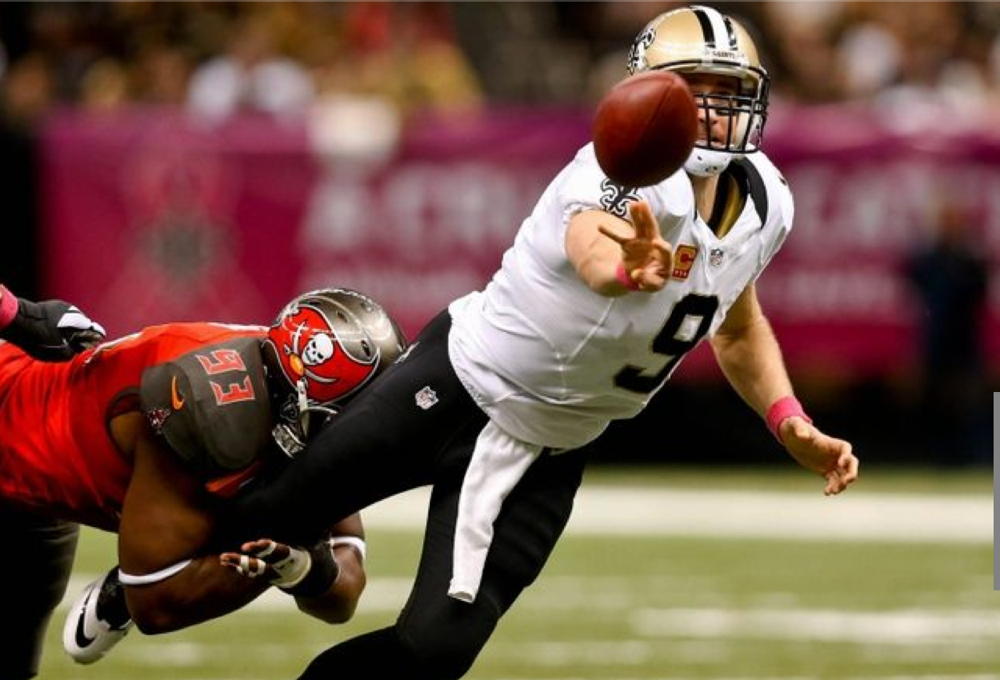 QB Fantasy Football News -
The holy trinity of Peyton Manning, Aaron Rodgers and Drew Brees has been a fantasy QB staple for years now. Occasionally, someone like Tom Brady will threaten to be in that circle, but in general, those three constitute prized possessions early in fantasy drafts. Yesterday, Manning threw for 479 yards and 4 TD's. Last Thursday, Rodgers threw 3 touchdowns against no picks versus a bad Vikings squad.     
Unfortunately this week, Brees and company barely escaped the Bucs and Brees himself threw 3 interceptions. In addition, Jimmy Graham, also known as Brees' best friend on the field, suffered a shoulder injury that knocked him out of the game. While the Saints maintain hope that Graham will return after their bye week, it's yet to be determined if he'll be as effective as he normally is, even if he doesn't miss any time. Will this doom Brees' fantasy value?
The Saints will most likely continue to put up points, and in turn, fantasy value. However, with Graham's uncertainty, Brees is a tepid start going forward. It's too early to cut ties with him, but owners who were counting on Brees to carry their team have to be worried. The Saints sit at 2-3 in what has proven to be sorry NFC South. And even with their victory yesterday, these aren't the same Saints we've become accustomed to seeing. In turn, their play is worrisome. Although Brees' 57 attempts leave room for fantasy stats, no team should have to rely on their QB 57 times during a game.
Hopefully if you have Brees, you also have a capable backup. This week, with the Saints on a bye, you'll need that backup anyway. If you have someone like Colin Kaepernick, Nick Foles or Tony Romo, they may be the best bet going forward, but stay tuned to QB news for direction. While it's not time to let Drew Brees go for nothing, explore potential trade options. As stated before, something with the Saints is off this season. Brees' stats aren't what they should be, and if he is dragging your roster down, don't feel as if you need to have loyalty to a previous fantasy all-star. It's already been 5 weeks. You need your best roster every time out.
Fantasy Focus will keep you connected with our QB fantasy news updates.