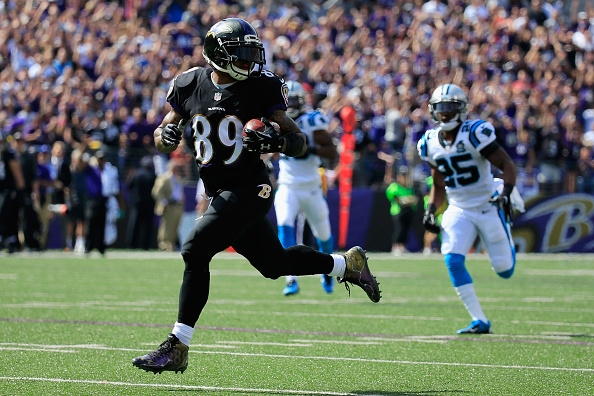 Fantasy Sit Start -  
Houston at Dallas – Tony Romo
Don't look now but Romo seems to be rounding into shape as we pass the quarter pole in the season. Granted, the New Orleans Saints haven't yet learned what the word defense truly means, but he still had to go out and perform, which he did. The formula of hitting them often with DeMarco Murray and throwing only when the opportunity presents itself is working fine as the Dallas Cowboys are atop the NFC East. This week should be more of the same, which is perfect if you're looking for solid low-end QB1 numbers. Romo will dazzle now and again as a weekly leader in passing yards but 250 yards and two touchdowns should be the norm moving forward. As long as Romo continues that pattern here against Houston, we'll be able to trust him to live up to those numbers for the remainder of the season.
Buffalo at Detroit – Calvin Johnson
It looks as though Johnson has been more of a decoy the past two weeks than an actual offensive threat. This ankle injury sucked the life out of what should have been a fantasy field day against the New York Jets last week. Johnson was on and off the field constantly, giving way to Golden Tate to lead the charge. Now that he has had another week under his belt to recover, we should see the real Calvin Johnson on Sunday. If we see the version of Johnson that played against the Jets in Week 4, we could have a serious problem on our hands. We would have to begin to question the severity of the ankle injury as Chicago's Brandon Marshall has been battling through one himself but still has managed to put up elite fantasy performances. Hopefully Johnson will be back to his old tricks on Sunday, because if not, we could be looking at a high sprain which we know ruined the entire 2013 season for wide receiver Roddy White .
Baltimore at Indianapolis – Steve Smith
How long can Steve Smith possibly keep this pace up? Until we see otherwise we'll have to go with forever. A large portion of Smith's stats last week came on a fluke play where he brought down a tipped pass and took off for a long touchdown score. Even taking away that 60-yard touchdown, Smith would still have finished with roughly 80 yards and with the other touchdown he brought in. Those are still amazing and very useful numbers for a man of his size and age. Smith should be able to do more of the same here against Indianapolis as every game against Andrew Luck always turns into a high-scoring affair. If Smith continues on this pace, he could finish with the best numbers of his career and become the most debated player in regards to his ranking entering 2015.
Tampa Bay at New Orleans – Mike Glennon
The Tampa Bay Buccaneers offense simply looked better with Glennon than it did with Josh McCown. That's not saying that they have gone from bad to great all of a sudden. They simply went from bad to not as bad, but still bad. Glennon gave the Buccaneers a much-needed shot of adrenaline last week with a last-minute drive to edge out the Pittsburgh Steelers. Perhaps this confidence boost will carry over as Glennon will now face the same New Orleans secondary that allowed Tony Romo to have his best game of the season last week. If Glennon can get Vincent Jackson going over the top and Doug Martin underneath, he could push for 300 yards here in Week 5. That would make coach Lovie Smith's decision more difficult as to who will quarterback the team once McCown is back.

Atlanta at New York Giants – Eli Manning
Manning finally has the Giants offense coasting. Using Rashad Jennings as a battering ram and then making high percentage throws is what is going to make this offense click. Last week, those high percentage throws turned into 300 yards, four touchdowns and only one interception. As long as Manning can keep hitting those short routes and avoid turnovers, keeping his offense on the field, he could be in for more of these kinds of numbers down the road. We just need to see it happen more than once given how horrible Manning has looked since 2013. Two big time games would be a very loud and clear indication that he's got the offense locked down and can once again be trusted as a QB1. If he were to come out and throw for 190 yards, one touchdown and three interceptions, How could we trust him?
St. Louis at Philadelphia – Zach Ertz
The fumble last week was nobody's fault but Ertz's. He practically gift wrapped it as he coughed it up right into the hands of the defender on the sideline. Shame on Ertz, his fault entirely. What isn't Ertz's fault is how he is being used since his big game in Week 1. Ertz isn't touching the ball enough to get going. It's very hard to live up to TE1 potential when you're on the sideline half the snaps. Then when Ertz is on the field, Nick Foles finds himself forcing balls to Brent Celek when he should be targeting Ertz. Celek used to be one the best pass catching tight ends in the league, but he simply doesn't have the speed anymore. Celek should be relegated to blocking duty while Ertz should be catching at least six balls a game when healthy. If mastermind-coach Chip Kelly can't figure out that his most physically talented mismatch on offense needs to be more involved here in Week 5, we'll have to face the realization that we can only expect half of what was projected for Ertz this year.
Arizona at Denver – Michael Floyd
This is going to be tough sledding here in Week 5. The Denver Broncos can put up points against anyone and figure to do so here coming off the bye week. That means that the Arizona offense will be very active. As Floyd has been almost the only active player to this point, that means he should be even busier here. With Aqib Talib most likely shadowing Larry Fitzgerald , Floyd should be able to put in a lot of work on the opposite side of the field. As long as Drew Stanton can avoid the rush of Von Miller and DeMarcus Ware, Floyd should be in for all that he can handle. If Floyd can't perform with elite numbers given everything that was just covered, we'll have to wonder if he's ready to take on the No. 1 receiver spot next season. The Cardinals' front office may be forced to ask themselves the same question.
New York Jets at San Diego – Michael Vick
How much longer are the Jets going to sit back and watch Geno Smith put them in losing situations each week? How much longer will they allow him to express a loss of composure both on and off the field? There is no time better than the present to see what Vick can do with this offense. He may not be the fantasy stud he was for a half season with Philadelphia a few years back, but you have to assume that he's an upgrade over Smith at this point. The offense does have effective weapons like Eric Decker and Chris Johnson who can do a lot with the ball in their hands. Jeremy Kerley is one of the most underrated slot receivers in the league and Jace Amaro is a walking mismatch that could be used in the same way that the New York Giants are using Larry Donnell . If the Chargers get up big and Smith has turned the ball over three-plus times, look for coach Rex Ryan to finally pull the trigger near the end of the third quarter, as he kicks the tires on Vick. Vick makes for a very sneaky pick-up this week if you have the luxury of an open roster spot.
Kansas City at San Francisco – Knile Davis
The funny thing about history is how often it finds a way to repeat itself. First there was Priest Holmes. He was probably the most well-rounded back in the league in his prime as he could go for more than 200 total yards from scrimmage with three touchdowns in the blink of an eye. Then, his style of play and all of his touches began to take their toll on him as the injuries began to mount up. Enter Larry Johnson . Johnson took this opportunity to showcase himself as an elite runner. In the absence of Holmes, Johnson proved to be a beast and then split work with Holmes until Holmes was ultimately let go. For a few seasons in Kansas City, Johnson was one the best fantasy backs in the league until injuries and suspensions caught up to him. At that time, Charles was the understudy that finally got to play center stage. Now we have Knile Davis creeping into the mix in an eerily similar fashion. With all the hits that Charles has taken over the last couple of seasons and let's not forget the past ACL injury, is Davis a hit away from being the next stud in Kansas City? Davis needs to continue to show his explosiveness and do a lot with a little in the meantime, including Week 5 against San Francisco. He's not a fantasy option yet, but keep a close eye on what he does against one of the better defensive units in the league as it can be used as a measuring stick further on down the line.
Cincinnati at New England – Tom Brady – Week 5 Short and Sweet
Is Brady still a viable fantasy option at quarterback? The Kansas City Chiefs aren't the easiest opponent but you'd expect 169 yards and three turnovers from someone like Kyle Orton not Tom Brady . The game against Oakland was even worse where he finished with 234 yards and a touchdown. It's Oakland! He should have had 300 yards and three touchdowns! Three underwhelming games in a row will move Brady outside the top-10 fantasy quarterbacks for the first time since 2002. Nonetheless, he is still a definite fantasy football start.