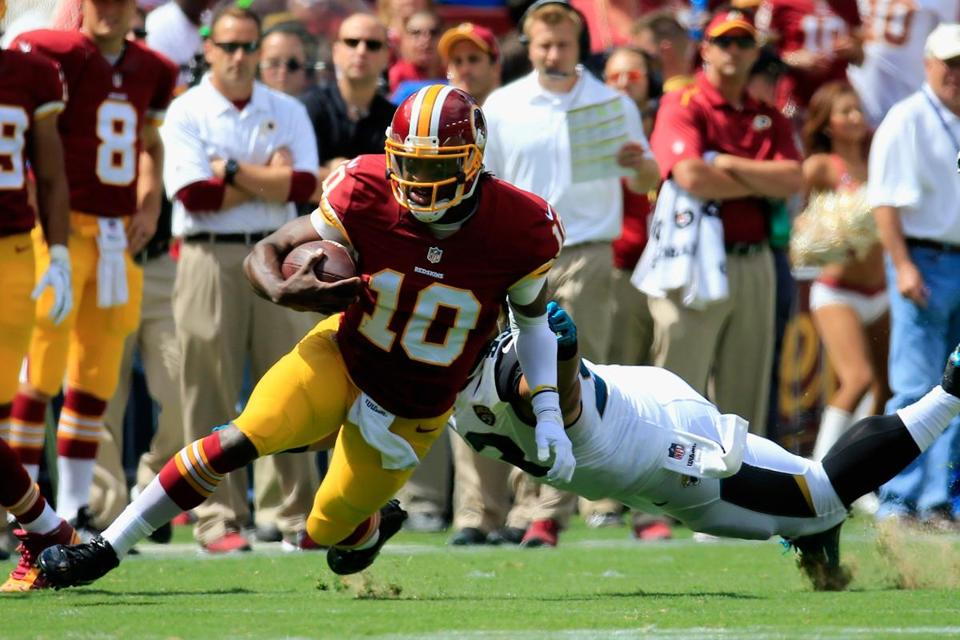 NFL Injury Updates -  
It happens every NFL season. Injuries decimate teams, and, in turn, trash closely constructed fantasy lineups.
Unfortunately for many high profile players, the injury bug has hit early on.
Let's take a look at some fantasy injury updates for many of the devastating blows inflicted during only Week 2 and how you should handle them going forward.
RGIII
After a sensational rookie season that ended with Griffin receiving the top prize as Rookie of the Year over other heralded first year players such as Andrew Luck, the Washington quarterback has suffered a number of setbacks.
Some have been the way he played, some have been the way the coaching staff has used him. However, his dislocated ankle that he sustained against Jacksonville may be the worst of the lot going forward.
First of all, expect RGIII to miss a significant amount of time. The Redskins won't speculate on how much time he'll be out going forward, but the whole season is a possibility.
Furthermore, Kirk Cousins reminded everyone how capable he is as a NFL starter. Should he play lights out while Griffin is sidelined, he may cause controversy on who in fact is the best man for the job in Washington.
If RGIII is your penciled in starter, you should drop him now. He will do no good taking up a bench spot for the rest of the season.
DeSean Jackson
The fact that the Redskins blasted the Jaguars on Sunday is most likely a petty consolation due to what they sacrificed to get there. Not only is RGIII done for a while, but his prized off-season target in DeSean Jackson also went down.
Jackson was diagnosed with a shoulder injury, and as per ESPN, it is an AC Joint which will put him out day-to-day. This means that he will most likely play next week.
And, as mentioned before with Kirk Cousins, those with Jackson on their fantasy rosters should still hold him in high regard. Cousins is more than capable with RGIII out, and, more importantly, will be looking to Jackson as his main target in the coming weeks.
Jackson may have provided you with a subpar week 2 effort, but he will be valuable on your roster regardless.
Knowshon Moreno
The tale of Knowshon Moreno and quality NFL running backs can be told in simple terms: even though he had the best season of his career in 2013, the Denver Broncos freely let him walk last offseason and his highest bidder was the Dolphins at a 1 year, $3 million dollar clip. The bottom line is that if you need a running back that isn't in the upper tier, whether it's real football or fantasy, there are plenty to choose from.
Moreno had a spectacular week 1 against New England, making some in Denver lament his exit. However, just one week later, those who had Moreno as a viable RB option no longer can think that way.
According to multiple reports, Moreno dislocated his elbow in the first quarter against the Bills on Sunday and will be sidelined for a significant amount of time. The Dolphins won't disclose a timetable yet, but history says this injury won't produce a quick recovery.
Lamar Miller will be asked to pick up the slack in his absence, and if you had Moreno and Miller is on waivers, you should certainly look into him. However, Moreno himself is not valuable enough to hold onto in the hopes he'll return any time soon. Drop him and look elsewhere to have bench depth on your roster.
Jamaal Charles
Jamaal Charles, one of the main targets in fantasy drafts this entire summer, left early in the Chiefs game against the Broncos with an ankle injury. His return was soon ruled out.
Charles was confirmed to suffer an ankle sprain, and although he didn't return, he is still Jamaal Charles. We don't know how long he'll be out, but even without official word from Kansas City, it would be foolish to abandon him right now.
Unlike Knowshon Moreno, Charles is an elite NFL running back. In turn, he is also an elite fantasy player across nearly all league formats. The fact that he may miss a few games is not enough to let him escape to another player in your league.
Unless the Chiefs come out with definitive news that Charles will miss most of the season, he is more than worth holding onto until he returns to the field.
AJ Green
Let's face it. Andy Dalton owes AJ Green a portion of every game check he receives as part of the new, lucrative deal he signed in the off-season. Green makes Dalton look good just by showing up.
So, it was concerning to both Bengals fans and Green owners when he went down with a toe injury during Sunday's game against the Falcons. A simple toe injury may seem benign, but as many fantasy and NFL veterans will tell you, it can be an ominous sign of things to come. Turf toe is like the itch you can never, ever scratch. And it can be something that continuously sidelines a star player.
Luckily, as reported by Bengals.com, it appears as though it's just a strain and the Green will aim to play next week. If that's the case, whether he's fully healthy or not, you must start him. He's one of the most dynamic playmakers, and fantasy stat sheet stuffers, in the league. Hopefully this was just a temporary scare.
Stay tuned this season for injury updates with Fantasy Focus!