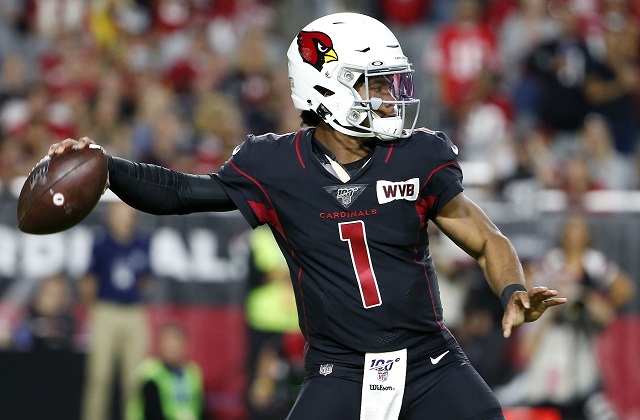 Written by Tyler Norberg
12 May 2020
In 2010, only five quarterbacks threw for more than 4,000 yards and four of those five are future Hall of famers (both Manning's, Rivers and Brees). Last year that number has more than doubled with eleven quarterbacks throwing over 4,000 yards. The running back value in the NFL has diminished as the league continues to become pass heavy, which makes the quarterback position more valuable than ever. People say defense wins championships, but only one team has won the Super Bowl in the last 10 years with a sub-par quarterback (Eagles, Nick Foles). This being said, when your team drafts a quarterback especially in the early rounds, expectations are always very high, which sometimes leads to premature talks about a quarterback not being good enough or being a bust. This has happened several times over the years. Just look at the rookie stats of some Hall of Famers like Troy Aikman, John Elway and Peyton Manning, who combined for a record of 7-30 and a total of 60 Interceptions in their respective rookie years!
This is my list of the top 5 quarterbacks that will have a breakout year in 2020 and maybe get one step closer to becoming the franchise quarterback their teams drafted them to be.
5. Drew Lock - Denver Broncos
Drew Lock kind of flew under the radar in the 2019 draft after falling into the second round. Most scouts had him as a first round talent but agreed he needed to develop more to end up a starting quarterback in the NFL. Starting all four years at Missouri, Lock threw for a total of 99 touchdowns. He showed enough to be a top pick, but his accuracy was an issue as he completed only 56% of his passes in his 50-game college career. The Broncos selected him with the 42nd pick and will soon come to realize they got the first round talent he was expected to be. After starting off 3-8 last year, the Broncos finally gave Lock a shot and he didn't disappoint. Through his first two starts, Lock completed 72% of his passes for 443 yards 5 TDs and 2 INTs. He finished the year out pretty strong with 1020 yards 7 TDs and 3 INTs. Most importantly, his accuracy was solid, ending with a 64% completion percentage. During his 5 starts, he went 4-1 with his only loss being to Super Bowl champions, the Kansas City Chiefs. Now, going into the new year, Broncos fans should be pretty high on their young quarterback, especially with all the young, new weapons surrounding him. Denver spent their first round pick last year on tight end Noah Fant and then drafted one of the top wide receivers this year, Alabama's Jerry Jeudy. With a great tandem at WR plus an even better duo at RB with Gordon and Lindsay, look for Drew Lock to take a huge step forward and have a solid year two.
My projected stats:
3,373 yards passing
21 TDs
11 INTs
60% completion


4. Dwayne Haskins - Washington Redskins
If you didn't watch any Redskins games last year (which most people didnt) Dwayne Haskins had a less than good year on paper. He finished the year with 7 TDs and 7 INTs with a 58.6% completion percentage. Some analyst were projecting the Redskins to draft a quarterback in this year's draft because he played so poorly. Well, I'm here to enlighten you on how good Haskins will become. Haskins only started 1 year in college, but it was one of the best in history. He threw for a record 50 TDs, which broke the Big10 record for passing touchdowns in a season, a record previously held by Drew Brees with 39 touchdowns. Fast forward to the draft, he falls to the very surprised and quarterback needy, Washington Redskins. The Redskins start off 0-5, which leads to the firing of head coach Jay Gruden. The rest of the year was coached by Bill Callahan, who had a playbook straight from the 1960's; a very run-heavy scheme. Haskins took a while to find his footing in his first few games. However, in his last four starts, he threw five touchdown passes to only one interception. That one interception was his only in his last 100 attempts. Now, coming into 2020 as the starter with a completely revamped coaching staff with Ron Rivera and Scott Turner, Haskins has new people around him that want to build around the franchise-hopeful. With all that being said, the best addition this off-season for Haskins was quarterback coach, Ken Zampese. He has worked with Brett Farve, Kurt Warner and Carson Palmer. He was also the QB coach for Baker Mayfield in his rookie year when he shined. All the signs are pointing up for this young, strong-armed quarterback and I expect big things from him for years to come.
My projected stats
:
3,521 yards passing
24 TDs
9 INTs
61% completion
3. Baker Mayfield - Cleveland Browns
1,028 catches, 12,699 yards, and 80 TDs. That's what you get when you combine the career stats of Odell Beckham Jr. and Jarvis Landry who are both only 27 years old. When you have a WR combination like that, you have to expect the best from your quarterback. But that wasn't the case last year for Baker Mayfield. He had a slump year as a sophomore, throwing for 22 TDs and 21 INTs. He did get sacked 40 times last year which was 9th most in the league. So, what did the Browns do? They drafted the best tackle in the draft in Jedrick Wills, who only allowed one sack in his 29 starts at Alabama. Now pair that with former first round pick, David Njoku, and the best TE in free agency Austin Hopper, who's had 146 catches in the last 2 years. This offense is absolutely stacked and I have yet to mention Nick Chubb, who was second in the league in rushing yards, trailing Derrick Henry by only 46 yards. With new head coach Kevin Stefanski, who worked wonders with Kirk Cousins and Case Keenum, Baker looks to start off fresh and shine in year three. The dog pound should be excited about the future of their QB.
My projected stats:
3,962 yards passing
31 TDs
13 INTs
60% completion
2. Sam Darnold - New York Jets
Progress progress progress. That's what Sam Darnold showed in his sophomore year. He improved in every category - more passing yards, touchdowns, wins, fewer interceptions, and a higher completion percentage than in his rookie year. I don't think Adam Gase is that great of a coach, but I do think he has a great QB and a pretty solid team. The Jets offensive line is decent but looks better with the addition of their first round pick Mekih Becton, who is an absolute freak at left tackle and will help bring the sack total down for Darnold. Their wide receiver core is pretty good too. They did lose a good wideout in Anderson, but They drafted Denzel Mims in the second round, who played all four years at Baylor and had two 1,000 yard seasons. They also have Jamison Crowder, who had been a solid veteran who caught 78 catches from Darnold last year. Look for Le'Veon Bell to find his role in the offense in 2020 and have plenty carries to help take the pressure off Darnold and translate to less 3rd and long situations, leading to fewer interceptions. If you look at the careers of some of the great quarterbacks like, Tom Brady, Peyton Manning and Brett Favre, they all started to peak in year three. Don't be so shocked if Darnold is a top 10 QB next year.
My projected stats
:
3,987 yards passing
34 TDs
12 INTs
63% completion
1. Kyler Murray - Arizona Cardinals
In 2015 the Cardinals had the number one offense in the league with Carson Palmer at the helm, and there is a chance Murray's Cardinals will do the same next year. I was already optimistic about Murray's future after winning Rookie of the Year and staying healthy the entire 2019 campaign, even as a smaller, mobile QB. He completed a very impressive 64.4% of his passes, which was better than anyone else on this list, including Arron Rodgers and Carson Wentz. He was also second in rushing yards by a QB, behind Lamar Jackson. That was all the ice cream about Murray, now the monstrous cherry on top is the addition of the best WR in the league, DeAndre Hopkins. The Cardinals absolutely robbed the Texans with this trade. As mentioned before, the running back value has deteriorated over the years and I am absolutely stunned that this trade went through. Now, Murray has two future HOF's at wide receiver and they can put Christian Kirk at slot. So when Murray is evading pressure in the backfield, he has several very good options to throw to - including Kenyan Drake, who had 50 catches over the past two years. Kliff Kingsbury's offense is only going to get better the more him and Murray gel together. This team is going to shock the NFL this year and Murray will be at the forefront.
My projected stats:
4,176 yards passing
28 TDs
12 INTs
682 yards rushing