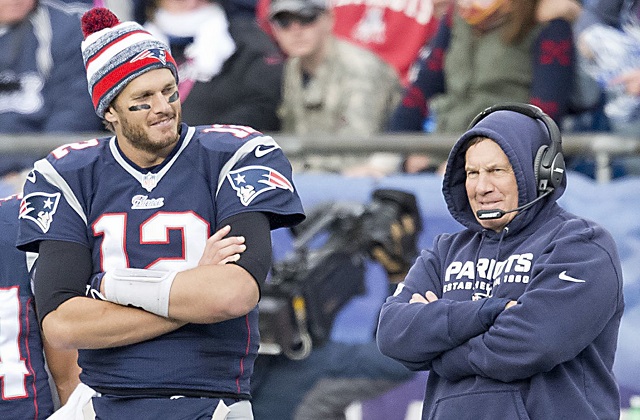 Written by Todd Lewys & Jerry Chacko
01 May 2020
That question is open to debate.
Although Belichick has an impressive resume in New England, he never won consistently before TB12 became his undisputed starter at quarterback - or, for that matter, as head coach of the Cleveland Browns.
Remember Cleveland?
In all, Belichick had only one winning season in his five years with the Browns - an 11-5 campaign in 1994. Otherwise, he went 6-10 in 1991, 7-9 in 1992 and 1993 - and 5-11 in 1995, his final season in Cleveland. That made for an overall record of 36 wins, 44 losses.
He then landed his next head coaching job with the Patriots in 2000, where he immediately went 5-11 with Drew Bledsoe at quarterback.
However, things changed dramatically when Brady supplanted Bledsoe at the Pats' starter: an 11-5 record in 2001, followed up with a 9-7 showing in 2002. The floodgates then opened with a pair of 14-2 campaigns in 2003 and 2004.
From that time forward, the Patriots never recorded less than 10 wins in a season; heck, they even posted 11 wins in 2008 when Brady missed all but one game due to injury.
While Belichick did win 11 games with the unheralded Matt Cassel at quarterback that year, here's the thing: the Pats had gone 16-0 in 2007 and was a team that was still stacked on offense and defense in 2008. It could be argued that all Cassel had to do was manage games; the talent around him would do the rest.
Suffice it to say that Belichick's record in New England - 237 wins versus only 37 losses - is nothing short of phenomenal.
That said, through it all, Brady was the constant through all the inevitable player changes and injuries. Tom Terrific always found a way to win, particularly in the last few years, when the talent around him wasn't as deep.
True, the Pats have always had defenses that ranged from very good to dominant, but you have to score points to win and TB12 did that with unfailing consistency. He protected the ball, completed the balls he should have completed and made players look better than they deserved with his pinpoint accuracy and incredible pocket savvy.
While it's likely his undisputed coaching skills and perennially stout defense will enable the Patriots to win 9 or 10 games, it's unlikely that New England will be a Super Bowl threat any time soon.
At present, there just aren't enough weapons on offense. Moreover, Belichick will have to develop another Pro Bowl or Hall of Fame quarterback for the Patriots to contend for more Vince Lombardi trophies.
The only coaches in NFL history to have won a Super Bowl without a Hall of Fame quarterback are Bill Parcells and Tom Flores?
Can Belichick do that with the likes of Jarrett Stidham, or perhaps Andy Dalton or even Jacoby Brissett (he may be available with Philip Rivers now in Indianapolis) at quarterback?
While it's possible, it's not probable. To win Super Bowls, you need a stud quarterback behind centre. Maybe Stidham or someone else will prove to be that player, but only time will tell.