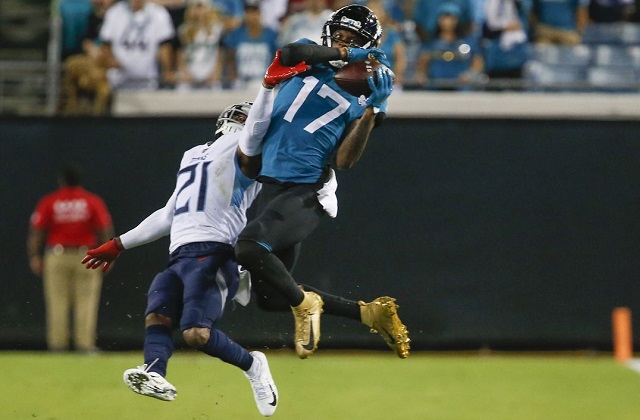 Written by Cam Harper
08 October 2019
It's crazy to think that the fantasy football regular season is already almost halfway over. It seemed like just yesterday that everybody was preparing for their drafts!
Now the tricky part of the season begins. There are a number of substantial players that will be forced to hit the bench from now through week 12. The victims this week consist of all the players residing on the Bills, Colts, Raiders, and Bears. Fantasy players are going to have to make some bold, risky, maybe even strange plays to continue winning while their stars are out.
As always, I'm here to help with that. This has been a weird fantasy season so far. The top 47 wide receivers are averaging over 10 points per game, along with the top 28 running backs doing the same. These numbers should decrease as the season continues and the weather degrades. However, in the meantime, I only have one keep this week due to the surplus of options currently available. Now, without further ado, here is my one keep, two cuts, and three acquires of for Week 6:
Keep
Brandin Cooks, WR, Los Angeles Rams
So far, the Brandin Cooks that we know and love hasn't been putting up the fantasy numbers that we know and love. For a guy that was likely drafted in the third round, that's a big blow. Cooks has only surpassed 100 yards in a single game and has just one touchdown to show for it. However, don't forget that Brandin Cooks has never finished a fantasy season outside the top 15 receivers. It will get better. Cooks hasn't seen a lot of the explosive plays that he has been accustomed to in the past. The Rams offense hasn't been the Rams offense of 2018. Don't be surprised if the Rams decide to start spreading the field with deep passes to Cooks to attempt to make the offense more dynamic. Cooks only needs one to turn in a massive performance.
Cut
Baker Mayfield, QB, Cleveland Browns
At this point Baker Mayfield isn't even worth starting. Baker and the Browns have defied the odds and found a way to be terrible with an incredibly talented team. Maybe it's unfair to call the Browns terrible, but Baker sure is. He has yet to put together a single QB1 outing, and, at the time of writing this, Baker is 8/22 for just 100 yards and 2 interceptions. It's the 4th quarter. Despite an exceptionally talented receiving core and one of the best young running backs in the league, Baker continues to find ways to struggle. Unless you're in a dynasty or a superflex league, Baker isn't worth holding onto any longer.
Adam Thielen, WR, Minnesota Vikings
I might not always be right, but I sure was on this one! Adam Thielen went off against the Giants and Kirk Cousins looked like a competent quarterback. Thielen caught 7 passes for 130 yards and a pair of touchdowns. Don't forget that they played the Giants this week, who have one of the worst pass defenses in the NFL. Seven of his remaining ten games are against top 16 pass defenses. Sell him off for a player like Derrick Henry or Leonard Fournette before it's too late.
Acquire
The waiver wire options are pretty dry this week, so this week's acquires will just be buy lows.
DJ Chark, WR, Jacksonville Jaguars
DJ Chark might be the biggest surprise this year in fantasy football. He is a top 5 WR in both standard and PPR leagues, and he came from nowhere. I don't think anyone could have predicted just how good this kid was going to be. He has 5 touchdowns in 5 games this year which, to be fair, is likely an unsustainable volume to uphold. He's also unlikely to finish the season as a top 10 option, but that doesn't mean he can't finish the season as a top 20 option. He will likely finish the season with more than 10 touchdowns and over 100 targets. The Chark owner in your league might view Chark as a sell high. Offer someone like Thielen who actually is a sell high and grab a high-floor WR2 for the rest of the season.
Michael Gallup, WR, Dallas Cowboys
Michael Gallup continues to prove that he is turning into a great fantasy option. He has yet to have a game with fewer than 7 targets and 6 receptions. He had a whopping 14 targets against the Packers, in part because the Cowboys had to throw the ball all game to catch up. But that still highlights that Dak really trusts Gallup with the ball. Similar to Chark, maybe the Gallup owner in your league views Gallup as a sell high. Or maybe the owner doesn't realize how good Gallup is. Gallup is also going to finish the season as a WR2, so trading a player like James Connor is going to be a worthwhile investment.
Saquon Barkley, RB, New York Giants
I highlighted this trade last week, and I'm going to continue to talk about it until Barkley returns. The Barkley owner in your league is hurting. That owner is hitting the panic button after losing the last two weeks. That Barkley owner just heard that his #1 pick is going to be out yet another week, and now must scramble onto the waiver wire to attempt to find another spot start this week. This is the perfect time to trade for Barkley. Give the Barkley owner in your league a pair of solid options, like DJ Moore and Marlon Mack. Yes, that is a lot to give up for a player that is going to be out for yet another week. But that player is going to help you win your league down the stretch. Marlon Mack and DJ Moore will not. Make the trade while you can.