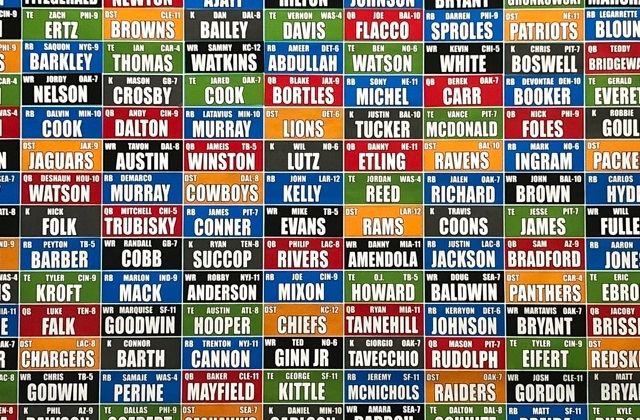 Written by Cam Harper
02 September 2019
With week one of the NFL season just days away, I've put together a list of quick tips for all the procrastinators out there that have yet to assemble their team. While waiting until the last minute makes it difficult to get as many steals in the later rounds, that doesn't mean it's impossible to maximize value in your draft.
Follow these tips to have the best possible team to hit the ground running for week one.
Wait to draft a QB
Wait, wait, wait, wait, wait, and wait some more before drafting a quarterback. There are too many solid quarterbacks that can be found in the late rounds like Dak Prescott, Kirk Cousins, Phillip Rivers, and Drew Brees. I've seen some of these quarterbacks fall into the thirteenth and fourteenth rounds of several drafts. There's no reason to spend an early round on a quarterback when that pick could be used on a starting caliber running back or receiver. It's much easier to find a replacement quarterback than a replacement running back during the season.
More importantly, don't be the guy that drafts Patrick Mahomes in the second or third round. No quarterback has ever thrown 50 touchdowns in consecutive seasons. The odds are not in Mahomes favor to repeat the insane season he pulled off last year. Even if he was guaranteed to repeat last season, a second-round pick might still be too high for a quarterback. There's just too much value at literally every other position.
Wait until the last two rounds for a defense and kicker
Without fail, the bears defense gets drafted before the tenth round, and Justin Tucker gets drafted before the twelfth. For the same reason as quarterbacks, wait until the last two rounds to tackle these roster spots. It's better to grab players that can make a substantial impact on your roster.
It's easy to stream defenses throughout the year. A good defense to draft in the last round of drafts is the Cowboys defense. They are a good unit that starts the season against the Giants, Redskins, and Dolphins. It doesn't get much better than that.
Kickers are pretty straightforward as well. Look for a kicker that plays on a good offense. Every year, roughly 50% of the kickers drafted as a top-twelve kicker actually finish in that position. Spend the later rounds looking for this season's James Connor or Phillip Lindsay. A defense or kicker isn't going to win a league, but a breakout player will.
Don't get caught in a run
This is especially important in the early rounds, as this tip is all about maximizing value. If there are seven running backs taken in a row, don't feel pressured to draft one as well. At that point it's a reach to draft another one. It's better to look at getting a wide receiver or a tight end. There are plenty of good players to get at all points in the draft, so get the best possible player whenever possible.
Go get "your guy"
Everyone has their favorite sleeper. The guy that they are certain is going to break out, or at least outplay their given ADP. Go get that guy. After round seven or eight, people are only drafting players with substantial upside anyhow. Drafting a player like Justice Hill a couple rounds before he's "supposed" to be drafted isn't a bad thing. If Justice Hill gets 15 touches a game, or takes over the starting job on the Ravens, that 9th round pick was worth it. James Washington is another good example. If Washington gets the #2 job in Pittsburgh, he could finish as a WR2 by the end of the season. That would also be worth a 9th round pick.
There just isn't a whole lot of risk in taking players with high upside late in the draft. Make sure you get your favorite guys.
Find a tier list online
Maybe the best advice is to come to the draft prepared. The easiest way to do that is to grab a tier list online. Most of the in-draft rankings, like ESPN, Yahoo, or NFL, just aren't very good. For instance, ESPN has Le'Veon Bell ranked at #6 overall, which is way higher than the entire fantasy community has him ranked. Grabbing a tier list should assist in getting the best possible player at every pick.
How have your drafts been going so far? Reach out to me @camharperr on twitter! I'd love to hear about them.