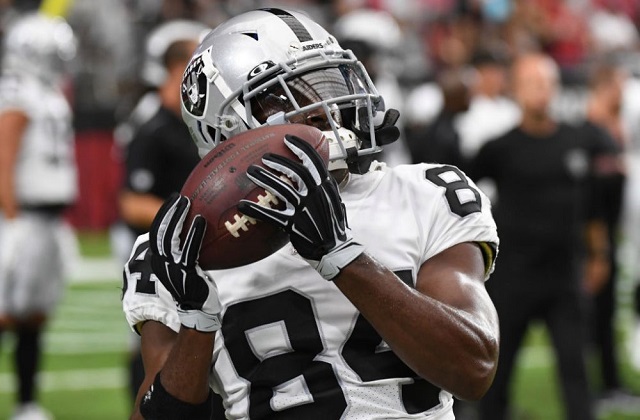 Written by Todd Lewys
25 August 2019
Never before has there been so much player movement prior to the start of an NFL season. Without question, this will have an effect on how fantasy rosters are formed. With so many players on new teams in new systems needing to adjust to new surroundings and teammates, players that were once a lock to be top performers are now far from being sure-fire bets to tear it up.
Antonio Brown, Oakland Raiders
If Brown's start in Oakland is any indication, the 2019 season may not be a banner one for number 84. Dogged by helmet and foot issues, Brown hasn't had a lot of reps in the pre-season. Those distractions aside, he must also adjust to a new quarterback in David Carr; there's no guarantee Brown will have the same chemistry with Carr that he had with Ben Roethlisberger. Not only will he not be playing pitch and catch with Big Ben, but he won't have Le'Veon Bell in the backfield or JuJu Smith-Schuster lining up opposite him at wideout. Brown's production will likely take a big dive in 2019.
Cam Newton, Carolina Panthers
After struggling through the second half of the 2018 season with shoulder problems, Newton underwent shoulder surgery in the off-season to correct the problem. Now, the question is, will he have the arm strength required to go deep and have enough velocity on his throws to thread the ball through tight windows to make key completions? Add in the fact that Newton's compete level is questionable when the going gets tough, and you have a player who's ripe to experience a big decline in performance.
Le'Veon Bell, New York Jets
In total, more than 600 days have gone by since Bell had a touch in a meaningful football game. Couple that with the fact that he will have played little - or not at all - in the pre-season, and you have to wonder if Bell has lost the edge that made him one of the premiere running backs in the NFL. Some think avoiding the wear and tear of nearly two seasons of football will make for a fresh, rested Bell. It's more likely he will be rusty, and will suffer from not having Ben Roethlisberger and Antonio Brown lining up beside him on offense. Without those complimentary pieces next to him and with a second-year QB (Sam Darnold) still learning the ropes, Bell's productivity is going to drop.
Nick Foles, Jacksonville Jaguars
As much as you have to love Foles competitive drive and laudable humility, he's set up to fail in Jacksonville. First, there's the pressure of having to live up to the big contract he signed in the off-season. Second, all the focus is now on him. Third, he doesn't have the same weapons surrounding him on offense that he did in Philadelphia. And fourth, Foles has never excelled in a starting role. 'Nuff said.
Latavius Murray, New Orleans Saints
Chemistry is a fragile commodity, and there's no doubt that Alvin Kamara and Mark Ingram were one of the best running back tandems in the NFL for many years. With Ingram gone to Baltimore, the Saints signed Latavius Murray, late of the Minnesota Vikings. To be blunt, Murray will have to play much better than he did in Minnesota to be the sparkplug that Ingram was for so many years in the Big Easy. Not only is he not as explosive as Ingram, he's been nowhere near as consistent over the course of his career. This doesn't bode well for the Saints' offense
Kyler Murray, Arizona Cardinals
Reality is, few quarterbacks dominate the NFL in their maiden season as a starter, with the exception of Dan Marino (a true rookie) and Patrick Mahomes (who had one full season as understudy behind Alex Smith). So, to expect Murray to light it up in Arizona is unrealistic. He has to deal with a new coach, new offense, so-so offensive line and the sky-high expectations that come with being the first overall draft choice. Even his incredible mobility, stronger-than-expected arm and high compete level won't make up for the fact that he - like every rookie QB before him in the NFL - will have to go through a steep learning curve. In short, no instant star here; draft him mid or late round. If he does light it up, he'll be the steal of your draft.