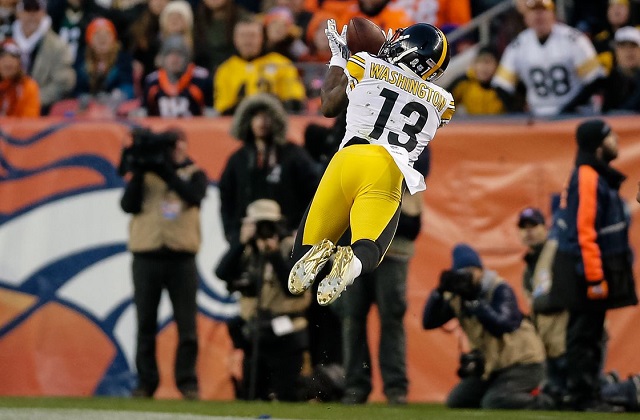 Written by Cam Harper
21 August 2019
Projecting sleepers is one of the most common things to project in the fantasy football industry. Everyone wants to grab their Alvin Kamara, Odell Beckham Jr, Peyton Hillis, or Adam Thielen. There's nothing better than grabbing a phenomenal asset to their team at the end of their draft. However, in today's game, there's just so much information available to everybody and, as a result, players get too overhyped. Royce Freeman was a great example last season. Everyone thought he was going to be the bell cow in the Denver offense, leading to his draft stock launching into the third and fourth rounds. The result? A massive headache for all his investors.
David Montgomery is a good example for this season. So many experts are predicting him to have a breakout season, causing his average draft position to inflate several rounds the past couple months. Even if he does break out, those who draft him aren't getting a great value i n him. He's being drafted right around his ceiling.
This happens every year. The fantasy community finds a likely candidate to break out and the same candidate loses all their value due to the hype. The only way to avoid this predicament is to find the sleepers who aren't being talked about. So, without further ado, here is my list of sleepers that virtually nobody is talking about.
Emanuel Sanders, WR, Denver Broncos
I can't believe I'm saying this, but I think Emmanuel Sanders is the most likely candidate to far outplay his current ADP. He is currently being drafted as the WR42, and for fair reasons. The offense hasn't exactly gotten better since he tore his achilles. There is nobody else notable on that offense to throw to, and Joe Flacco might be a downgrade from Case Keenum. Not to mention that Emmanuel Sanders had one of the worst injuries a wide receiver can have. It's difficult to believe that Sanders will be able to sprint, juke, and cut like he used to. His increasing age could also be problematic. He's going to be 31 this season, right around that age where players begin to fall off.
Despite all that, reports out of Broncos camp have been extremely encouraging for prospective Sanders owners. He was a full participant in camp last week, with reports going as far as stating he might play in some preseason games. If Sanders is actually healthy and not hindered by his injury, look out. Sanders was the WR5 in 2018 prior to injuring his achilles. Sanders playstyle is like Steve Smith, the same receiver that flourished with Joe Flacco at the helm. It helps Sanders' cause that Courtland Sutton and DeaSean Hamilton aren't superstars in the league.
If Sanders can accomplish anything close to what he did last season, he is going to be a league winner at his current going rate.
Calvin Ridley, WR, Atlanta Falcons
Remember last season when people said to avoid Juju Smith-Schuster? People said that there wouldn't be enough targets for him with Antonio Brown in the offense. Well, Juju ended the year as a top ten wideout, far outplaying his ADP. Calvin Ridley feels like the exact same situation this season.
The Falcons brought in Dirk Koetter as their new offensive coordinator. This is the same Dirk Koetter that lead the Buccaneers to a top-five passing offense in 2018. He now controls a top-five offense in the NFL with a much better quarterback. There's going to be plenty of targets to go around, leaving Ridley with a massive opportunity to become a top receiver in the NFL. Ridley finished as WR22 last season and is being drafted as the WR23. Worst case scenario, Ridley finishes the season in the exact same position he is being drafted. Best case scenario, owners will get a top-ten wideout in the fifth round. Not to mention, if something were to happen to Julio Jones, Ridley instantly becomes one of the best fantasy wide receivers.
Ridley presents a rare case of massive upside with little to no risk. He's an absolute steal in the fifth round.
Devonta Freeman, RB, Atlanta Falcons
I'll admit, this pick is a bit risky. For the same reason I love Calvin Ridley, I'm concerned about Devonta Freeman. Dirk Koetter isn't known for providing the fantasy community with solid running backs. Koetter definitely hasn't produced a solid fantasy back in Tampa. He was also Freeman's offensive coordinator back in his rookie season, which didn't amount to much. The following season Freeman broke out and became the fantasy MVP of the season, without Koetter.
But the upside is incredibly appealing, even with Koetter back on the team. He's going in the early fourth round due to his absence for the majority of the 2018 season. He's finished as a top 13 back three of the last four seasons, and those years were with Tevin Coleman on the team. Now Freeman has the backfield to himself with no real talent behind him on the depth chart.
If Freeman can manage around 18 touches a game and remain healthy, he will easily finish as a RB1 in the Falcons high-powered offense. The absolute worst-case scenario is that he only gets around twelve touches a game and finishes as a RB2, which is where he is being drafted anyway.
James Washington, WR, Pittsburgh Steelers
There's a lot of targets open in the Steelers offense with the departure of Antonio Brown. While Big Ben likely won't throw the ball 600+ tines again, something in the realm of 580 is reasonable. That's still a lot of open targets for whoever becomes the number two in Pittsburgh.
James Washington will most likely will start the season as the number three receiver, but he will likely take over after a couple weeks. Donte Moncrief has proven over the course of his career that he just isn't that good. He never accomplished anything when he played with TY Hilton. He certainly didn't do anything last season when he was on the Jags (to be fair, it was the Jags). Nonetheless, the chances that Moncrief outplays a talented second-year player aren't high.
James Washington has also looked good in his first two preseason games. His route running has certainly improved, and he looks faster as well. Yes, the argument can always be made that they are just preseason games. But you can still see the improvement in his fundamentals. Washington could easily become a consistent flex play when he lands that job in Pittsburgh.
Dede Westbrook, WR, Jacksonville Jaguars
Dede Westbrook is strictly a sleeper in the sense that he will likely outplay his WR38 ADP. That doesn't mean that he will be good by any means, but he will do better than WR38. After all, somebody has to catch the ball in Jacksonville. They aren't going to run the ball 50 times a game.
He had a decent season in 2018. He finished the year as the WR33 in one of the worst offenses in the league. The entire offense should look to improve in 2019 with a healthy offensive line and a massive upgrade at quarterback. It wasn't that long ago that Blake Bortles was a legitimate fantasy option. If the offense can stay healthy, there's a good chance everyone on the offense will have a massive rebound year.
Plus, who else is going to catch the ball in Jacksonville. Marquise Lee? Keelan Cole? Geoff Swaim? Not likely. Westbrook could see a lot of targets, leading to a potential WR2 upside. I like that at WR38.
Who else is undercover sleeper? Hit me up @camharper on Twitter and let me know what you think!