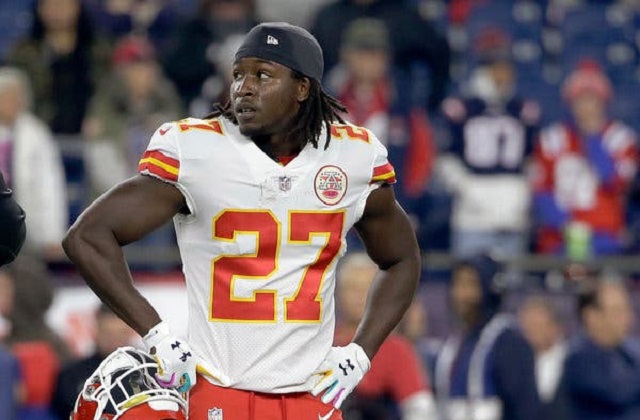 Written by Cam Harper
15 August 2019
There is nothing worse in fantasy football than investing an early pick into a player only to watch their season crumble before your eyes. Players like Le'Veon Bell, Jay Ajayi, LeSean McCoy, Montee Ball (way back in 2013, he was a second-round fantasy pick), Royce Freeman, or Alex Collins. All these players had the potential to be great, yet fell on their face, leaving a sour taste for anyone who drafted them. The worst part? None of these players suffered a serious injury. They were all early round investments that simply didn't perform (or just didn't play). Now all the players listed above are extreme examples, but it makes a point: it is very difficult to win a championship with players who don't even come close to the value invested in them.
Here are the players in 2019 who are likely to underperform at their current ADP.
Damien Williams, RB, Kansas City Chiefs
The news just doesn't seem to get better for Damien Williams.
There was already concerns over his durability. Williams has never ran the ball more than 13 times in a regular season game. In fact, he has never carried the ball more than 85 times in an entire season. This concern was before he injured his hamstring, causing him to already miss some time this offseason.
Then Andy Reid's comments started coming in. First, he appeared to bash the running back for missing time due to injury, followed by praise for veteran running back Carlos Hyde. Now there's talks of the Kansas City backfield becoming a dreaded running back by committee. Reid commented that he used a little bit of a committee scheme back in Philadelphia, and that he is looking to implement a similar scheme this season. With the potential emergence of Darwin Thompson, this is appearing to be a crowded backfield.
Currently, Williams is being drafted as RB13 off the board as an early third-round pick. The upside is obviously there. Andy Reid offenses consistently produce high-production running backs. But there's a real risk that Damien Williams doesn't even have the starting job halfway through the season, or that he only touches the ball ten times a game due to a time share. Players like Leonard Fournette and Devonta Freeman are being drafted after Williams and have virtually zero chance of losing their job. The risk just doesn't outweigh the reward on this one.
Tyler Lockett, WR, Seattle Seahawks
Tyler Lockett is currently being drafted in the late fourth-round to early fifth-round of drafts. This is close to where Doug Baldwin was being drafted last season. The assumption here is that Lockett is going to take over Doug Baldwin's role as the slot receiver and produce Doug Baldwin-like numbers in this offense. This is an unrealistic assumption for the fifth-year wide receiver.
Lockett isn't like Doug Baldwin. Lockett isn't known as a possession receiver with exceptional route running. He is good gadget wide receiver, but that's it. He has never been the "go to" guy in this offense. Even when Doug Baldwin was injured for a good portion of 2018, Lockett only saw 70 targets the entire season. This might come as surprising, but Lockett has never seen ten targets in a game in his entire career. Not once. The assumption that Lockett jumps from a 70 targets per year receiver to a 120+ targets a year receiver just doesn't seem accurate.
That is before considering his inevitable touchdown regression. Lockett caught ten touchdowns on those 70 targets last season. There is no way he repeats this season. If we were to remove just four touchdowns from Lockett's total last season, he jumps from the WR16 to the WR24.
The draft is all about value. Lockett is currently being drafted at his ceiling, and that's just asking for trouble with his current ADP.
Kareem Hunt, RB, Cleveland Browns
This one just doesn't make any sense. Kareem Hunt currently has an ADP of 98 in PPR formats, good for an early 9th round pick. Please don't fall for this headache.
The absolute best-case scenario with Kareem Hunt is that Nick Chubb gets injured, and Hunt immediately enters the offense as the bell cow back. The other scenario is that the Browns decide to trade Hunt at the end of the season. Both situations are the absolute best possible outcomes for the suspended back.
Let's just assume that Nick Chubb gets injured and is out for the entire season. Hunt is still suspended for eight games, and the Browns have their bye week on Week 9. The absolute earliest time that Hunt could contribute to your fantasy team is Week 10, four weeks before the start of the fantasy playoffs. So, no matter what, drafting Hunt requires having a dead roster spot for most of the season.
However, fantasy football is a game of odds, and the odds that either of those situations happen are low. The odds that Kareem Hunt becomes an instant fantasy stud upon his return are drastically lower. The only reason to draft Hunt at all would be if you want to handcuff Nick Chubb in case of an injury. If you don't draft Chubb, stay away from Hunt.
Le'Veon Bell, RB, New York Jets
Remember David Johnson last season? He technically finished the season as an RB1 but ask any David Johnson owner last season if they enjoyed having him on their team. The answer would be a resounding "no". He was consistently decent for the entire season, but he never had any of those game winning weeks owners want from a first-round pick. David Johnson certainly wasn't the reason any owner won a fantasy championship. This is Le'Veon Bell in 2019.
Bell is currently being drafted as the sixth running back off the board in the first round. This ADP is above his ceiling for 2019. There are just so many question marks surrounding Bell to be able to justify his current position on draft boards.
Is Bell still an elite running back? It's a fair question considering nobody has seen Bell play in well over a year and a half.
Is Bell going to be able to stay on the field? He has had issues staying on the field in the past, and those issues were before he took considerable time away from the game.
How bad will the Jets offense be? The Jets offense is nothing compared to the Steelers offense. The offensive line is arguably the worst in the NFL. Sam Darnold is nothing compared to future hall of fame QB Ben Roethlisberger. The Jets best weapon outside of Bell is Robby Anderson. This Jets team isn't going to score a lot of points, leaving Bell with far fewer scoring opportunities.
Bell will likely get enough targets through the air to keep him in the low-end RB1 discussion, but don't expect Bell to help win any leagues. That's a problem when the primary goal of a first-round pick is to do exactly what Le'Veon is not going to do.
Patrick Mahomes, QB, Kansas City Chiefs
Patrick Mahomes isn't going to be an actual bust. He's most likely still going to finish as the QB1 this season. The issue with Mahomes isn't that he is going to be bad, it's that the quarterback position is just so deep in fantasy. There are legitimately twenty QBs that could be started with little concern. This makes drafting a QB in the second round just way too high of a price.
I've mentioned this in a couple of my previous articles. The difference between QB2 and QB16 was roughly five points per game in 2018. The difference between RB2 and RB16 was roughly 11.5 points per game. That is a massive difference. The difference between WR2 and WR16 was still about 8 points per game. Quarterbacks are just more replaceable than the other positions in fantasy.
Mahomes is also due to regress a little in 2019. He threw for fifty touchdowns in 2018. No quarterback has ever repeated this feat. If he were to throw for 40 touchdowns instead of 50 in 2018, he essentially has identical stats to Matt Ryan. Nobody would even consider drafting Matt Ryan in the second round.
Mahomes is just a really bad value at any point prior to the fifth round.
Who else do you think is going to be a bust in 2019? Let me know @camharperr on Twitter!