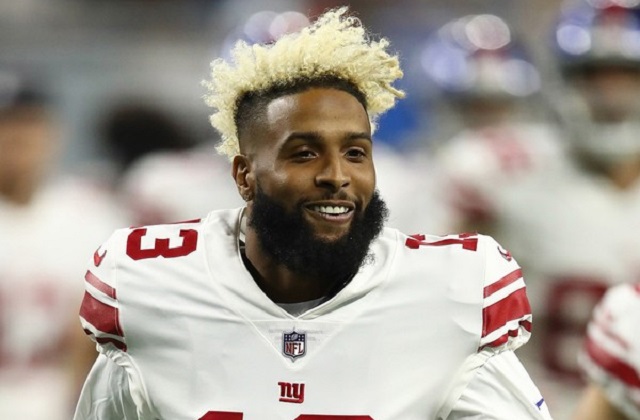 Written by Todd Lewys
27 July 2019
Prior to the 2019-20 NFL season it was relatively easy to predict the offenses that would be productive, and those, well, that wouldn't be.
Back in the good old days (which is to say 2017), the Pittsburgh Steelers offense was powered by the trio of Ben Roethlisberger, all-world wideout Antonio Brown and the multi-talented Le'Veon Bell.
And in New Orleans, you could count on the likes of WR Michael Thomas and running backs Alvin Kamara and Mark Ingram to combine with QB Drew Brees to create one of the league most's potent offenses on an annual basis.
Well, don't look now, but the Steelers are now without Brown and Bell, while New Orleans lost Ingram in free agency, and is now dealing with a disgruntled Thomas, who - and rightfully so, being the most productive receiver in the NFL the past three years - is holding out for a new contract.
Meanwhile, Brown landed in Oakland, and Bell has found a new home with the New York Jets. At the same time, Odell Beckham Jr. is now a Cleveland Brown, joining QB Baker Mayfield and his buddy, WR Jarvis Landry, on a talented young team that has the potential to do more than just make the playoffs.
Here's a look at some of the new (or revamped) offensive tandems and trios, and how they figure to perform once the NFL regular season starts for real on September 5.
Pittsburgh Steelers
With Brown and Bell gone, Big Ben will now be handing off to RB James Conner and firing downfield to JuJu Smith-Schuster. Last year, Conner showed that he was a more-than-adequate replacement for Bell. Question is, can he replicate that high-level of production knowing the Steelers' running game will be going through him. Likewise, can Smith-Schuster shoulder the responsibility of being Big Ben's go-to receiver? Only time will tell. The trio could light it up, or it could take time to gain full chemistry.
New Orleans Saints
If the Saints can't find a way to make Thomas happy in a hurry, they stand to start the season with only Brees and Kamara on the field. Make no mistake about it, Thomas' big body and soft hands will be sorely missed - as will his clutch catches. And while New Orleans signed Latavius Murray to replace the departed Mark Ingram, there's no guarantee Murray will mesh with Kamara the same way the powerful Ingram did. If Thomas' holdout goes long-term, the Saints offense stands to suffer.
Dallas Cowboys
The Cowboys look to be in the same tippy boat as the Saints with disgruntled running back Ezekiel Elliott - one of the most productive RB's in the NFL over the past two to three years - looking for a contract that will better compensate him for his considerable talents. Without Elliott, QB Dak Prescott figures to be less effective to set up the long ball to Amari Cooper. A long-term holdout by Elliott could really throw a wrench into the Cowboys'offense - one that would likely curtail overall productive in a big way.
Cleveland Browns
Granted, the Browns do look really good on paper. In theory, their offense - led by QB Baker Mayfield with wideouts Odell Beckham Jr. and Jarvis Landry poised to snag the gunslinger's downfield bullets - should be lethal. Then again, are there enough balls to go around to Beckham Jr. and Landry? And can Mayfield come off a surprisingly successful rookie campaign to mature into a leader and a consistent performer at pivot? Those questions will start to be answered in early September when the games are played for real.
Oakland Raiders
Doubtless, the Gruden & Co. are hoping that WR Antonio Brown will be the elixir that the Raiders' offense needs to start producing at an elite level. Question is, can QB David Carr stay healthy for an entire season? And do the Raiders have a running back and secondary receiver who can take the focus off Brown, at least slightly, to give him some room to operate? Not only that, but will the moody Brown have the same chemistry he had with Roethlisberger? Tune in to find out.
New York Jets
Le'Veon Bell now has his chance to prove just how underrated he was while he was in a Steelers uniform. If he proves to be a legitimate star, second-year QB Sam Darnold will have a reliable, talented running back to give the ball to. However, that's only part of the equation. Darnold will also require a reliable target at wide receiver, so someone will have to step up there. Suffice it to say Bell and Darnold won't be able to carry the Jets' offense by themselves.
New York Giants
Eli Manning - who many experts consider to be well past his prime - is another year older. The there's his sidekick, last year's offensive rookie of the year, Saquon Barkley. Does Manning have enough left in his gas tank to capably lead the Giants offense? And can Barkley improve on last year's brilliant campaign with every defense out to stuff him? He will also have more responsibility heaped on him this year with Beckham Jr. out of the mix, too. Challenging, to say the least.

Kansas City Chiefs
The huge sigh of relief you heard come from Missouri doubtless came from QB Patrick Mahomes. With his go-to receiver, Tyreek Hill, now due to be on the field rather than on the sidelines after evading discipline for domestic issues, all is well. True, there's no Kareem Hunt to hand off the ball to, but TE Travis Kelce is still there, and the Chiefs are deep at running back. Mahomes may not hit for 50 TDs through the air, but let's say 40 and an offense that still has the firepower to give opposing defenses fits.
It may take time, but new offensive forces figure to be created by all the off-season movement. Which players will thrive and which will underperform? Those things will play out during what promises to be an intriguing 2019-20 NFL season.