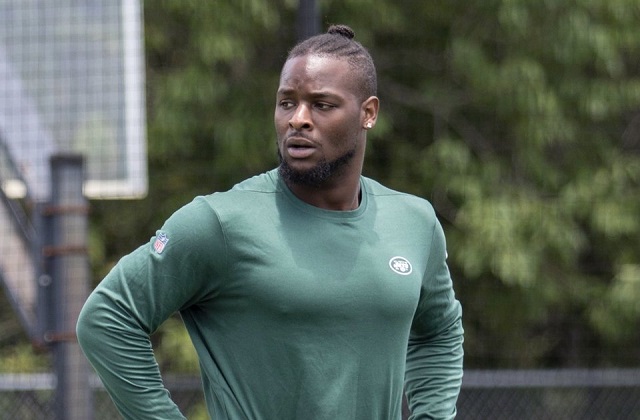 Written by Cam Harper
23 July 2019
The quickest way to start off a season on the wrong foot is overpaying for players in the draft. In fact, it might be better to avoid some players all together. A good example of this would be Lesean McCoy last season. Lesean McCoy was being drafted in the third-round last year despite some of the massive red flags. The result? McCoy had his worst season to date, averaging a mere 8.8 points per game and finishing as the RB40.
Another example would be Le'Veon Bell, who entered the season as arguably the most desired player in fantasy. Le'Veon never played a snap.
This example is more extreme, but it proves a point. Sometimes the risk just isn't worth the reward.
Here are some players that are currently being drafted too early for the risk they present.
Le'Veon Bell, RB, New York Jets
As of right now, Bell is being drafted in the first round of many leagues. What!? There are so many red flags here that it's difficult to say where to start.
The biggest concern is that Bell hasn't seen the field in over a year and a half. Nobody really knows what kind of shape he is in, or if he is even an elite talent anymore. Not only that, but nobody has ever seen Bell suit up for anyone other than the Steelers. He is moving from having one of the best offensive lines to arguably the worst, and from an offense loaded with talent to an offense with almost none.
It's not practical to assume that Le'Veon is going to come back and pick up right where he left off. Especially not when his head coach is known for wasting offensive talent (see Kenyan Drake). Adam Gase literally said that he didn't want to have Le'Veon Bell on the team.
Let's not forget that Le'Veon has had some issues staying on the field thus far in his career. In his five seasons, he has played an entire season twice. He tore his MCL back in 2015 and was suspended two separate years for marijuana.
Even if everything works out perfectly for Bell, his upside is limited on the Jets. It might be a stretch to say he will finish the season as a top ten running back. Players like James Connor, Todd Gurley, Nick Chubb, Damien Williams, Aaron Jones, and Marlon Mack all have higher upside than Bell and can be found later in the draft.
Be careful reaching too high for Bell.
Dalvin Cook, RB, Minnesota Vikings
There's plenty of appeal for Dalvin Cook this season. New offensive coordinator Kevin Stefanski should be looking to run a more balanced offense, meaning more touches for Dalvin Cook. The offensive line should be looking at a bit of an upgrade after addressing it in both free agency and the draft. While all of this is great, Cook is being drafted as the eleventh running back off the board, and that's his ceiling.
After only missing two games in three years at Florida State, Cook has missed a good portion of the last two seasons due to injury. He tore his ACL in the 2017 season and dealt with a couple hamstring strains for a good portion of the 2018 season. It's fair to question if his legs are going to make it through the 2019 campaign.
Cook is also a player who has only carried the ball over 100 yards twice in his career. In his defense, this could be directly related to the fact that he has only carried the ball over twenty times in two games. Kevin Stefanski should fix this issue, but then the injury problem arises. If he couldn't stay healthy with fewer carries, what makes us think he's going to stay healthy with more?
The Vikings obviously recognize this issue as they spent a third-round pick to draft Alexander Mattison out of Boise St. A mid second round pick just seems too rich for a player with a lot of health concerns. You can grab AJ Green, a consistent top ten player when healthy, a full round later than Dalvin Cook.
Patrick Mahomes, QB, Kansas City Chiefs
There's a lot of factors that go into why Patrick Mahomes is way overvalued. His current consensus average draft position is at the end of the second round. Even assuming he can duplicate his numbers from last season, drafting a quarterback in the second round seems way too high.
No quarterback has ever thrown fifty touchdowns in back to back seasons – not even close. It's inevitable that Mahomes is going to regress this season. Assuming Mahomes throws for ten fewer touchdowns and around three hundred fewer yards, he'd be much closer to the fantasy point total of the other elite QBs last season. While throwing for 4,800 yards and 40 TDs would still be a great season, those stats don't justify a second or third round draft pick.
Drafting an elite running back, wide receiver, or tight end in Mahomes' place is going to deliver much more value.
Leonard Fournette, RB, Jacksonville Jaguars
Forget that Leonard Fournette is a high-risk player to draft, he's just a bad player to draft. Fournette has a career average of 3.7 yards per carry. That is amongst the worst in the league. Unfortunately for Fournette, that isn't going to improve. The offensive line is still mediocre, and the team lacks talent at wide receiver. The Jaguars are going to remain a run-first offense, with defenses continuing to stack the box against Fournette.
Fournette also comes with plenty of injury questions of his own. After putting up a fairly injury-free campaign in 2017, he was hurt for most of the year last season. After being injured for much of his time at LSU, Fournette has proven he isn't going to outgrow his injury bug.
Assuming that he can stay healthy all season, Fournette is still going to be a game flow dependent RB2 at best. If the Jaguars defense can keep them in games, Fournette will see a plethora of carries. But if the defense can't keep them in games, Fournette isn't a formidable pass catcher and will likely be taken out of the game plan. That's a lot of risk for a player going at the beginning of the third round.
T.Y. Hilton, WR, Indianapolis Colts
Here's a fun fact: T.Y. Hilton has finished as a top ten fantasy receiver just one time in his seven-year career. Keep in mind that T.Y. has had Andrew Luck at QB for his entire career, and he has been the number one option in that offense for most of it. The Colts just added a solid #2 option in Devin Funchess, while adding Parris Campbell as a slot receiver. With the recent emergence of Eric Ebron, Andrew Luck is going to have more options than ever before.
That is no bueno for T.Y. Hilton.
Hilton isn't a bad player, but any decrease in targets is going to really hurt his potential as a fringe WR1. He is currently being drafted as the WR11 off the board, which is likely his ceiling this year. It doesn't make sense to draft Hilton over a player like Brandin Cooks, who has been a top fifteen WR every year in the league.
What players do you think are overvalued this year? Hit me up @camharperr on twitter and let me know!