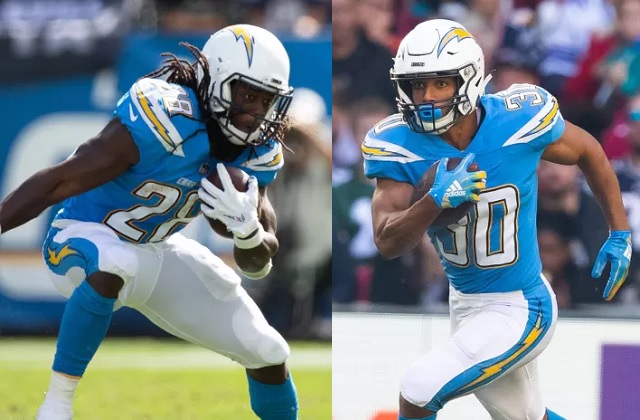 Written by Michael Bower
19 July 2019
Recently, Melvin Gordon informed the Los Angeles Chargers that if he did not receive a new contract prior to training camp, he would either hold out and/or request a trade. Of course, if you are a Gordon owner you now know how every Le'Veon Bell owner felt at this time last year. So this begs the question: are handcuffs essential in Dynasty? If so, who do we handcuff? Let's take a look!
Melvin Gordon = Austin Ekeler: Although Justin Jackson has a frame similar to Gordon's, Ekeler is the more experienced player and when given an opportunity has shined, averaging 5.3 yards per carry and 10.3 yards per reception on his career. There is also a possibility that the Chargers could go running back by committee with Jackson taking on more of the rushing role and Ekeler doing more of the receiving. Either way, it will be interesting to see how the Gordon saga plays out, keeping in mind that Gordon isn't exactly the picture of health, playing only 16 games once and only appearing in 55 of a possible 64 games in his 4 year career.
Todd Gurley = Malcolm Brown: But what about Darrell Henderson? Well, I feel like he has a spot on the team, but for this year it might primarily be on special teams. Malcolm Brown was the supposed fill-in starter for Gurley last season until he suffered a season ending clavicle injury. This past off season, as a restricted free agent, he attempted to sign with the Detroit Lions, but the Rams matched his offer sheet. So this is an interesting scenario as well, as Gurley when healthy is a monster and Henderson is elusive in open space. However, I think for this season, Brown is the guy that gets the nod as Gurley and Henderson are both long term investments. An interesting Gurley stat - the only full season he played was in 2016 and that was when he had his lowest yardage output (885 yards). Of course, that would signal the end of the Jeff Fischer era and bring in Sean McVay.
Ezekiel Elliott = Tony Pollard: Suspension aside, the only way Zeke misses time is when he is being rested for the playoffs. So why is he on the list? Word on the internet (so reliable, I know), is that he was contemplating a holdout in training camp. If that happens is Mike Weber the next man up? Not in my eyes. Enter former Memphis RB/WR Tony Pollard. Honestly, I'm not sure why Pollard didn't get more pre-draft hype, as he is explosive in many facets of the game, especially compared to Weber.
James Connor = Benny Snell: Jaylen Samuels is too versatile to be in one position spot for too long, so Benny Snell looks to fit the mold of a handcuff perfectly. One of the best backs to emerge from the University of Kentucky, Snell is a bruiser that fits Pittsburgh like a glove. This is a handcuff that may take a few years to pay off, but Snell is the guy in my eyes if Connor goes down or departs.
Sony Michel = Damien Harris: Former SEC competitors are now team mates and one could possibly take the other's job. Michel has been ailing with knee issues since his time at Georgia, and James White's role on the team is pretty much solidified at this point as the pass catching back. While Harris may not be as good of a runner as Michel, he is a solid all-around back with less wear and tear then Michel. It's telling when a year after drafting one player they spend another mid round pick on another player of the same position.
Dalvin Cook = Alexander Mattison: If you know me, you know I am not a Dalvin Cook fan. That being said, when on the field he can be a nightmare for opposing defenses. However, both of his first two NFL seasons have been a bust due to injuries. Wisely, the Vikings drafted a player with a similar skillset in Alexander Mattison. While he is nowhere near the talent level of Cook, if (when) he has to step in for extended period of time, the Minnesota offense will be just fine as they have a sufficient quantity of offensive pieces.
Leonard Fournette = Ryquell Armstead: All reports indicate that Jacksonville is not too pleased with Fournette. In fact, the Jags front office even tried to take back some of his guaranteed money this past offseason due to side line behavior and off season arrests. When on the field, he hasn't exactly been as advertised either, averaging only 3.7 yards per carry over his two NFL seasons. Enter Temple product Ryquell Armstead. He is almost an exact replacement for Fournette, as his size is similar (5'10" compared to Fournette's 6'0") and weight (220 lbs to 228 lbs). Play-wise, he is a pounder who does not offer much in the receiving game (29 Rec 175 Yds in 4 years). Sound familiar? If Fournette's end is near, Armstead could be a solid steal, especially in standard scoring leagues, and yes people still do standard scoring.
Have I changed your tune on handcuffs? Another philosophy is to steal an opponent's handcuff if they don't believe in doing it, then selling when the price has sky rocketed. If you want to hear more of my theories, make sure you check out the Dynasty Rewind and catch me on Twitter @Thembower85.