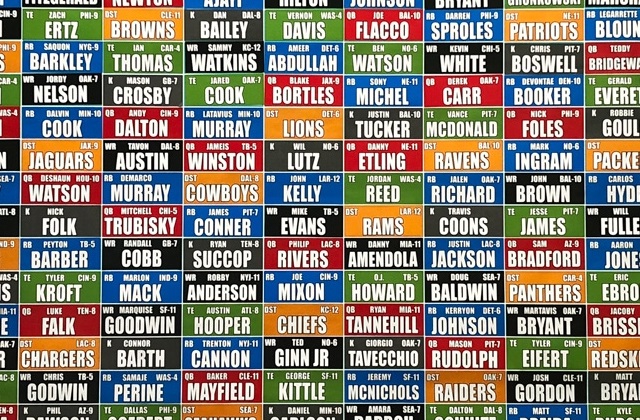 Written by Cam Harper
17 July 2019
The most important time of the year for fantasy football players is officially just a month away. The draft won't lead to a player strutting around the winner's circle, but it certainly gives players that opportunity. The draft is like an interview – someone isn't going to get the job from the interview alone, but that person can certainly lose it. Just like strategies in an interview, we have strategies for fantasy football. However, before diving into the meat and potatoes of the strategies, let's start with a couple of tips that everyone should use.
The most important piece of advice that applies to literally every fantasy football player ever is to come into draft day prepared. Now that doesn't mean having to create your own big board or making a mathematical algorithm to determine who the best sleepers are (although that would be cool). No. The best method of preparing for the draft is by participating in mock drafts.
The primary goal of mock drafts isn't to draft the best team possible. The goal is to have a good idea of what to expect from every position in the draft. When someone has just as much understanding of who is going to be available at the third pick as well as the eleventh pick, that player is at an inherent advantage over a player who only prepared for the first pick. The worst decisions in the draft happen when a player doesn't know what to do and forces a pick. Don't be that guy.
The next bit of advice that every player should use is to avoid defenses and kickers until the last two rounds. There is just way too much buried talent in the later rounds to justify using those picks on a defense. Every single year I see at least one defense drafted before round 10. Those players could have drafted James White, but instead they got a defense.
The biggest reason why drafting defenses and kickers is bad draft practice is that there is little point disparity between them. There's a reason that many players elect to stream defenses throughout the season. The top twenty defenses all averaged over six points per game last season. The New York Jets defense averaged just 2.6 points per game less than the Rams defense. Most games are not going to be decided by 2.6 points. Especially not when a player could have drafted Patrick Mahomes instead of the Rams defense.
More importantly, please don't draft a kicker before the last round. The lack of disparity is even more prevalent with kickers than with defenses. The was one kicker in the top 31 kickers that averaged under six points per game. Kickers are just too random to put any real investment into. Most kickers are just as likely to kick three extra point attempts in one game as they are to kick four field goals. It's almost impossible to predict if a kicker is going to score four points or fourteen points.
Stick with the tried and true method of drafting any kicker on a good offense. Theoretically, the more times an offense puts a kicker in an opportunity to score, the better off the kicker is.
Now that the best general tips have been covered, let's get into the top two strategies that can really help maximize value in drafts, because that's all the draft really comes down to.
The No QB Strategy
Now don't take this literally. It would not be a wise choice to not draft a quarterback at all. What it does mean though is to avoid drafting a quarterback until the later rounds. Why? The same reason that drafting a kicker or a defense before the final two rounds is a bad idea – there's just not a substantial difference in points scored between the quarterbacks.
Excluding Patrick Mahomes, who outscored everyone else in fantasy by far, there was just a 3.7 points per game difference between Ben Roethlisberger (QB2) and Kirk Cousins (QB12). Like I mentioned above with the defenses, 3.7 points per game probably isn't going to make or break a season. There's just not a good reason to draft a QB in the 5th round over a player like Kenyan Drake, Mark Ingram, or James White. All three of those guys should be solid contributors to a fantasy team. It's more difficult to find solid running backs in the later rounds than quarterbacks.
What is even crazier is that Patrick Mahomes and Ben Roethlisberger weren't even being drafted as QB1s last season. Most players were selecting them to be their backup option. Mitch Trubisky ended up averaging 19.1 points per game in his thirteen starts last year. Baker Mayfield was a reliable starter for the second half of the season. Even Case Keenum was one of the best options at quarterback for the second half of the 2017 season.
There's just too much value that can be found at the QB position late in the draft. Ben Roethlisberger, Philip Rivers, and Mitch Trubisky can all be found after the 9th round of most drafts, and I'd expect all of them to be reliable starters that can contribute to your fantasy team almost every week.
The Zero RB Strategy
The second strategy is something called the zero RB strategy. The premise of this strategy is that running backs are injury prone and unpredictable. To combat this issue, avoid drafting any running backs until the middle rounds and focus on drafting top-tier wide receivers and tight ends in the early rounds. The ideal lineup to have after the first five rounds is four wide receivers and a good tight end. After that, the primary targets are running backs with high upside, receiving backs in committees, and handcuff backs in good offenses.
This strategy really takes advantage of the overall randomness that inevitably happens throughout the year. If a player like Melvin Gordon were to get injured for the season and you owned Austin Ekeler, your team just received a massive boost while your opponent was just crippled. Or if a player used an early pick on James Connor and he were to get injured again, there's a great opportunity to obtain Jaylen Samuels of the waiver wire. Essentially, any time a running back on another team is injured, your team becomes better.
There is a fair amount of legitimacy to this argument. The trend of teams throwing the football continues to increase each year. More pass attempts mean more opportunities for wide receivers and less opportunities for running backs. The trend of running back by committee is also increasing each year. Ezekiel Elliott, Saquon Barkley, and Christian McCaffrey are the only exceptions to this. Every other team is going to be looking to rotate at least two running backs in their offense.
The exception to this rule is if you were to have a top four pick in the draft. The top four running backs are just too good to not draft, even if there is an inherently higher probability that one of them will get hurt.
So, what do you think? Follow me on twitter @CamHarperr and let me know your thoughts on these strategies or if you decide to use any of them!