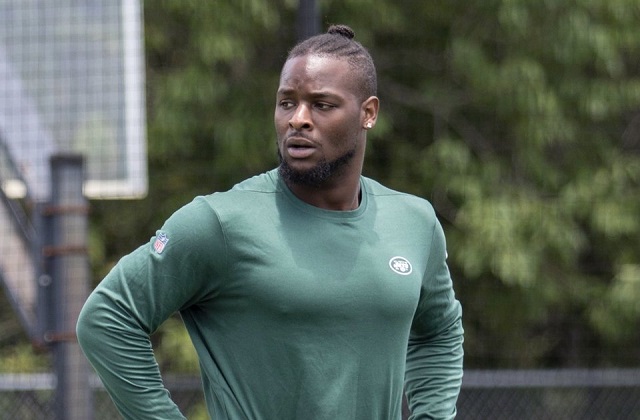 Written by Michael Bower
30 May 2019
Every year we have some unexpected players that raise their game to a whole new level. Waiver wires and trades heat up for them. Then, we have the other end of the spectrum. Players that have great potential and opportunity and fall flat on their face (Trey Burton you are still on my s—t list). Are there any of those players that we can forecast for 2019? Well, fantasy football is much like the weather. Fickle, and difficult to predict. Regardless, here are some players I don't expect to perform at the level that other's might.
Le'Veon Bell, RB, New York Jets: This 100% depends on if Lev plays for the Jets this season. Rumor has it that Gase didn't want him, and now the GM that brought him in is gone. So how can I cast a downward shadow on such an elite player? Simple. He left an amazing situation to go to a worse team, he got a year older and hasn't seen a football field in over a year. While he has stockpiled almost 8,000 total scrimmage yards and 42 Touchdowns in his career, Bell goes to a team with an inferior offensive line, quarterback and wide receivers, not to mention a head coach who clearly needs to learn how to use a feature running back (ask Kenyan Drake). That being said, if Bell isn't traded I think he can have a productive season. He just has an uphill battle to be an RB1 again.
Christian McCaffery, RB, Carolina Panthers: Yeah, people might think this is an odd one, but how can CMC possibly duplicate his monster sophomore season? In 2018, he complied 1,965 total scrimmage yards and 13 touchdowns. With an ailing Cam Newton and the sure breakouts of D.J. Moore and Curtis Samuel, McCaffery shouldn't have to be such a focal point for Carolina as they should look to spread the ball around more.
Odell Beckham Jr, WR, Cleveland Browns: Yes, OBJ went to a team with a far better quarterback. He also went to a team with much more firepower. While with the Giants, he and Saquon Barkley (along with a banged up Evan Engram) were the only elite offensive talent, with a much declined Eli Manning at the helm. But now, OBJ will have to contend for targets with Jarvis Landry, Antonio Callaway, David Njoku, Nick Chubb, Duke Johnson and Kareem Hunt. Couple that with the fact that he has missed time late in the season for the last few years, and playoff bound OBJ owners might be slightly disappointed.
Trey Burton, TE, Chicago Bears: Many people, (myself included), way overpaid for Burton expecting him to be Trubisky's security blanket. After posting a 54-569-6 stat line in 2018, you could have found more value in a player like rookie Chris Herndon - 16 games (12 starts) 39-502-4. Outside of the week 6 loss to New England (9-126-1) and the week 4 win against Tampa Bay (2-86-1), Burton was extremely inconsistent and lacked big plays. With the drafting of David Montgomery and a healthy Allen Robinson coming back, I expect Trubisky to look elsewhere.
Tyler Lockett, WR, Seattle Seahawks: In 14 starts last year, Lockett caught 57 passes for 965 yards and 10 Touchdowns. This accounts for a 16.9 average per reception, which will be hard to keep up given the addition of DK Metcalf and Seattle's strong running game. NFL secondary players are smart, and given time will figure Lockett out.
Todd Gurley, RB, Los Angeles Rams: This one saddens me the most. With an arthritic knee, a player with unlimited potential may never be the same. The Rams have recently released a statement saying his knee is worse than previously thought, but we already knew that when they took Darrell Henderson in the 3rd round of the 2019 draft. The good news for Gurley owners, however, is that with the LA offensive being so explosive, they can spread out defensives and cannot double team Gurley. He does not need a ton of touches to be an effective fantasy starter, but his days as an elite RB1 may be behind him.
Like I stated earlier, I don't feel these players will have necessarily poor seasons, but they won't live up to their hype or ADP (average draft position).
Feel free to hit me up on Twitter @Thembower85 for some great conversation. Also, make sure you look up my podcast, the Dynasty Rewind! It is available on Stitcher, Spotify, Soundcloud and Google Play (iTunes coming soon).