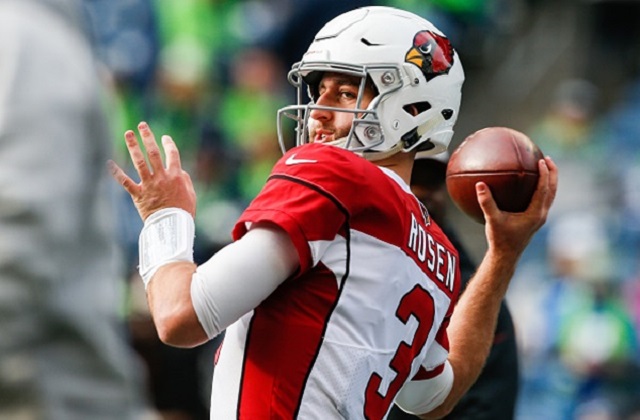 Written by Michael Bower
20 April 2019
On Thursday, 32 NFL franchises will either pick complimentary pieces to their roster, or pick a player that will lead their team to the promised land. This offseason, you will do the same, but instead of doing it in Primetime in Nashville, it will be done in backyards, basements, on laptops, tablets and cell phones. GM's have watched tape, and so have you. This is it! Some players get elevated to the next level, and some, well…..some get knocked down a few pegs. That is who we are looking at today, players that are affected by the draft, both positively or negatively.
Tom Brady, QB, New England Patriots
This might seem odd, it might not. I feel like Tom is the guy who will benefit from the draft the most. New England always drafts well and added depth in the off season in Demaryius Thomas and Austin Seferian-Jenkins. They could draft a receiver like AJ Brown who would thrive in New England's offense. The Sony Michel pick last year was an effort to take some pressure off Brady, so look for the defending Super Bowl Champions to do the same thing this year.
Chris Warren, RB, Oakland Raiders
Last year's preseason rushing champion, Warren mysteriously was placed on Injured Reserve prior to last season. Now, with Isiah Crowell in the mix and a slew of high draft picks, the future Las Vegas Raiders could fill the void with a bell cow three down back.
Eli Manning, QB, New York Giants
The only person blind to the writing on the wall for Eli Manning is David Gettleman. Then again he also didn't sign Odell just to trade him. But, I digress. Eli, while not injured, is not the same Quarterback he was when his squad defeated the New England Patriots in the Super Bowl (twice). He doesn't get the ball out as fast and the arm strength isn't what it used to be, so my hope is the Giants draft Daniel Jones, and he is the starter by week 8.
Todd Gurley, RB, Los Angeles Rams
With his arthritic knee, Gurley lost snaps down the stretch to a very rotund CJ Anderson. Knee problems date back to his time at Georgia, and although LA resigned Malcolm Brown, he isn't the threat to Gurley that some of the incoming backs could be. Now wouldn't be a bad time to grab a back late in the draft and let him sit and learn but be there when needed.
Doug Baldwin, WR, Seattle Seahawks
Another year, another surgery for Baldwin. Although he only missed 3 games last season, he has not been productive as of late and is on the wrong side of 30. The Seahawks are another team that draft very well, so they could add a piece to compliment Tyler Lockett who has emerged as of late.
Chris Hogan, WR, Carolina Panthers and Devin Funchess, WR, Indianapolis Colts
I am putting these two together because I feel their circumstances fit the same mold. Both recently resigned, but both easily replaceable. Neither have ever hit 1,000 yards receiving, although Funchess was the closest (840 yards to Hogan's 680), and while they are both complimentary and affordable pieces, they can be easily replaced in the draft.
The Backfields of the Houston Texans and Tampa Bay Buccaneers
OK, so this is a huge clumping here, but I think that again, we have some similar circumstances. Neither starter inspires anything for fantasy (Lamar Miller in Houston and Peyton Barber in TB), and their backups are filled with question marks, be it Deonta Foreman's health or Ronald Jones's ability to play. There are some players in this draft that could come in and push the incumbents (Miles Sanders and David Montgomery), so let's see what happens during draft weekend.
LeSean McCoy and Frank Gore, RB, Buffalo Bills
What in the world are the Bills thinking? Collectively, their backfield is eligible for Social Security. Both players and either past their prime or close to it, so look for Buffalo to draft a RB late to push these two off to the side in the not too distant future.
Ryan Fitzpatrick, QB, Miami Dolphins
Fitzmagic should last for 3 games and if a player with potential upside is available in the 2nd or 3rd round (Will Grier?), maybe Miami addresses Quarterback a year sooner then everyone expected.
Jimmy Graham, TE, Green Bay Packers
55 receptions for 636 yards and 2 touchdowns is not what Green Bay expected from their past their prime Tight End. There are plenty of options in this draft (TJ Hockenson, Irv Smith, Noah Fant), so Green Bay should look to upgrade.
Josh Rosen, QB, Arizona Cardinals
This could go one of two ways, either Arizona takes Kyler Murray and ship Rosen out, or, they bolster their defense and add more offensive weapons and stick with Rosen. At this point, it really feels to me that they will move Rosen, but either way I am intrigued with the drama surrounding it all.
Dalvin Cook, RB, Minnesota Vikings
Oh Dalvin. Oft-injured high upside Dalvin. Latavius Murray is gone, so you are the only show in town. BUT- Minnesota could draft a running back for insurance (Alexander Mattison would be a fantastic pick here), and given a chance to play due to Cook's imminent injury, he could steal the show.
Jay Gruden, Head Coach, Washington Redskins
This may seem out of place here, but I shall explain. The Redskins are a team (much like the Cowboys) where the Head Coach's hands are tied. Gruden needs a good draft and some skill players to make a difference. We saw how Gruden's offense operated in Cincinnati with great skill players, and he needs this to happen or he will take the fall like many before him.
I am really excited about the upcoming draft, and even more excited for a draft recap next week!
Questions? Comments? Suggestions? Hit me up on Twitter @Thembower85!