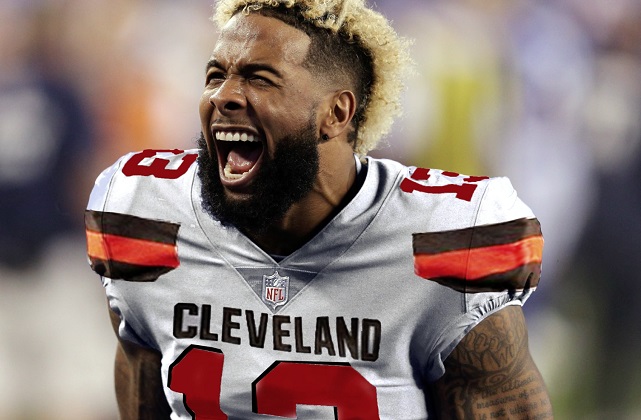 Written by Michael Bower
20 March 2019
In an effort to no longer being relegated to the basement of the AFC North, the Cleveland Browns have been making quite a splash in the 2019 free agency period. It seems everyone is jumping on the Brown's bandwagon, both in reality and for fantasy purposes, but are we getting too excited too early? The Brown's have quickly gone from doormat to media darling, but Back Row Fantasy Show's co-host, Aaron Arms, says "Temper your expectations a little bit." Let's not forget too quickly how Vince Young how the 2011 Philadelphia Eagles "Dream Team" turned out. After acquiring top-free agents in 2011, including Vince Young, Vince called the newly assembled team the "Dream Team. After four years of nothing by nightmare results, the dream was over and the team disassembled.
But this isn't about NFL dream teams, this is about our fantasy "dream teams", so let's take a look at how will the Brown's acquisitions might affect our fantasy football world.
We should start with the biggest move of perhaps the 2019 offseason, when the New York Giants shipped WR Odell Beckham Jr. and DE/LB Olivier Vernon to Cleveland for S Jabrill Peppers, G Kevin Zeitler, a 2019 1st (1.17) and 3rd (3.31). This gives the Browns one of the best receiving corps in the league, with Beckham and Antonio Calloway manning the outside, and Jarvis Landry likely moving back into the slot where he was extremely productive in Miami. However, curb your enthusiasm slightly because in Beckham's entire career he has only played a full season 1 time (2016) when he had 101 receptions for 1,367 yards and 5 touchdowns. With a promising second-year QB and change of scenery, can OBJ stay healthy and shake his "diva" label, delivering back-to-form consistent production without an ego that can cause locker room and coaching issues?
In East Rutherford, the Giants' passing game will look drastically different, with Sterling Shepard, Evan Engram, Saquon Barkley and new addition Golden Tate getting a significant increase in target share. That is, if Eli Manning can stay upright. The 2018 season that saw Manning get sacked 47 times, so that's where the acquistion of Zeitler comes in.

Additionally, the Browns have also signed former Kansas City Chief tight end Demetrius Harris. While never really getting a chance to shine being stuck behind Travis Kelce, Harris is massive at 6'7" and 230 lbs. On his career, he has 57 receptions for 605 yards and 6 touchdowns. Is this a security blanket or a push for Njoku, who has been known to have issues with drops and staying healthy? Either way, depending on how the season unfolds, Harris could be a potential sleeper or handcuff that is worth the stash.

Perhaps the greatest beneficiary of the Browns' offensive swell in talent is Baker Mayfield. He now has two outstanding wide outs with OBJ and Jarvis Landry, and another in Calloway that can stretch the field. Kareem Hunt's suspension has been revealed to be 8 games, so he can spell Chubb periodically and provide the boost in the receiving game out of the back field. However, even with all these weapons to throw to, keep in mind, Baker is a second year player, and team chemistry is very important, so do NOT over pay for anyone in your fantasy leagues!

Defensively, Cleveland disposed of highly touted yet underwhelming safety Jabrill Peppers and bring in DE/LB Olivier Vernon. This is a huge upgrade for their Defensive Line, and Vernon looks to return to DE where he has been most successful in his career. This will also take pressure off of his new team mate Miles Garrett, as opposing Offensive Lines will now have to accommodate for two Pro-Bowl caliber players. Additionally along the D-line, the Browns added former Jet/Seahawk/Viking Sheldon Richardson. While only accumulating 23.5 sacks over 6 seasons, Richardson is a big disruptive body that makes his presence known.


Even though I'm an Eagles fan, I am still excited to see what the Browns do this year. I see them finishing second in the division, behind the more experienced Steelers, and ahead of the 1-dimensional Ravens and dumpster-fire Bengals. Time will tell. We have a long way to go and have to see how the draft and preseason plays out, but take Arms' advice and temper our expectations, at least for the 2019 season. A lot has to fall the right way and as the experience of Vince Young's 2011 Dream Team tells us, what might appear great on paper, does not always turn out as planned in reality. With that said, if the newly acquired talent performs at its potential and team chemistry gels, then the Browns, with its overall young players, could be a force to be reckoned with for years to come.

Questions? Comments? Hit me up on Twitter @Thembower85. And make sure to follow @TheBackRowShow to stay to date on, well, everything fantasy related!