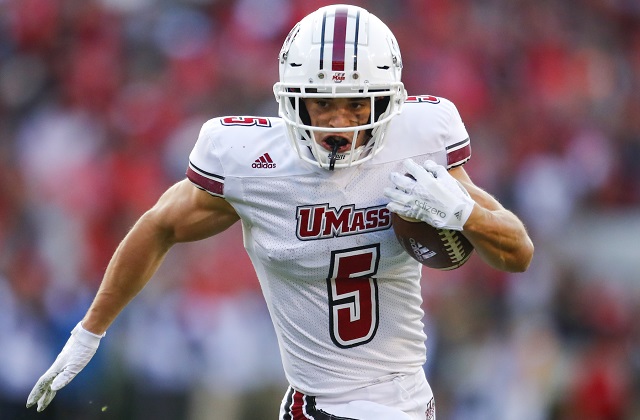 Written by Michael Bower
13 March 2019
The period after the combine and before the draft is one of my favorite parts of football (and specifically) dynasty fantasy football season. All prospects have been worked out, measured and weighed. Free agency is here and the best part of all is upon us - the speculation. Where will all these top prospects go? Who will be the undrafted rookie free agents that surprise us all a year from now? How will each prospect's height, weight, 40 time and 3 cone drill translate into NFL performance? Speaking of height, and size in general, I know people are in love with D.K. Metcalf (6'3" 228 LBS), K'Neal Harry (6'2" 228 LBS), and Hakeem Butler (6'5" 227 LBS), but what about the "little guy"? In this case the aforementioned little guy is none other than Andy Isabella, your Division 1 Football Bowl Subdivision (FBS) receiving yardage leader for the 2018 NCAA season.
Let's have a look at Andy's college career and his monster 2018 season.
2015: 2 Rcpts for 7 Yrds, 3 Rushes for 28 Yrds (8 games)
2016: 62 Rcpts for 801 Yrds and 7 TDs, 12 Rushes for 100 Yrds
2017: 65 Rcpts for 1,020 Yrds and 10 TDs, 14 Rushes for 135 Yrds and 1 TD
2018: 102 Rcpts for 1,698 Yrds and 13 TDs, 11 Rushes for 79 Yrds and 1 TD
As we can see, Isabella was extremely productive in UMASS'S passing game, and another weapon on the ground at times. Earlier in his career he was also used as a kickoff returner:
2015: 17 returns 315 Yrds
2016: 1 return for 14 Yrds
2017: 5 returns for 114 Yrds

Isabella had no kickoff returns in 2018 and no touchdowns in any of the 3 years, but he did have 7 punt returns for 55 yards in 2018.
At the NFL Scouting Combine, Andy measured 5'9" and weighed in at 188 lbs. Not a daunting height/weight combination, but where he excels is speed (4.31 40 yard time) and lateral quickness (6.95 second 3 cone and 4.15 second 20 yard shuttle).
So can an undersized speedy receiver thrive in the NFL? Well some smaller receivers have gotten some new homes, contracts and awards, and they are all on the smaller side. Adam Humphries (Tennessee, 5'11" 195 LBS), Danny Amendola (Detroit, 5'11" 190 lbs), Julian Edelman (SB53 MVP, 5'10" 190 lbs), and Cole Beasley (Buffalo, 5'8" 180 lbs). So height and weight aren't necessarily a huge knock when you are fast and can turn on a dime, but I would like to see Andy pack on some more weight and catch more with his hands, not his body. Another concern is the level of competition he faced while a UMASS, playing against the likes of Duquesne, Georgia Southern, Charlotte, Ohio, Coastal Carolina, Connecticut and Liberty, with some mid-level schools mixed in. Although, admittedly his finest game of the season was against Georgia when he had 15 carries for 219 yards and 2 scores. Maybe Andy can prove us all wrong.
Judge for yourself and watch Andy Isabellla's 2018 highlights.
So for Mr. Isabella we hope for the best on draft day. Given a landing spot with a coach that will utilize a speedy slot receiver (New England, Los Angeles Rams, Tampa Bay, Philadelphia), Andy can be a great stash for the future.
Questions? Comments? Hit me up on Twitter @Thembower85!
(All NCAA player height/weight official combine stats)