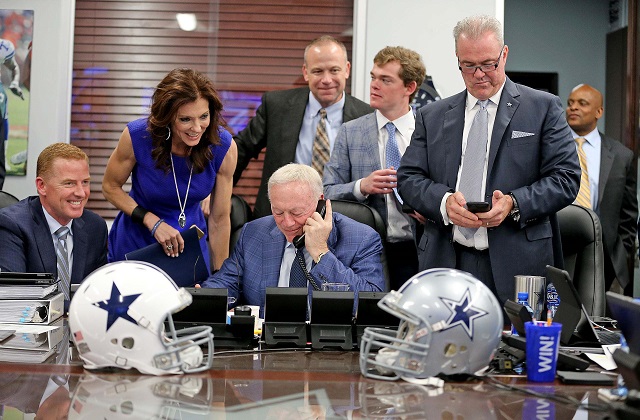 Written by Hans Geevers
09 March 2019
The Cowboys have reason to be optimistic regarding the future. The team won the NFC East in 2018. Dallas has Dak Precott at quarterback. Prescott has shown some definite signs of being a quality player in the NFL. Obviously, Prescott is not in the same class as Drew Brees, Tom Brady, or even the reigning MVP of the league Patrick Mahomes. However, most teams in the league don't have quarterbacks in that elite class for a reason. This is due to the fact that the league only has a small number of elite quarterbacks and the NFL has 32 teams. You do the math. Jerry Jones has indicated that he plans on signing Prescott to a long term deal this offseason. That is the smart and prudent move for the franchise.I can't see a scenario where the Cowboys draft a QB in 2019.
Zeke Elliott is one of the top running backs in the league. It's safe to say that he is number one on the depth chart at RB. I know I am stating the obvious here. Dallas could use some help at depth when it comes to the RB position. Recent league chatter has indicated that the Cowboys may look to acquire another RB via trade or in free agency to help shore up the position. If Dallas does not pick up a RB via trade or free agency it's possible they draft a RB in the later rounds of the 2019 draft. Most football fans know that injuries to the RB position are the norm in this league. The Cowboys front office is aware as well. Dallas will address depth at this position in some way, I assure you.
I believe I made a strong case that Dallas is in relatively decent position with regard to the QB and RB position. Now let me give you my take on the key positions that Dallas will want to address in the draft.
Wide Receiver: This position has to be a priority for this franchise. Cole Beasley is currently a free agent. It's no certainty that he will be back with the team in 2019. Allen Hurns suffered a brutal ankle injury last season. Recent reports indicate that he is recovering well and should be back with the team in 2019. Dallas recently released Terrance Williams. Obviously, the acquisition of Amari Cooper last year has given the team a playmaker at this position. However, looking at the position from an overall talent perspective it's clear that Dallas must address this position in the draft and I fully expect that they will.
Defensive End/Defensive Tackle: I placed these two positions together as I believe both are of the highest importance for this team to address. Dallas has lost key players on the defensive line this offseason due to suspensions, etc. In the NFL you have to be able to rush the quarterback if you want to win games.
Tight End: Jason Witten has decided to rejoin the team for 2019. He is a hall of fame player so this will only help Dallas in 2019. Unfortunately, Witten is 36 years old. How much longer will he play? Additionally, in 2018 during Witten's absence the Cowboys utilized three different tight ends all season. I should point out that the relatively young TE Blake Jarwin showed some promise late in the season. He is more of a pass catching TE and doesn't have strong blocking skills. Last year, he was pulled off the field when it was time to run the ball.
Safety/Cornerback: It's no secret to football fans that the Cowboys secondary has some issues. Many fantasy players likely targeted the Cowboys defense over the last few years by utilizing pass catchers from opposing teams to win. I can certainly recall a few times that I did that and won some cash doing so. What does that mean from a real football perspective? You guessed it. Draft or acquire players to address this team weakness.
Fantasy Takeaway:
In 2018, the most utilized offensive players in fantasy from the Cowboys offense were Zeke Elliott, Amari Cooper, and Dak Prescott. Since the end of the 2018 season, Dallas offensive coordinator Scott Linehan was fired and QB coach Kellen Moore was promoted to lead the offense in 2019. Jon Kitna was hired to fill Moore's former role as QB coach. Coach Jason Garrett has indicated that Moore will be a game changer with regard to offensive philosophy. I think it is clear that the team would like to not be so vanilla, if you will, on offense in 2019. That is all well and good. If they want to be effective on the field using Moore's apparent change in offensive scheme the Cowboys need to draft a few more weapons on offense next month. Hopefully, that means that those of us that play DFS and season-long fantasy leagues will have more player options on the Cowboys offense to choose from to win in 2019.
As always, follow me on Twitter: @geeversgolf