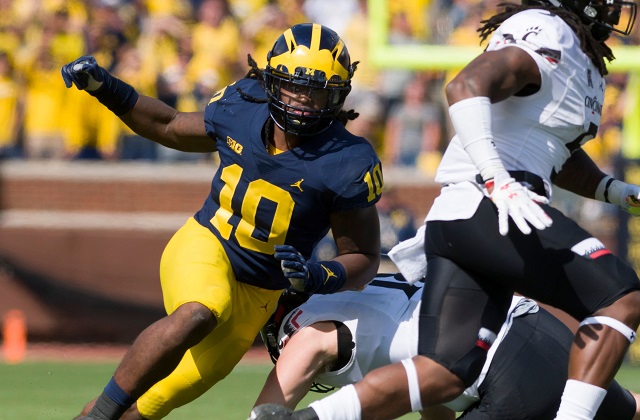 Written by Michael Bower
27 February 2019
"Defense wins championships", as they say, and the same goes for fantasy football. On that same note, much like in the NFL, trading is a crucial aspect of the game. Yet, when I offer trades to opposing teams that include defensive players, I almost always get the same response, "I don't value defensive players." Why not? If a defensive player gets you points, doesn't that count? I would think that any points help your teams win games and eventually a championship. So I have put together IDP strategy list and a few players to help you win!

Before I dig in here is the scoring setup that I use for my statistics, which is from MFL (Myfantasyleague.com):
Tackle: 1 point
Assisted Tackle: ½ point
Sack: 2 points
Safety: 2 points
Defensive Touchdown: 6 points
Defensive Conversion Return: 2 points
Fumble Recovery (from opponent): 2 points
Forced Fumble: 1 point
Interception: 2 points
Pass Defensed: ½ point

This past draft was filled with some gems and players who were injured but showed some upside, such as Kerryon Johnson, Sony Michel, Nick Chubb and Baker Mayfield. But what if you went a different route and took some defensive players early? One good example is Darius Leonard (LB, IND). Last season, he outscored Kerryon Johnson in most formats. I know, Kerryon missed some time but that fact that a rookie linebacker can do that is quite impressive. Had you taken Darius Leonard, Leighton VanderEsch and Roquan Smith you would have scored (with the above scoring), 125.5, 97.0 and 119.5. These are borderline RB 2 or RB 3 numbers. Linebackers are my personal favorite for IDP's as they generally see a large number of snaps and play against the run, blitz and drop into coverage. Some players I like in the upcoming draft are Devin Bush (Michigan), TJ Edwards (Wisconsin), and Mack Wilson (Alabama).

In the trenches is where I generally struggle to find quality defensive players. I know they are out there but I just do not have an eye for them. I had Fletcher Cox last year, but ended up getting Kenny Clark off the waiver wire. While they finished off with the same amount of points (64.0), Clark was more consistent on a weekly basis. Most people favor edge rushers because of the higher sack possibility, but again, it is hard to peg down consistency. Generally, my roster will have 2 defensive lineman, one sure starter and one back up. So my philosophy is find a stud, such as Joey Bosa, and a decent backup, such as Kenny Clark. Some defensive lineman I like in this year's class are Nick Bosa (DE, Ohio State), Clelin Ferrell (DE, Clemson) and Ed Oliver (DT, Houston).

Secondary wise, I generally stick to safeties as they play the middle of the field and generally do not get tied up in man coverage on an elite receiver. For example, Jalen Ramsey is an amazing defensive back that any NFL franchise would love to have, but he was outscored 119.0-76.0 by Cincinnati's Shawn Williams, who is not a household name like Ramsey. This lends to another one of my philosophies, good defensive players on bad defenses will sometimes have an opportunity to get you more points, as they will be on the field more. This also applies to players playing next to superstars, as the stars get more attention. For example, Roquan Smith outscored Khalil Mack 119.5-87. Some players I like coming out are Deionte Thompson (S, Alabama), Byron Murphy (CB, Washington) and Trayvon Mullen (CB, Clemson). Keep your eye open for where Jimmy Moreland (CB, James Madison) lands, with 18 career interceptions and from a smaller school he could be a steal in the NFL draft and yours as well.

In conclusion, when you are prepping for your rookie draft this year make sure you do your homework on some IDP prospects. And if your league does standard Defense/Special Teams, kick your commissioner in the rear and make sure you start doing IDPs now!

If you listen to Fantasy Football podcasts, make sure you give The Back Row Fantasy Show a listen. Jeremy (Bark), Knittel and Arms break down IDPs better (and more often) than any other podcast.

Questions? Comments? Hit me up on Twitter @The.mbower85!