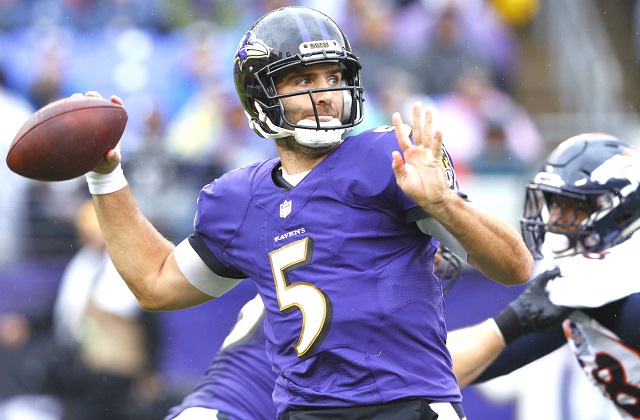 Written by Michael Bower
16 February 2019
Hello, my name is Michael Bower and I am a new writer to the ASL team. My area is Fantasy Football, with a focus on Dynasty. For my first piece I am focusing on the two most recent NFL surprises, the trade of Joe Flacco to the Broncos and the Browns acquiring Kareem Hunt.
The writing was on the wall in Baltimore for Flacco with the emergence of Lamar Jackson, and I believe this trade makes the Broncos playoff, if not Super Bowl contenders. This Broncos team looks surprisingly similar to the 2012 Super Bowl winning Ravens, with a strong running game and superb defense. The addition of Flacco, however, is most important if you are an owner of either DaeSean Hamilton or Courtland Sutton, as, unlike Case Keenum, Joe Flacco has the arm strength the get the ball down the field to his young receivers. Clearly John Elway realized his mistake with signing Keenum and had to get something done, as Keenum is clearly what his overall win-loss record shows: nothing great.
Oddly enough, the Keenum/Flacco comparison is not too far off statistically speaking, as both are very close in both completion percentage (Flacco 61.7%, Keenum 62%) and interception percentage (Flacco 2.4%, Keenum 2.3%). While it may look like Case has a slight edge in these areas, one area Flacco excels at is winning. Whether winning Super Bowl MVP honors or slinging the ball down the field, Joe has shown time in and time out that he can stand in the pocket and make plays. Buy Sutton, Hamilton and even Jake Butt if his owner is tired of stashing him on IR yearly.
In a very shocking twist, the Cleveland Browns have acquired maligned running back Kareem Hunt who was released by the Kansas City Chiefs in November. The most common thought for this signing was, "what does this mean for Nick Chubb?" Easy, it keeps him fresh for the playoffs. Remember, Hunt has to serve a suspension that could range anywhere from 8-12 games, and this signing kept him out of the hands of the Brown's division rivals. Late in the season when he returns, he can step in on 3rd down and be a pass catching nightmare and giving Chubb a breather. It makes sense as the Browns got him for less the 1 million dollars, as his base salary is only $645,000 and has zero dollars in guaranteed money. Smart play by the Browns front office.

OK, so the big question is what do you do if you own Chubb? Easy, try to get Hunt. He can be a late season handcuff and best case he is a starter in 2020 somewhere else and you have another stud running back to roll out.

What about Duke Johnson? Well, hang on to him for now. Remember, Hunt will be facing a suspension and he will get some playing time. He could get traded, and then he could possibly be even more valuable. Either way Chubb owners, just breathe. He will be a stud in 2019 and for years to come.
Questions? Comments? Feel free to hit me up on Twitter @The.mbower85. Thanks for reading!
Never miss ASL's latest fantasy sports news.
Send us an email at This email address is being protected from spambots. You need JavaScript enabled to view it. and list the sports you are interested in (NFL, NBA, MLB, NHL) to start receiving ASL's newsletter.