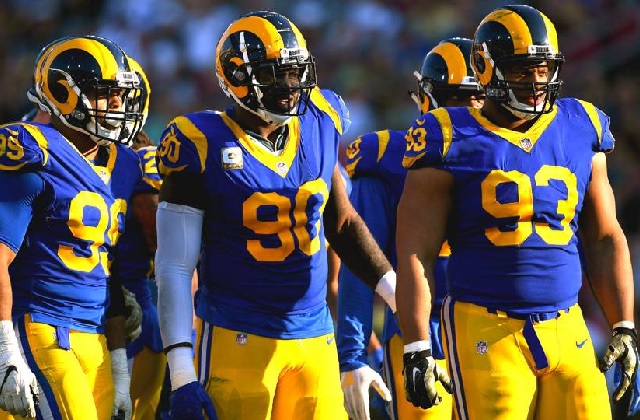 Written by Todd Lewys
30 January 2019
It's something that's very nearly become an early-February ritual: watching the New England Patriots play in the Super Bowl.
For a third straight year, Bill Belichick and Tom Brady - and a supporting cast of unsung players (save Gronk and a few others) - have found a way to make it to the big game.
That notwithstanding, let it be said here that the Pats would not be in Atlanta were it not for the otherworldly play of their offensive line.
You see, Brady has not been sacked once in two games, an unbelievable stat.
Rarely has his protective pocket even been mildly disrupted. With all kinds of time to survey the field, The G.O.A.T. has picked apart opposing defenses to the tune of 691 yards: 343 vs. the Chargers, and 348 vs. the Chiefs.
That life of leisure could well end against the L.A. Rams, who possess one of the most dominant defensive fronts in the NFL.
If Aaron Donald - he of the 20.5 sacks, 59 tackles and 4 forced fumbles - and mates Ndamukong Suh and Michael Brockers play up to form, Brady could be in for a very challenging day dealing with intruders in his office.
In short, Super Bowl LIII figures to be won or lost in the trenches.
If New England's offensive line can protect Brady and open holes for running backs Sony Michel, James White and Rex Burkhead as they have in the Pats' first two wins, two things will happen.
First, Brady and Co. will control the ball, thereby keeping the Rams' potent offense off the field. And second, Brady will have the time he needs to pick L.A.'s suspect secondary apart.
However, if Donald, Suh and Co. can wreak havoc in the backfield - harassing and hurrying Brady - then the Rams will give the Patriots all they can handle.
That's the exact formula that enabled the New York Giants to upset the Pats in Super Bowl XLII (2008) and again in Super Bowl XLVI (2012): making life uncomfortable for Brady.
When hurried, Brady - just like any other quarterback - will make mistakes. He made his share of mistakes in 2008 and 2012 - mistakes that kept the games close and gave the Giants a chance to win, which they eventually did.
Don't be surprised if the same thing happens this Sunday, as Donald and Suh have been a force in both Rams' playoff wins.
If they play at that same high level on February 3 - which, incidentally, will mark the 11th anniversary of the Giants 17-14 upset win over the Pats - Donald, Suh and their D-Line mates could be the driving force behind a stirring victory over New England.
If they don't get to number 12, the result could be another methodical Patriots win in which Brady once again plays a (yawn) starring role.
Which force will prevail? We'll just have to wait and see.