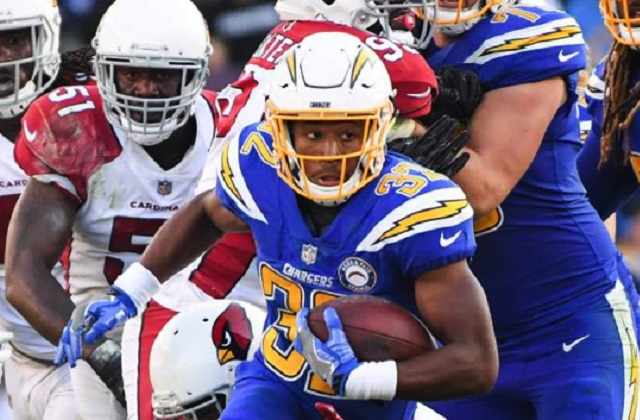 Written by Michael Morrow
08 December 2018
Justin Jackson is ready for another break out this week against the Cincinnati defense. When Melvin Gordon went down with an MCL injury against the Cardinals I had a couple different thoughts…
1)      In a game you were dominating, why on earth was this play called?
2)      Why have the fantasy gods forsaken me?
3)      Wow, this Justin Jackson kid is good.
Justin Jackson came into the game against the Cardinals with 7 career yards on 5 carries. I remember watching Jackson at Northwestern and his explosive running style, hitting the hole at full speed, making guys miss, and finishing runs. In limited action against Arizona, Jackson carried the ball 7 times for 57 yards for a healthy 8.1 YPC. But could this continue?
Austin Ekeler was the clear choice to start in place of Gordon. The Chargers backfield has been one of the most impressive in the entire league. Both rank in the top 25 position rankings with Gordon #7 and Ekeler #24. Jackson is also the most physically imposing back at 6'0 and 205lbs compared to Ekeler, a smaller, more shifty back at 5'10 (allegedly) 200lbs.
Fast forward to this past Sunday thrilling comeback in Pittsburgh. After averaging 5.8 YPC all season, in Ekeler managed only 1.6 YPC. Meanwhile, Jackson didn't get a carry until the 3rd quarter with 7 minutes to go, but he made the most of his opportunity. Jackson finished the game with 8 carries for 63 yards and a pivotal 18-yard touchdown – he also had one catch for 19 yards, making three defenders miss on the sideline to pick up an extra 5 yards.
After 15 carries, 120 yards, and a touchdown in his last two games, I believe Jackson will get the majority of carries while Gordon works his way back from injury. This also helps Ekeler as he can be more in his role as a change of pace back. In my opinion, the Chargers want to see Jackson succeed this Sunday and they will give him the opportunity to do so. If Jackson has a great game the team does not have to worry about rushing Melvin Gordon back, giving him more time to get back to 100% for the playoffs.
If you need any more convincing, since Week 10, Cincinnati has allowed 35 points per game to opposing running backs – and rank dead last in the league against running backs for the season. Put Justin Jackson in your lineup and flourish!