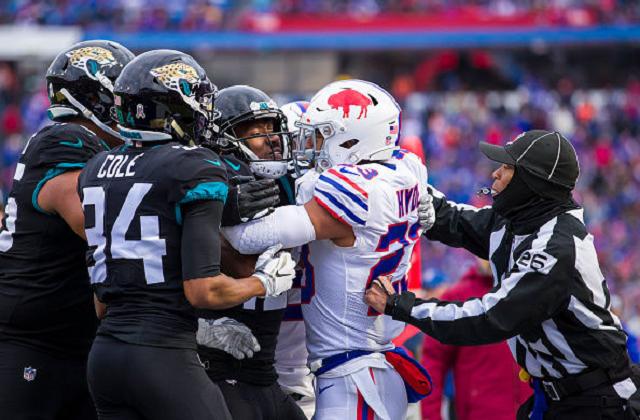 Written by John Adams
27 November 2018
Patient fantasy owners have to feel sick coming into Week 13 after Leonard Fournette blew his top in Buffalo and got suspended for Sunday's game. A childish and angry display of stupidity left fantasy owners wondering why they wasted their time drafting Fournette in the first place. He tweeted out an apology to the kids for his craziness, but his teammates and fantasy owners and are the real victims here.
After Fournette put up 20-plus fantasy points during Weeks 10, 11 and 12, fantasy owners felt like they were finally being rewarded for their patience. After missing Weeks 2 through 9, except for a failed Week 4 comeback, the last thing owners needed was a suspension coming into Week 13.
Build the best lineups with the power of The Machine for Daily Fantasy Sports
The league spelled it out in plain English using the video as evidence: 
Video of the incident shows that you were not a participant in the play and that you ran from your sideline to the opposite side of the field to insert your self as an active participant in a fight. Once you entered the fight area, you struck a member of the opposing team.
Fournette says he will appeal his one-game suspension, but it's nothing more than a Hail Mary and a waste of time. Fournette left the bench, ran across the field and landed a punch. It would be a total shock if the league overturned his punishment and fantasy owners who are making a push for the playoffs will have to find someone else.
We all understand that injuries are part of the game, but when a player crosses the field, lands a punch and then starts fighting again in the tunnel after he's been ejected, that's pure garbage. Sure he can appeal to the league, but what he really needs is some self-control and common sense.
As always, follow me on Twitter: @FantasyBuzzer1 
Never miss ASL's latest fantasy sports news. Send us an email at This email address is being protected from spambots. You need JavaScript enabled to view it. and list the sports you are interested in (NFL, NBA, MLB, NHL) to start receiving ASL's newsletter.