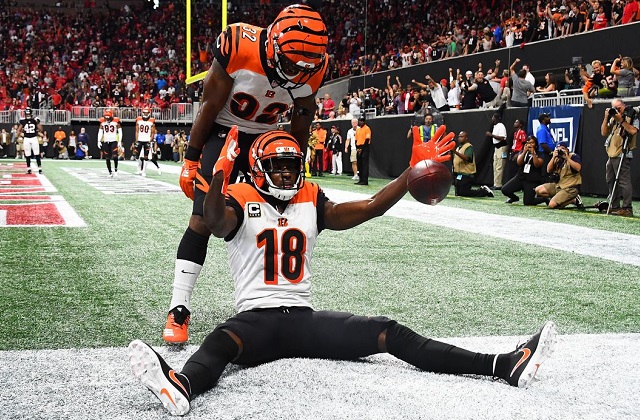 Written by AJ Schreiver
06 November 2018
WR John Brown, Baltimore Ravens
During Week 4, John Brown went 3-116-1 against the Steelers. The second time around, in went for only 3-17-0 on 6 targets. Joe Flacco was not very good in this game and now the Ravens are on a bye in Week 10. But I will KEEP Brown through the bye because he is still seeing enough targets and the schedule looks great for him through the fantasy playoffs.
WR Randall Cobb, Green Bay Packers
Still owned in 60% of leagues, we have held on to the idea that Randall Cobb could return to old form with his outstanding QB. However, it appears the writing is on the wall. His 5 catches Sunday were mostly short dump off passes. Cobb simply cannot separate from corner backs anymore and the coaching staff realizes this and is playing Marque Valdes-Scantling and Geronimo Allison, when healthy. CUT Cobb who will have a disappointing end to his career in Green Bay. 
WR John Ross, Cincinnati Bengals
With the injury to A.J Green the Bengals are running out of options. They hope to get John Ross back this week, who returned back to practice Monday after the bye week. It is not clear how the Bengals want to use Ross, nor is it clear where they go from here with Green out. However, Ross, who was 9th overall pick in last year's draft, is the player with the most talent and the highest ceiling. GRAB Ross now, he may just take your team deep in the fantasy playoffs.
Never miss ASL's latest fantasy sports news. Send us an email at This email address is being protected from spambots. You need JavaScript enabled to view it. and list the sports you are interested in (NFL, NBA, MLB, NHL) to start receiving ASL's newsletter.