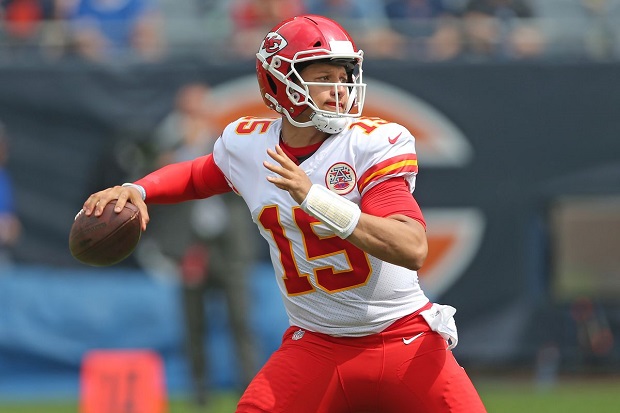 Written by Etan Mozia
02 October 2018
Oh no. No, no, no. I didn't see it going this way.
I wasted a first-round pick on Ronald Jones. That big trade for an injured superstar on a discount (Dalvin Cook) isn't paying off. Kareem Hunt, Leonard Fournette, these guys are killing me. Au revoir, Derrius Guice. See you next season. Same to you, Jerrick McKinnon and pretty boy Jimmy GQ. David Johnson, I know it's not your fault, but this isn't helping me. So, you've got me for sure then, Russell Wilson? No?! You too?!
Man, things have changed. Let's dive into the early portion of this season and uncover some actionable trends that can help us readjust to the new norm moving forward.
Target Concentrated Offenses
One of the most clearly correlated variables to fantasy production from the WR and TE positions is targets. Because of this, tracking target counts as opposed to receptions or yardage can be a more predictive method of judging potential buys or pickups at the receiving group positions. The most stable target shares generally come from teams with no more than three solidified options at the top of their receiving depth charts. Examples of these types of teams are the Minnesota Vikings, Denver Broncos, Houston Texans and Tennessee Titans.


Build the best lineups with the power of The Machine for Daily Fantasy Sports.


Target Creative Play-Callers
Another common fault in the reasoning of many fantasy football gamers is targeting the "most talented" player in all circumstances. As we've seen this season and in many seasons past, situations are as much if not more important than talent when it comes to fantasy production. All offensive players currently plying their trade for Sean McVay's Rams or Andy Reid's Chiefs are in play on a weekly basis. Why? Because these types of coaches are excellent at scheming their receivers open. These play-callers study the strengths and weaknesses of their rosters and use them in the most efficient way possible.
Case in point, Cooper Kupp's first touchdown last Thursday night. Kupp isn't a speed merchant by any means, but running him across the Vikings' defensive formation for the sole purpose of having him eventually picked up by a linebacker he could outrun was a masterclass by McVay and worked to devastating effect. Conversely, the uber-talented Odell Beckham Jr. has yet to catch a touchdown this year. Situation trumps talent.
Don't Overvalue RBs
If the first paragraph didn't completely give this final point away, understand that this is probably the most important one. Running backs get injured at a rate higher than any other position in football and we've seen that play out this year with first- and second-round talents such as Cook, Fournette and Joe Mixon. In dynasty leagues especially, the best teams are often those with a deep receiving corps as that position can be more easily relied upon from week to week. Having a clear advantage at one of the two starting RB spots definitely helps, but receivers provide the most stability annually. Build teams with this in mind.


Agree? Think I'm nuts? Let me know on Twitter @FF_Wonderkid. Thanks for reading!
Never miss ASL's latest fantasy sports news. Send us an email at This email address is being protected from spambots. You need JavaScript enabled to view it. and list the sports you are interested in (NFL, NBA, MLB, NHL, EPL) to start receiving ASL's newsletter.