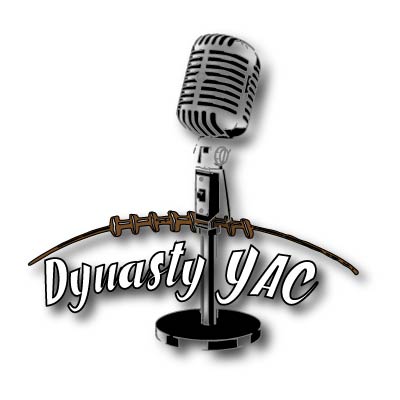 Written by Levi Andrew
11 September 2018
On the newest episode of Dynasty YAC, Levi (@LeviAndrewFF) and Pete (@_PeteLaw) go over their home leagues and the 2018 draft season. What we regret, if we have too many leagues and what we will change for 2019. We also discuss what we liked and disliked from the preseason. In the Devy Dive, we go over some underperformers from Week 1 of the college football season. We finish the episode with our top-5 flag players, whom we believe in and whom we have the most shares of or wish we could have got more of.
Spotify: https://open.spotify.com/show/0kLXGj3waOi7mIwsKs7li2?si=tU3Dk49sSr6zVhKrirBLkw
Stitcher: https://www.stitcher.com/s?fid=206655&refid=stpr
Google: https://play.google.com/music/m/Iivikgxdefqstabtzf7fp5rs424?t=Dynasty_
Podbean:http://www.podbean.com/media/share/pb-u4vq4-995ff6
iTunes: https://itunes.apple.com/us/podcast/dynasty-yac/id1408498232
Thanks for listening! Please subscribe, rate and review. It would be greatly appreciated if you dropped those 5 stars on iTunes. It helps the show a lot.
Intro/Outro by Mugly "Too Trashed for Love" find them on iTunes and Spotify also.
Follow me on Twitter @LeviAndrewFF
Never miss ASL's latest fantasy sports news. Send us an email at This email address is being protected from spambots. You need JavaScript enabled to view it. and list the sports you are interested in (NFL, NBA, MLB, NHL, EPL) to start receiving ASL's newsletter.