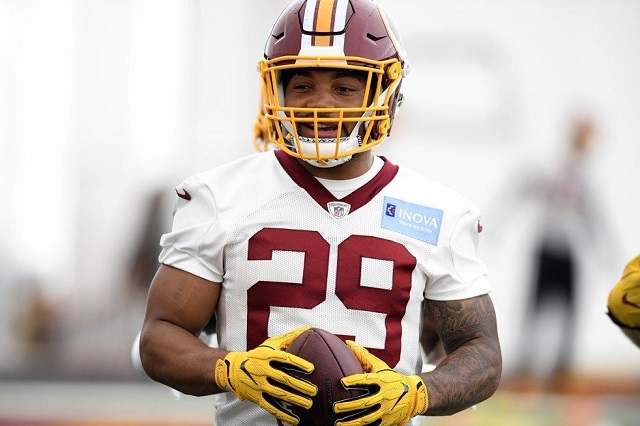 Written by Etan Mozia
10 August 2018
This is a free sample of Etan Mozia's Dynasty Diagnostic. Etan provides a complete, personal breakdown of your dynasty fantasy team based on your your league's rules and settings. Player ratings, projections, and grades are subject to change in different formats. Grades are a compilation of a player's talent level, age, injury history, opportunity and contract details. Etan's Dynasty Diagnostic service is coming soon. Check back soon on ASL for more info if you want Etan to take on your roster.
Roster Requirements:
25-man rosters & 3 taxis make for a deep 12-man league. Valuable waivers will be hard to come by so it's advisable to bid big especially early in season when roles aren't as etched in stone. Save 10% of your budget for late season $1 bids to stream if necessary. Depth is equally as important as star-power to win in this format. 2 IR spots are key. Be sure to grab guys like Hunter Henry at their depressed values if possible to hold them on your roster without having to waste a spot on them. They'll pay dividends in future seasons.
Starters:
1QB 2RB 2WR 1TE 2FLX 1K 1D
Standard lineup. I would look to build my teams around young WRs for longevity reasons, but you can win just acquiring the best talent available regardless of position for this build. Focus on differentiating your lineup from that of your league mates. For example, if you notice most people going for a 4-WR heavy approach most weeks counter that with 4RBs. Having a stud TE will always help in these situations though one is not compulsory.
PPR:
The advantage in this format goes to receivers and running backs highly involved in the passing game. In this manner, it would make sense to target guys guaranteed a lot of catches (Golden Tate/David Johnson) instead of guys that make most of their money in the end zone or between the hashmarks (Devin Funchess/Jordan Howard). This isn't to say that RedZone threats aren't valuable. It is just that the production from these types can be more volatile week to week.
QB Scoring:
Be mindful of QBs with high interception totals in your league as each INT is an automatic 2-point deduction according to your league's settings. This makes QBs like Cam Newton and Ben Roethlisberger a little less valuable than they otherwise might seem because of their propensity to throw picks. In this format, it pays more to stick to QBs with less volatile historical production. Russell Wilson would probably be the best of both worlds as he can give you plenty of boom weeks with his rushing upside while keeping the interceptions to a manageable level.
RB Scoring:
Like the QBs, your league has some potential pitfalls for running back turnovers. Unlike most established QBs however, the added fear for backs that put the ball on the ground is that they will be replaced quickly. Running backs like Jay Ajayi and Alex Collins are more unstable in their positions than they seem. Conversely, the elite few are safe. Though Todd Gurley finished with 5 fumbles last year he won't be ceding carries anytime soon. Just be mindful of the added risk.
K Scoring:
As your league awards extra points based on FG distance, look for guys with big legs to start at that spot. Greg Zuerlein and Justin Tucker would be at the top of my list.
Position Groups:
Top Quarterbacks
| | | | | | | | |
| --- | --- | --- | --- | --- | --- | --- | --- |
| QB Name | Complementary Pieces | Contract | Competition | Team Offensive Philosophy 2017 | Pass Blocking Efficiency 2017 | Age | Overall Grade 1-5 |
| Tom Brady | Rob Gronkowski, Chris Hogan, Rex Burkhead / Sony Michel | 2 yrs, $41M (Exp. 2019) | None | Long, Pass Heavy | 77.0 / 23rd | 41 | 4 |
| *Baker Mayfield | Josh Gordon, Jarvis Landry, Carlos Hyde / Nick Chubb | 4 yrs, $32.7M (No Out) | Tyrod Taylor | Long, Balanced | 77.9 / 19th | 23(R) | 3 |
| Ryan Tannehill | Kenny Stills / DeVante Parker, Mike Gesicki, Kenyan Drake | 4 yrs, $77M (Out 2019) | Brock Osweiler | Short, Pass Heavy | 81.7 / 6th | 30 | 1 |
| *Mitchell   Trubisky | Allen Robinson, Trey Burton, Jordan Howard | 4 yrs, $29M (Out 2020) | None | Short, Run Heavy | 77.9 / 19th | 23 | 3 |
*indicates a change in play-caller
This group of QBs is exactly what you want for your league format. With an average age of 29.25 (QBs peak aged 27-33), you aren't lacking for youth or experience with this group. In a one-QB league, I wouldn't carry four on your roster though. Cut ties with an unlikely producer on your taxi squad and demote Mayfield while he waits to assume that Browns starting QB job. Overall, you have quality and depth in abundance with no new additions needed. Unfortunately, since this is a one-QB league, none of these QBs will hold much trade value.
Tom Brady is your bonafide QB1 starter and is a luxury in a league that penalizes INTs. Since 2014 Brady has never thrown double digit INTs in a season. And it's not because he doesn't take chances. During that span, Brady has a TD to interception ratio of just under 5-to-1. Over his entire career, Brady ranks 2nd under Aaron Rodgers with a 3.05 TD-to-INT ratio with 488 TDs thrown. Until he shows clear signs of a drop-off in production, I'd pencil him in for a minimum of a top-8 QB finish through the 2019 season. He should outpace that. Both HC Bill Belichick and OC Josh McDaniels return to a system proven to be amongst the leagues best offenses year over year. As long as Rob Gronkowski stays healthy Brady will make any receiving corps work. Ride his excellence until the wheels fall off.
Second-year signal-caller Mitchell Trubisky looks like your team's likely QB2. Though he didn't set the world alight in 2017 (12 starts, 59.4% completion, 2,193 yds, 182.75 yards/game, 7 TDs, 7 INTs), he is now in a much better position than he was last season. New HC Matt Nagy has been installed as the Bears head play-caller after scheming the Chiefs to the playoffs last year, a stark improvement from former HC John Fox. This should help quicken Trubisky's development. Trubisky is also no slouch when it comes to mobility at the QB position. He ran a 4.67 40-yard dash at the combine and rushed for 20.1 yards per game last season with 2 TDs. He has an interesting profile for a young passer.
The Bears' offense as a whole is also primed to improve. We can expect Matt Nagy to make good use of new additions to the offense WR Allen Robinson, TE Trey Burton and rookie WR Anthony Miller. Nagy is also expected to heavily involve RB Tarik Cohen in a pass-catching role which should make for easier throws for Chicago's young QB. Trubisky should benefit most from all the talent that has been placed around him this year.
Though Baker Mayfield comes in at your QB3 ranking he is your teams second most talented QB. In his last two years at Oklahoma, Mayfield completed over seventy percent of his passes en-route to seasons with an average of 4,296 yards and 41.5 TDs per year. The offense he is coming into already has established talent in players like Josh Gordon and Jarvis Landry as well as emergent talent in the form of Nick Chubb and David Njoku amongst other quality pieces. He is set up to succeed.
However, there is a need to be patient with Baker as new OC Todd Haley will likely experience some level of success with Tyrod Taylor early in the year. Haley has spent the last five seasons scheming up plays for Big Ben, Antonio Brown and Le'Veon Bell, and you would have to attribute some of the recent success of that trio to Haley's game plans. When Baker eventually does become the starter, Haley's presence will be a great benefit.
Ryan Tannehill as your QB4 is the ultimate wildcard. With his rushing ability, he could still be penciled in as bye-week starter material. That said, it's not unfair to worry about the potential ill-effects of his multiple ACL injuries over the last two seasons. This is a make or break year for Tannehill in Miami.
Unfortunately, Tannehill comes into an extremely unstable situation. HC Adam Gase is firmly on the hot seat after two lackluster seasons at Miami's helm resulting in a 16-16 record over that span. The Miami skill position players aren't exactly awe-inspiring either. On a recent depth chart reveal Gase listed RB Kenyan Drake and the 35-year-old RB Frank Gore as co-starters. The perennial underperformer DeVante Parker heads the teams receiving corps which also includes former castaways Kenny Stills and Danny Amendola. Worse still, their most physically gifted offensive player, TE Mike Gesicki, is in position to start and not much can be expected from rookie TEs in their first season. Historically speaking, 49ers TE George Kittle, a rookie in 2017, finished with a stat line of 43 receptions, 515 yards, and 2 touchdowns. He ranked 10th in fantasy points scored as a rookie TE since the turn of the century.
I expect Tannehill to struggle this season and won't be surprised if the Dolphins are looking for a new QB next year. If he remains healthy Tannehill shouldn't struggle to find another starting gig. When he was healthy Tannehill averaged nearly 4,000 yards and 25 TDs a year excluding his rookie season.
Top Running Backs
| | | | | | | | |
| --- | --- | --- | --- | --- | --- | --- | --- |
| RB Name | O-Line RBR / ALY | Contract | Competition | DYAR | Targets / Receptions | Age | Overall Grade 1-5 |
| Todd Gurley | 3rd / 4.70 | 4 yrs, $57.5M (Out 2022) | None | 268 | 87 / 64 | 24 | 5 |
| *Jerick McKinnon | 10th / 4.20 | 4 yrs, $30M (Out 2019) | Matt Breida | -24 | 68 / 51 | 26 | 3 |
| Derrius Guice | 21st / 3.86 | 4 yrs, $4.54M (No Out) | Chris Thompson |                     N/A | N/A | 21 (R) | 3 |
| Giovani Bernard | 24th / 3.79 | 3 yrs, $15.5M (Exp. 2020) | Joe Mixon | 48 | 60 / 43 | 26 | 2 |
*indicates a change in play caller
RBR = Running Back Rating
ALY = Adjusted Line Yards
DYAR = Defense Adjusted Yards Above Replacement
This running back group should rank amongst the league's best this season. Speaking strictly in terms of age, you should be fine at RB for at least the next 2-3 years (Running Backs generally peak aged 26-28). That stated, as a rule, you can never have too many running backs. The potential for injury for members of the running back position group is high at 5.2% per game and RBs are in constant danger of losing their jobs every offseason. Always keep an eye out for the next big thing at RB.
Todd Gurley is your obvious RB1 and for good reason. Last season Gurley finished first in the league with 383.3 PPR fantasy points, per FantasyPros. Over 40 points separated him from second-place Le'Veon Bell. Proficient in both the running and passing phases of the game, Gurley was new HC Sean McVay's trump card last season. What's even more exciting is Gurley's potential for longevity at RB in Los Angeles. The 5 year $57.5M deal that Todd Gurley just signed has $45M guaranteed, locking him into his RB1 role through the 2021 season at a minimum. This deal will reset the RB market and was previously unheard of for the running back position group. Though it is extremely unlikely for Gurley to repeat as 2018s RB1 based on historical RB finishes he is still the safest back to own in all of football for the reasons listed above. He's also remained relatively healthy throughout his first three seasons in the league.
Jerick McKinnon's case is an interesting one. He is your RB2. In terms of sheer athleticism, McKinnon ranks as an otherworldly 100th percentile athlete at the RB position. The San Francisco 49ers RB boasts a 4.41, 96th percentile 40-yd dash, a 110.5 91st percentile speed score, a 134.9 97th percentile burst score, a 10.95 93rd percentile agility score, and put up 32 reps (99th percentile) at the combine. His play to date hasn't yet matched his metrics yet though. Failing to win the job outright over replacement level talents like Matt Asiata and Latavius Murray gives me some pause.
Still, HC Kyle Shanahan called his shot when he signed McKinnon to a top 5 contract at the position. McKinnon will be given every opportunity to assume the Devonta Freeman role in what should be an improved SF offense. Just be careful not to pencil McKinnon in for too much success. RB Matt Breida lurks and did experience some success himself last year with Shanahan. He could very easily assume the Tevin Coleman role in the offense and cap McKinnon's upside.
As a final note, be aware of the way McKinnon's contract has been structured. He is due to receive $12M of his total $18M guarantee this season. He could easily be cut next year and every year thereafter for next to no dead cap for the 49ers so his job isn't as secure as it may seem.
HC Jay Gruden got himself a steal in the 2nd round of the 2018 NFL draft when the Redskins selected rookie RB Derius Guice (Your RB3) in the second round. Guice possesses an excellent set of tools for the running back position standing at 5-foot-11 and 224 pounds. Guice is a back that's unafraid of contact and seeks it out on occasion. Don't be fooled though, Guice also possesses a nice set of wheels as evidenced by his 4.49 speed. Guice ranked 3rd amongst this season's RB draft class in terms of yards created at 5.88 yards per attempt according to Ben Gretch's model at fantasyguru. The Washington Redskins' O-line should also perform much better than their 21st ranked unit showed last season as several injures contributed to that rating. Guice should be set up to succeed.
At the top of the list of concerns about Guice this season is the presence of pass-catching dynamo RB Chris Thompson. However, Thompson has come out and said that he doesn't feel 100% yet coming off last season's leg break and "…won't be [healthy] until November." If Thompson turns out to feel better than expected Week 1, it wouldn't be wise to predict Guice for a high number of targets this year. If Thompson has lost a step due to injury, Guice has as good a shot as anybody not named Saquon Barkley to win this year's ROY award with the addition of a decent target share. He should be a competent RB2/3.
RB Joe Mixon and HC Marvin Lewis are the two main reasons why Giovani Bernard (Your RB4) can't be counted on to return RB1 or RB2 numbers this season. If Mixon takes a step forward this year, Bernard may struggle to provide even weekly flex RB3 numbers. If that doesn't occur, Bernard has all the tools to be a functional 3-down back all his own.
Cincinati's offensive line was abysmal last season and it seems as if the organization has looked to address that flaw this year by bringing in OT Cordy Glenn from the Buffalo Bills in a trade and by drafting C Billy Price. These additions should make for an easier time for all Cincy RBs. That said, Mixon also has a 3 down skillset and could take most of the carries along with cutting into Bernards passing down role this year, nullifying the benefit of the better O-line for him. Be happy to have Bernard as a flex or injury replacement this season but don't expect much more. Rookie Mark Walton may also push Gio to the cut list for next year.
Top Wide Receivers
| | | | | | | | |
| --- | --- | --- | --- | --- | --- | --- | --- |
| WR Name | Targets / RZ Targets | Contract | Competition | YAC / a-DOT | Catch Rate / Contested | Age | Grade 1-5 |
| Doug Baldwin | 115 / 8 | 4yrs, $46M (Out 2019) | Tyler Lockett | 272 / 12.90 | 64% / 41.2% | 29 | 3 |
| Stefon Diggs | 93 / 14 | 5yrs, $72M (Out 2022) | Adam Thielen | 299 / 11.50 | 68% / 83.3% | 24 | 4 |
| Julio Jones | 148 / 19 | 5yrs, $71M (Out 2019) | None | 486 / 14.20 | 59% / 53% | 29 | 5 |
| *Allen Robinson | 150 / 19 | 3yrs, $42M (Out 2022) | None | 210 / 13.00 | 53% / 56% | 24 | 3 |
*Numbers for 2016 season. Injured 2017.
YAC= Yards After Catch
a-DOT= Average Depth of target
Your wide receiver group is excellent. Still, you should look to add one or two young talents in the next couple of seasons. I see two definite NFL WR1s in this group currently. Though I don't mind Jones being 29, I'd be careful with trusting Baldwin for any more than one season (WRs peak 26-29). Three of these four have increased injury risks to be aware of.
Julio Jones is your WR1 and it's not a contest. The narrative surrounding Jones of being ineffective in the red zone is a sham. Jones recorded 19 red zone looks last year and was extremely unlucky in his conversion rate. Still, he has had four years of over 129 targets and 1400 yards. Julio has recorded a top ten finish in five of the last six seasons and is in no danger of seeing a reduced target share anytime soon. The worry with Jones is that he has recently produced a few monster performances over the course of the season mixed in with more average ones. This is just the risk you take when starting Jones. In his case, his potential to single-handedly win weeks makes the risk more than worth it.
The new 5-year, $72M contract that Stefon Diggs (Your WR2) signed is telling. Having no obvious out until the 2022 season Diggs is locked into a premium situation as Kirk Cousin's number one target. The only thing preventing Stefon Diggs from getting a perfect rating is his propensity to miss games. Diggs has yet to play a full season in his three-year career.
Adam Thielen and the MIN defense are a couple of other concerns one could have with Stefon Diggs as a fantasy asset. The Minnesota offense is a crowded one and targets will be at a premium. The presence of a healthy Dalvin Cook will also have to be accounted for when projecting the MIN offense. Diggs efficiency metrics reveal an extremely talented receiver but be mindful of the possibility that he may struggle to receive the same number of targets as other top receivers.
Allen Robinson is in a tie with Diggs for your WR2 spot. Robinson comes into this season on a new team with plenty of targets seemingly locked in for him. Robinson is Chicago's undisputed WR1 and should be able to capitalize on the 120+ targets he should expect to see. That stated, he is in a similar position to Stefon Diggs in that he is also in a crowded offense. New HC Matt Nagy has brought in TE Trey Burton to play his "U" or move TE role and rookie WR Anthony Miller is turning heads in camp. Couple the threat of those two with guaranteed touches for both RB Jordan Howard and RB Tarik Cohen and you can see why it isn't a 100% certainty that Robinson puts up the numbers he did in his best season in 2015. 2nd year QB Mitchell Trubisky has also not yet proven his ability to lead a high-volume offense. While I would pencil in Robinson for a top 20 WR finish rather easily these are just some of the situational factors to consider.
Doug Baldwin, your WR4, is rumored to currently have a knee injury that will keep him out the entire preseason. While HC Pete Carroll has stated he expects Baldwin to be back for Week 1, I wouldn't read too much into his comments. The Seahawks have been known to be overly optimistic concerning player health in recent times and I believe it is a safe bet to expect Baldwin to be sidelined for at least week one if not longer.
Injury risk is actually the least of my concerns when it comes to Baldwin, however. At the top of that list is the fact that Baldwin's efficiency metrics took a hit in several important places last year. His catch percentage dropped to 64%, his lowest in five seasons. 272 yards after the catch was his lowest since 2013. His RZ target share percentage also dropped to 11.3%, good enough for only 73rd in the league. I believe that Baldwin is closer to his back nine than most think.
Top Tight Ends
| | | | | | | | |
| --- | --- | --- | --- | --- | --- | --- | --- |
| TE Name | Targets / RZ Targets | Contract | Competition | Snap Percentage | Touchdowns | Age | Grade 1-5 |
| Travis Kelce | 122 / 20 | 5yrs, $47M (Out 2019) | None | 95.10% | 8 | 28 | 5 |
| Tyler Kroft | 62 / 12 | 4yrs, $3M (Exp. 2019) | Tyler Eifert | 90.60% | 7 | 25 | 2 |
Owning a member of the big 3 TEs in Travis Kelce, it is clear that this is a huge advantage for your team. With Tyler Kroft set to lose relevance either behind Tyler Eifert this season or next year as a probable FA you should be on the lookout to add one more TE purely for depth purposes.
Travis Kelce is your TE1 and arguably the NFL's as well. Over the past two seasons, Kelce has finished with over 1,000 yards and he doubled his TE total last season with 8 total scoring grabs. Kelce is unquestionably one of the leagues best TEs. What actually makes Kelce my dynasty #1 TE ahead of Gronk is his relative health. After suffering a major season ending injury in his first professional game, Kelce has been a pillar of health for the past four seasons. The only potential downside for Kelce that can be argued this season is the potential downgrade in QB from last year's Alex Smith to thisyear's Pat Mahomes. I don't buy it as Kelce hasn't finished with less than 800 yards in the past four years even in the less voluminous Alex Smith seasons outside of last year. At a position known to suffer injuries at a rate noticeably higher than their WR running mates, Kelce is as safe as they come.
Tyler Kroft is your TE2 and covered admirably for an injured Tyler Eifert last season. As more of a "catch and fall" guy than the YAC machine that is Kelce, Eifert benefitted from being heavily targeted in the end zone last season. Kroft isn't the same caliber of athlete as the top TEs in todays game though. He isn't exceptionally quick or agile, has a low 59th percentile breakout age and a 20th percentile SPARQ score. Don't expect him to unseat Eifert is he remains healthy this season. Next year, Kroft may struggle to find a starting role elsewhere as well if he isn't retained by the Bengals as I expect.
Special Teams:
Greg Zuerlein and the Baltimore Ravens defense should guarantee you above-league-average production at those positions in the immediate future.


Ascending/Declining Assets:
Your Top Ascending assets are:
QB Mitchell Trubisky, CHI – New system & weapons

RB Jerick McKinnon, SF – Clear path to opportunity

WR Stefon Diggs, MIN – Contract stability and QB upgrade

WR Chris Godwin, TB – Should start this year in 2-WR sets
Your Declining Assets include:
RB Doug Martin, OAK – Muddy pathway to relevance barring a Lynch injury

RB Wayne Gallman, NYG – Muddy pathway to relevance barring a Barkley injury

WR Kelvin Benjamin, BUF – Addition of WR Corey Coleman, uneven QB play, poor O-line

WR DeVante Parker, MIA – Poor performance reports from camp, poor offensive playcalling

TE Tyler Kroft, CIN – Muddy pathway to relevance barring an Eifert injury
Suggested Trade Target(s):
WR Marquise Goodwin, SF – Looks to be SFs WR1 and is still relatively cheap to acquire

WR Cooper Kupp, LAR – Will see tons of RZ targets as the biggest body target used in that offense

TE George Kittle, SF – Will see tons of RZ targets as the biggest body target in that offense

TE Ricky Seals-Jones, ARI – Clear path to a starting role and cheap to acquire
Suggested Sale(s):
WR Doug Baldwin, SEA – Worried he is nearing the end of his WR1 run. Sell high this season

RB Jerick McKinnon, SF – Value will never be higher than now. Contract is worrisome
Suggested Waiver Pickup(s):
WR Coradelle Patterson, NE – Absolute flier in deep leagues as he's flashed in Pats camp

TE Ed Dickson, SEA – Will start for Seahwawks this season with poor receiving corps
2019 Draft Suggestion(s):
TE Noah Fant, Iowa – Fant is the next generation with the move TE being so valuable to modern NFL teams. As your first pick should be a late one, don't hesitate on pulling the trigger for the next Evan Engram with more size.
Final Thoughts:
You should be amongst the favorites for the title this year and moving forward as you have an extremely balanced and talented roster. The only real holes I see are a lack of a quality backup TE and some age in the WR corps. Other than those two concerns I don't see any other reason besides injury that your team shouldn't be a force in the playoffs. Look to acquire a cheap young WR1 in Cooper Kupp and a young TE to solidify your squad for years to come.
Overall Grade: A-
Thanks for reading. Your feedback would be greatly appreciated.


Never miss ASL's latest fantasy sports news. Send us an email at This email address is being protected from spambots. You need JavaScript enabled to view it.and list the sports you are interested in (NFL, NBA, MLB, NHL, EPL) to start receiving ASL's newsletter.