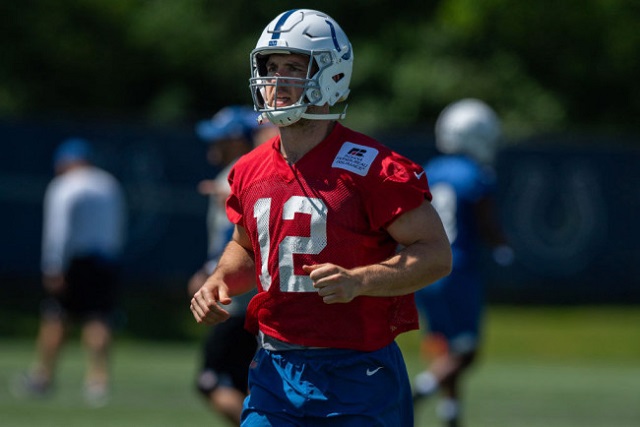 Written by Jason Ostresh
02 August 2018
In a high-stakes fantasy environment, the rules and strategies that govern player selection are nearly identical and could not be more different than your "regular" fantasy leagues. By now, you know you should always focus on running backs and wide receivers early in your draft and wait until the later rounds to find your impact quarterback. What does change in a high-stakes league is how you approach player risk vs. upside.
In high-stakes fantasy, you must embrace risk. Potential upside far outweighs a player's guaranteed floor, regardless of risk. This approach applies to every player you target either during the draft or in-season. Playing it safe means you are playing for the middle of the pack. In a high-stakes environment, 12th place loses. Sixth place loses. Third place loses. You must be one of the best two teams at the end of the season, no exceptions.
With all of this in mind, you must focus on player upside as it relates to player cost. Over the next month, a player's value will change from week to week, day to day and hour to hour. Good news from training camp will lead to a spike in ADP. Injury whispers will lead to the immediate drop in a player's stock. That's when it's time to strike. When everyone jumps off the boat, it is your chance to jump on. Bad news often creates the best buying opportunities. Play it smart, but play for the win every time.
This brings us to how you should approach drafting Andrew Luck. As already established, you should be looking to draft a quarterback once you're past the first 60 picks, if not later. Keep in mind that the difference in scoring between the No. 1 fantasy QB and the No. 12 fantasy QB last season was only five points per game in standard leagues. There should never be a reason to spend a premium pick on a quarterback. You should never target favorites and make the "homer" pick. Player names do not matter as much as the points they provide.  
By the sixth round, Aaron Rodgers, Tom Brady, Russell Wilson, Cam Newton, Deshaun Watson and Drew Brees are likely off the board. Who does that leave with the upside to be the top scorer at the position? Without a doubt, it's Luck.
While it is well established that the Colts' ownership and coaching staff cannot be trusted, no one can doubt that the team has played it safe with Luck throughout his rehab process. Concerned about re-injury? If you have such fears around drafting Luck, you should have the same fear of drafting Rodgers, who is returning from a broken clavicle. Rodgers currently has an ADP of 27 on FantasyPros.com while Luck sits at 88.
Let's take a look at Luck's resume. In standard scoring, Luck has finished as a top-four fantasy quarterback in three of his four healthy seasons. In 2016 he played in 15 games, averaging 283 passing yards and 2.1 touchdowns per game. He added 341 yards and a couple of touchdowns on the ground. This pales in comparison to his 2014 season when he played in all 16 games, averaged 297 passing yards, totaled 273 rushing yards and tallied 43 TDs -- 40 passing, three rushing.
When considering any player, you must measure his upside against another player's at approximately the same draft position and value. Kirk Cousins has upside and his best supporting cast ever, but he has always been more of a game manager and will be joining a new team with a new coach. The Vikings also have a stellar defense and could potentially focus on draining the clock late in games.
Jimmy Garoppolo took the league by storm last year. He possesses great athleticism and has one of football's most creative offensive minds, Kyle Shanahan, as his head coach. That said, Garoppolo is still a year or two away from having the pieces in place around him to be a fantasy beast. The motley crew of Pierre Garcon, Marquise Goodwin and George Kittle can only do so much. Garoppolo is currently being overdrafted and should barely be in the fantasy-starter conversation. Matthew Stafford is a solid choice but simply does not have the upside that Luck offers. Stafford provides a safe floor. He isn't very risky. In other words, he's a sixth-place quarterback.
The Colts have said Luck will play in the preseason, but the truth is you are unlikely to see him do much of anything. He hasn't played football since New Year's Day 2017, so you should expect some rust, and you must assume he will get off to a slow start. If you do opt to draft Luck, you will also have to draft a solid backup to hedge you bet. Remember: Upside rules over risk, leading me to suggest someone like Patrick Mahomes as an ideal backup quarterback. He has a similar athletic profile to Luck and a great cast around him but hasn't had the opportunity to prove what he can do yet. He will provide a fantastic return on investment in 2018.
The Colts' defense is going to give up plenty of points, meaning the Colts will most assuredly be passing early and often against nearly every opponent. They have also upgraded their offensive line, meaning Luck should be afforded a bit better protection than in previous years.
The most important thing to consider, however, is the fact that you will be drafting a potential fantasy MVP at a substantial discount. When comparing him to 2017's NFL leaders, Luck's numbers from 2014 would have placed him at No. 1 in passing touchdowns and yards per game along with top-five rushing numbers among all QBs. Not bad for an eighth-round pick.


Never miss ASL's latest fantasy sports news. Send us an email at This email address is being protected from spambots. You need JavaScript enabled to view it. and list the sports you are interested in (NFL, NBA, MLB, NHL, EPL) to start receiving ASL's newsletter.