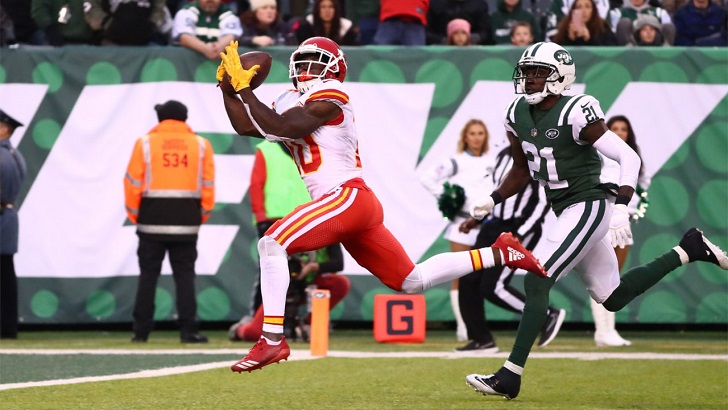 Written by Etan Mozia
31 July 2018
***Disclaimer***
Before publishing this piece, members of the ASL staff had some concerns about the potential for backlash toward such a contrarian view. These views are my own and are not representative of the views of the site. RTs, posts, and likes are not endorsements.
The conversation with ASL's head editor went a bit like this:
"This player is too divisive," he said.
"They'll flood our DMs with hate!" he exclaimed.
"The FF analytics Twitter community will shame us a la Cersei Lannister in Game of Thrones!" he screamed.
"They'll call us the fantasy sports website version of Jeff Fisher!" he yelled at the top of his lungs.
"I know," I replied in an unflappable manner, "but if on a Hill must I die, so be it!"
Just kidding, they're totally cool with it.
Tyreek Hill has been a divisive player this offseason. With seemingly the entire fantasy community convinced that Hill's career year in 2017 isn't repeatable, how should he be valued? Most are declaring his current ADP of 28 (WR10) asinine because his efficiency metrics cannot possibly be maintained. More point to the Sammy Watkins signing as evidence for why Hill will see less volume. Still others cite head coach Andy Reid's playcalling and KC's history as the primary reasons why Hill will struggle.
But haven't we been here before? How about two seasons ago, when Hill was an unheralded fifth-round tweener draft pick with no true position? Or in 2017 when the masses swore Hill was a one-trick pony who would fail in a No. 1 wide receiver role? What happened then? All Tyreek has done since is defy expectations. A wise man once said, "Fool me once, shame on you. Fool me twice, shame on me." An unwise president then continued, "…fool me can't get fooled again." Maybe he was on to something.
Here are some arguments that people have used to denigrate Hill and my arguments against them.

To win your league, start by winning your draft. Draft Analyzer can make you a champion! 


Sammy Watkins was signed to be Kansas City's No. 1 WR 
I don't think Watkins is a slouch by any means.
Boasting upper-echelon-level size and speed metrics (6-foot-1, 211 pounds, 4.43 40-yard dash), Watkins has displayed flashes of elite potential in his four seasons in the league. He has also transformed his game from one focused solely on athleticism to one built on technique. His refined route running has made him more effective at running the entire route tree than what was originally projected when he made the transition to the NFL. The only real question marks surrounding Watkins to date are his injury concerns; 2017 was the first year in which he played 16 games. But Watkins had a down year with the Los Angeles Rams, posting a 39-593-8 line.
I just believe Hill is a better player.
'Reek is a freak though. Watkins' 4.43 speed is well beaten by Hill's 4.34 wheels. Tyreek's SPARQ score also dwarfs Sammy's (122.5, 90th percentile for Hill; 109.3, 63rd percentile for Watkins). Worse still, in 2017, Tyreek had more targets (105-70), receptions (75-39), air yards (1,227-1,009), and yards after catch (451-185) than Watkins. And he did it in his first full season playing receiver full time. Widening the sample shows us that Sammy's career marks don't sniff Hill's (Watkins: 48 receptions, 763 yards and 6.25 touchdowns per year; Hill: 67.5 receptions, 886 yards and 6.5 touchdowns per year). Like Watkins, Hill has also had to do most of his damage against No. 1 cornerbacks during his short time in the NFL. To me, Tyreek is in a different tier than Sammy.
But Watkins Was Paid Like a No. 1 WR
The NFL, like many other organizations we may be more personally familiar with, is by no means a meritocracy. Look no further than the Steelers' treatment of Le'Veon Bell to put this into perspective. NFL teams are in the business of winning games and oftentimes that requires acquiring the best talent available by whatever means necessary. That said, understanding the context surrounding the signing can help explain it.
The Chiefs saw enough out of their young quarterback, Patrick Mahomes, to trade QB Alex Smith to the Washington Redskins. This move alone saved them approximately $14 million against the cap.
Already down a healthy No. 2 wideout in Chris Conley and armed with those newly freed funds, general manager Brett Veach had a tough decision to make regarding his receiving corps. He could choose to frontload a Watkins contract or spend $8M per year (half as much) on the less physically talented Albert Wilson. He chose the former. When a reported bidding war with the Dallas Cowboys began to heat up, Veach pulled the trigger and made a three-year, $48 million splash in March. The rest is history.
Time will tell if the Chiefs could have been better served investing the difference in funds into their defense, but it is impossible to argue that NFL front offices are infallible in their decision-making. That noted, let's continue....
Watkins' contract does have an interesting twist though. Like most NFL contracts (Exception: I see you, Kirk Cousins, you sexy, market-resetting, QB beast you) Watkins' pact with KC is a non-guaranteed, Monopoly money type deal. The three-year, $48M deal is really of the two-year, $30M variety. With a dead cap hit of $30M in the 2018-19 season and $22.2M in the following year, Watkins will surely stay put through the 2019 season. In 2020, however, Sammy's cap hit balloons up to $21M (from $7.8M in 2018) while his dead cap hit nosedives to $7M. When that happens, he'll likely be cut or be forced to agree to a restructuring. Guess who will need a brand-new deal then? That's right! Tyreek Hill!
This series of events illustrates how the WR1 role in this offense hasn't been handed to the Clemson product simply by agreeing to terms with him. Watkins' signing just gives the Chiefs time to decide who earns the gig long term.
Tyreek Hill's Volume is Unsustainable 
***Disclaimer No. 2***
I do not claim to be at all good at creating working fantasy football statistical models. This section is subject to be wrong. Bear with me though as I don't feel this is too farfetched. ...
I'm not going to lie to you. Some really wonky stuff does have to happen for Hill to keep up his WR1 status. But much like Alvin Kamara, Tyreek is coming off a season in which already proved he could lay waste to current statistical models. In the same manner as Deshaun Watson, he can't quite be counted out, can he? The volume argument isn't so cut and dry. In every prior instance that a receiver came close to 'Reek's 2017 efficiency, they received a significantly higher number of targets in the following year. Hill finished last season as fantasy's WR9 and with a stat line of 105 targets, 75 receptions, 1,185 yards, and seven TDs on insane efficiency. Say we drop his numbers by 10 percent because of the perceived dropoff from Smith to Mahomes. In that case, Hill still finishes as WR16 with a 68-1,067-6 line on 95 targets. Maybe Reid accounts for the roster changes in KC though. Maybe he even throws Hill a red zone target or two.
Kansas City Could Be Forced to Pass More
According to my loose, probably optimistic but entirely feasible prognostication of the Chiefs' 2018 outlook, the Chiefs have 83 vacated targets following the departures of Wilson, Ross Travis, Orson Charles, C.J. Spiller. Let's propose Sammy gets 90 percent of that -- reasonable considering the resources invested in him -- or approximately 75 targets, and the RBs take the rest. We'll project that, thanks to the Chiefs' awful defense (30th in DVOA last season), a new gunslinger QB and the money they've just invested in their receiver room, they bump up their pass attempts from 33.9 per game (tied for 19th in the league) to 37.4 per game, which would have ranked seventh last year. Assuming Hill, Watkins and Travis Kelce split that increase with the team that would leave each with approximately 10-12 extra targets on the year.
In this scenario, all Chiefs receivers' usage would tick upward slightly and we'd be left with a target distribution between the Big 3 of about 132 targets for Kelce, 114 targets for Hill and 85 targets for Watkins. As long as Hill remains entrenched as the No. 2 receiving option in Kansas City behind Kelce as I expect, he should have no problem matching or topping his 105 targets from 2017.
No Historical Precedent
Others claim that Hill is just your typical burner in the same mold as a DeSean Jackson or Mike Wallace. This couldn't be further than the truth. Per PlayerProfiler.com, Tyreek's closest pro comparison is actually Steve Smith, a receiver known more for his gritty play than his deep speed. What separates Hill from the typical nine-route receiver is his ability to win at the catch point much like his acclaimed comparison. Since Tyreek was drafted in 2016, he has maintained a catch percentage of more than 70, which ranks inside the top 10 among WRs for both seasons. Hill's 64.3 contested catch rate last season (ninth amongst WRs) further proves how adept he is at making tough grabs. As a general point of comparison, Jackson and Wallace have reached the 65 catch rate mark only once between them. Even the more contemporary prototypical deep threat, Brandin Cooks, has recorded a catch rate more than 70 only once. Hill is a one-of-a-kind talent.
Rest assured in redraft leagues with Hill and expect him to deliver low-end WR1, high-end WR2 value. In dynasty, treat Hill as a second-tier receiver in the same manner you would a Stefon Diggs or Amari Cooper. He's that talented. Reap the rewards for keeping the faith.
Agree? Think I'm nuts? Let me know: @Goal2Goalpost

Data referenced from these resources: Airyards, Spotrac, Pro-Football-Reference, Footballguys, TeamRankings, FantasyPros, Football Outsiders, Player Profiler 
Never miss ASL's latest fantasy sports news. Send us an email at This email address is being protected from spambots. You need JavaScript enabled to view it. and list the sports you are interested in (NFL, NBA, MLB, NHL, EPL) to start receiving ASL's newsletter.