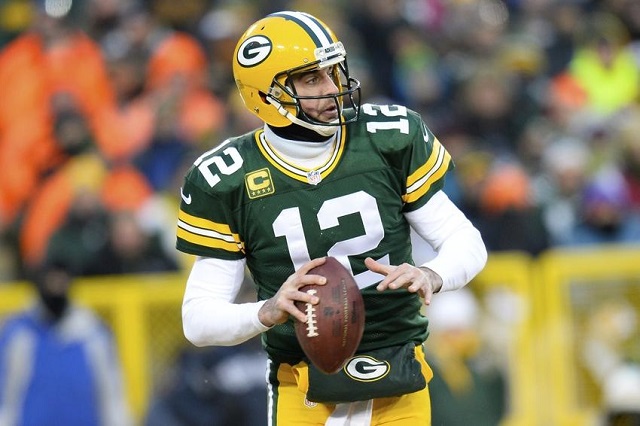 Written by Brian Murphy
28 July 2018
Before I get started, let me make one thing clear: Every "Do Not Draft!" article is a lie. Even the title of this article is a lie. If every fantasy football writer was being true, this would be a "Do Not Draft Unless the Player Falls to a Spot that Makes the Thought of Drafting Him Much More Palatable!" list. But we try to be a little more concise. If you put (spoiler alert!) Aaron Rodgers on your "Do Not Draft" list, you're telling me that you would still ignore him if he is somehow still on the board in the sixth or seventh round of a 12-team draft? Unless Rodgers kicked your dog or insulted your mother, of course not. 
So, understand what I'm trying to say with this article. Understand what every fantasy writer is trying to say with this type of article. We don't stay away from these players as if they are the personification of Chernobyl; we're just not going to buy them at anywhere close to their current draft price. Now, without any further ado ...
QB Aaron Rodgers, Green Bay Packers
Hey, look who it is! Boy, didn't see that coming. There's no doubting that Rodgers is great when he's not injured. He has been fantasy's No. 1 QB twice in the past five seasons. He's also finished outside the top 20 twice in the past five seasons due to, of course, injuries. That uncertainty isn't worth a second- or third-round pick, especially when you consider this seemingly always-deep position. For example, Philip Rivers was the No. 8 quarterback in standard leagues last season with 270 points. Over the past three seasons, 20 -- twenty! -- different QBs have reached that 270 mark. Play it safe at QB where you can get a completely fine QB such as Rivers or Matthew Stafford 5-7 rounds after Rodgers is long gone. Spend that first handful of rounds loading up on your backs and wideouts.


To win your league, start by winning your draft. Draft Analyzer can make you a champion!


WR A.J. Green, Cincinnati Bengals
I've spent the past two seasons on this ride and I'd like to get off, please. It's not Green's fault that Andy Dalton is miscast as a starting quarterback in the NFL or that the Bengals have been largely unimaginative in their ways to get the ball to Green. But the fact is that A.J., although he was fantasy's No. 10 wide receiver in standard formats last season, is not worth his draft price. That currently has him at WR No. 8, as a second-round pick. His average-yards-per-catch rate has fallen in each of the past two years, and his catch percentage bottomed out at a career-low 52.4 in 2017. It was encouraging to see him average 10 targets through the final five games, but he scored just twice (both in the same game) and didn't top 85 yards. Again, that's not all his fault, but it has to be taken into account. Green is a victim of his surroundings and as he enters his age-30 campaign, we should probably stop looking at him like a safe WR1.
RB Rashaad Penny, Seattle Seahawks
I guess it's settled that Penny is going to lead the Seahawks' backfield and get at least 250 touches. I don't know when that was decided, but it must be so because Penny is now tucked in as a fourth-round pick in early drafts. I'm more understanding of why that price point is attached to the RBs around him: Derrius Guice is far and away the most talented all-around back in Washington; Alex Collins proved he was the leader in Baltimore last year; Jay Ajayi was an RB1-level player just two years ago and is the No. 1 back in a powerful offense with an outstanding O-line. But Penny is a rookie on a team with a number of viable backs already rostered and a bunch of question marks along its front line. I think Penny finds himself in a three-man committee, at best, in Seattle. That includes Chris Carson and either C.J. Prosise or J.D. McKissic, whoever wins the battle to be the Seahawks' receiving specialist out of the backfield.
RB Jerick McKinnon, San Francisco 49ers
Here is another player where I think the 2018 forecasting has become way too optimistic. Everyone wants to make McKinnon the next Devonta Freeman (just read his most recent Rotoworld blurb) because Kyle Shanahan is the 49ers' head coach. However, those two players are very different despite their height and weight similarities. Freeman has these huge legs that allow him to churn out yards between the hash marks with enough speed to get around the corner and go. McKinnon has the speed and quickness, but not much he's displayed thus far says he can be a quality between-the-tackles runner. He's well-suited as a third-down back who can take on 15-18 touches per week. But he's currently being drafted as a high-end RB2 with an ADP late in the second round of 12-team leagues. I think San Fran and fantasy owners may be assigning McKinnon a role that doesn't play to his strengths. I'd rather have the stability of Jordan Howard or the high upside of Joe Mixon instead of chasing after McKinnon earlier in drafts. Plus, I expect Jerick's draft stock to actually move up as the Niners, with Jimmy Garoppolo, are probably going to be the most buzzworthy team during training camp.
Any Kicker or Defense Before the Last Two Rounds
If your league still starts a kicker, you are just asking for a weekly headache. No position is as volatile and random. Not even close. I've made a point of it to play in leagues that exclude kickers just because I don't want to waste my time with a position where so much depends on forces out of that player's control. Before you go out and take the Patriots' Stephen Gostkowski in the 12th round (seriously, that's where his ADP is right now), understand that the difference between him and the No. 11 fantasy kicker last season, the Titans' Ryan Succop, was 24 points. That's fewer than two points per week over the course of a season. 
Secondly, here is a list of the top five fantasy defenses over the past four years: 
2014: Eagles, Texans, Bills, Packers, Seahawks
2015: Broncos, Chiefs, Panthers, Cardinals, Texans
2016: Chiefs, Vikings, Broncos, Cardinals, Giants
2017: Jaguars, Ravens, Rams, Eagles, Chargers
Through the past four years, only five teams (in bold) have had multiple top-five finishes, none more than twice, and no one among the 2016 group repeated in 2017. Among those multi-time qualifiers, I don't think anyone is really high on either the Cardinals' or the Chiefs' defense this year. There is always turnover at the top of the fantasy defense leaderboard. Injuries, roster changes, a new defensive scheme, offensive adjustments, etc. create that truth*. You're better off playing the matchups and using a defense-by-committee strategy than spending a middle-rounds pick on the Jags, hoping for an encore performance. 
*This is also why every article you read this preseason about an offense's strength of schedule is pointless, too. We generally have no clue which defenses will be good or bad this season -- or in what area they will be good or bad -- and whatever we do think will be vastly different from reality by about Week 5 because of those factors mentioned above.


Never miss ASL's latest fantasy sports news. Send us an email at This email address is being protected from spambots. You need JavaScript enabled to view it. and list the sports you are interested in (NFL, NBA, MLB, NHL, EPL) to start receiving ASL's newsletter.