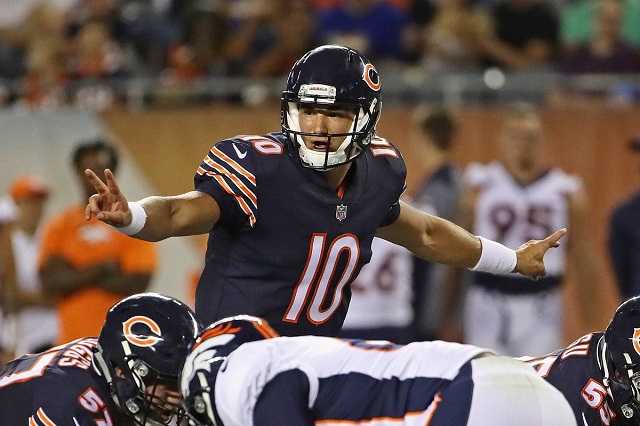 Written by Josh Rabbitt
28 July 2018
Can you believe we are one week away from the Hall of Fame Game? Unlike most people, I love preseason football because I think there are numerous hidden talents out there waiting for coaches to notice them. If you pay attention, you can even learn a lot about the league's biggest stars. 
The Hall of Fame Game isn't usually the most exciting affair because first-string players often don't play more than one series. However, I have my eye on a few situations in next week's game between Chicago and Baltimore, so I'll start my 2018 team previews by highlighting three players from each squad. And I'll begin with the Bears, my personal offseason darling.
QB Mitchell Trubisky
Trubisky is an interesting case. Normally, I wouldn't expect a No. 2 overall pick and intended franchise quarterback to play a snap in this game. Yet I am hoping against hope we get to see Trubisky play at least a series with the starters here because I want to see him in the Bears' new offense. I have sky-high hopes for him this year. Like, QB1 sky-high hopes. I don't believe the recent talk of his inconsistent play during the practices; everything I have seen from Trubisky has been a portent that a breakout year is coming. 
WR Kevin White
Will the Bears ever get anything from White? He was supposed to come into the league wearing a gold jacket but has played just five games since being drafted in 2015. Given the Bears' incredibly stupid decision to let Cameron Meredith walk, they are going to need someone to step up across from Allen Robinson while Taylor Gabriel mans the slot. I have no belief in rookie Anthony Miller, who is more of a slot guy anyway. So, if not White, then who will be that second option on the outside?
TE Adam Shaheen 
Remember him? I know Trey Burton is here as the more exciting move tight end, but if this offense is as good as I think it can be, there just might be a role for Shaheen as a TE2 in fantasy. I could see this dude catching eight touchdowns if things break right. He should get plenty of snaps in this preseason opener.


To win your league, start by winning your draft. Draft Analyzer can make you a champion!


There are almost too many exciting players to choose from with the Bears. The Ravens, on the other hand, are the exact opposite of exciting. Is there anyone worth watching on this team? Well, yeah. And fortunately for us, many of those players aren't starters, so we should get a good look at them in a game like this. Leading off is, of course …
QB Lamar Jackson
Jackson is an interesting case study. Is he actually good? The most recent reports have him lighting up training camp. However, my own eyes tell me he is missing really simple NFL throws. What does all that add up to? I think he's a below-average NFL QB but a great fantasy QB, ala Michael Vick. Even if he struggles throwing the ball, his rushing yards and TDs may keep him up with the league leaders. If I am wrong and Jackson can actually get it done as a passer, we have a top-five quarterback on our hands from the moment he starts.
RB Kenneth Dixon
Dixon has accomplished next to nothing during his NFL career. However, I still think he is the best back on this roster. He has a soft path to carries with only the terrible tandem of Alex Collins and Javorius Allen ahead of him. I don't know if the coaches see what I see, but if this offense is going to be good, it won't be with Collins or Allen leading the charge.
WR Breshad Perriman
Here is Kevin White's less-talented counterpart. Terribly injury-prone, it looks like Perriman's career is already on its last legs at 24. But much like the Bears' WR corps, it's not like there are a ton of intimidating pass-catching prospects on Baltimore's roster. Willie Snead's career took a nosedive last year, and John Brown is just as much of a question mark as Perriman. The only solid wideout on the roster is the seemingly ancient Michael Crabtree. Talent alone should give Perriman a role, but he needs to prove it in some games.
Catch up with me next week as I will preview the 16 games in the first full week of the preseason by covering one player per team.


Never miss ASL's latest fantasy sports news. Send us an email at This email address is being protected from spambots. You need JavaScript enabled to view it. and list the sports you are interested in (NFL, NBA, MLB, NHL, EPL) to start receiving ASL's newsletter.