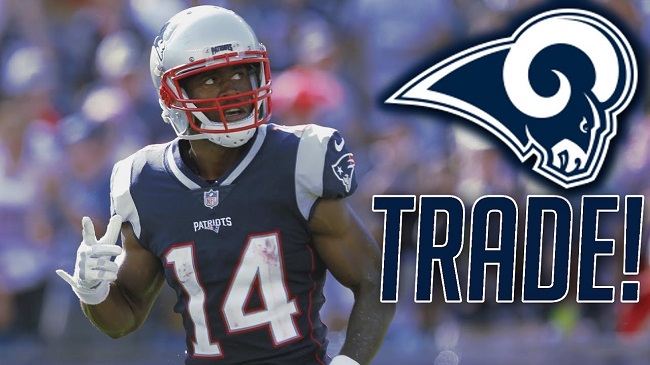 Written by Etan Mozia
21 July 2018
ASL's Etan Mozia discusses the tricks of trading successfully in your dynasty fantasy football leagues.
Trading in fantasy football is hard. Dynasty leagues increase the difficulty even further as your decisions tend to have lasting impacts that can linger for many seasons after the deal is consummated. Compare it to swiping left after a barren month, ignoring your Twitter feed, and skipping your Monday morning Starbucks latte all on the same day. Yeah, I know, its that type of hard. Losing that deal after all that time spent at the negotiating table can be brutal. With that in mind, it is imperative that we delve into the psychology behind making a deal.


Setting a Scene
When you were in grade school and some lucky jerk got the last chocolate milk, you were easily able to swap your Lunchable pizza for that. Why then is it now akin to pulling teeth trying to negotiate a trade with your friend Steve for Derek Carr when you're offering a far superior asset in Brandin Cooks? He has four QB1s in a one-QB league and starts Marquise Goodwin as his WR1. You're obviously helping his squad, arguably taking a hit for the privilege of doing so, but you're stacked at WR and are desperately trying to avoid starting Joe Flacco this year. 
His response to your offer:
"I can just draft D.J. Moore to fill that spot this year. I think I'll pass. I like my team."
You put your head down in disbelief. Why can't he see reason?
The answer is threefold. Emotional attachment, confirmation bias, and rookie fever all work together to scuttle any possible roster moves for him. Your offer is excellent, but sometimes even that isn't enough to get the deal done.


To win your league, start by winning your draft. Draft Analyzer can make you a champion!


Consider This:
Let's use Steve as a situational example. Steve drafted Carr at 3.06 in his rookie draft in 2014. Two years later, Carr seemed to be on the verge of blossoming into a world-class QB. The "MVP!" chants only grew louder throughout the season until Week 16 when Carr suddenly gets Trent Cole'd. Steve has experienced Carr's fantastical highs, and now the pain of Carr's broken leg physically hurts Steve in equal measure. He's attached and that bond will be hard to break moving forward.
After emotional attachment comes confirmation bias. Carr had a great season in 2016; his 3,937 yards, 28 touchdowns and six interceptions combined to net him a 96.7 passer rating. That season was the best of Carr's career to date by a significant margin. However, Carr ranked outside the top seven (according to QBR) among quarterbacks with at least 1,000 passing yards that season. The narrative surrounding Carr that year did not match his actual performance and yet, Steve bought into every ounce of it. Why? Well, it was Steve who decided to draft Carr in the first place. He MUST be good. Matthew Berry even said so.
Finally, rookie fever and the accompanying overvaluing of rookie draft picks further distorts reason in trades. By the numbers, draft picks "hit" (defined as a top-12 finish among quarterbacks and tight ends, a top-24 finish among RBs and a top-30 finish among WRs) an appalling 19.2 percent of the time, per The Dynasty Guru. First-rounders "hit" approximately 46 percent of the time, Second-rounders "hit" at just more than 30 percent; third and fourth-rounders, less than 10 percent of the time.
These statistics are revealing. With this knowledge, it is clear that expecting starter-level production from a rookie for even one season is naive as the odds are greatly against you. Expecting that production during a debut season further muddies the waters. Steve's assertion that he can grab a rookie who will equal or exceed Cooks' historical production (1000-plus yards and seven-plus touchdowns per season) is highly unlikely at best.


What Should You Do?
With all of this information considered, it is obvious a different approach is needed when dealing with the Steves of the world. Here are three useful tips.
Trade with owners you have relationships with
With all of the aforementioned factors working against you while in talks with a less-informed owner, it is necessary to develop a rapport before even engaging in serious trade discussions. This can be done by helping that owner move up in a draft, taking a slight loss you can afford in an early deal, or directing an owner new to the dynasty platform to some of the many resources he or she can use to evaluate trades. As a worst-case scenario, this can at least help by making sure this owner doesn't get taken advantage of in trades that throw off the competitive balance of a league. At best, you'll be the first person that owner comes to when they are ready to make that big deal.
Leverage your knowledge to win on the margins
Learn to know the other owners in your league operate. What is the state of their team: contender or pretender? Does a certain owner have an overt fascination with draft picks? Does another crave youth and undervalue their veterans? Did a name come up in previous negotiations that may help with your current deal? What types of players does the league tend to target early in the draft? Can you squeeze an extra draft pick out of this owner? What are the owner's historical draft trends.
The more information you have on your owners, the state of their teams and the condition of your own, the easier it is to evaluate possibilities in the trade market and on the waiver wire. If you can predict what drives certain owners, you'll have a huge advantage in your dealings with them.
Be patient
The single most valuable piece of information you can take away from any dynasty fantasy football advice column is the virtue of patience. Understand when items or players are at their peak value. Acquire rookie picks early in the season, ideally as soon as trades open up at the start of the season or during the actual NFL Draft. Sell them as late as possible (during rookie drafts is usually most effective). At these times, owners tend to devalue their future draft picks and overvalue incoming rookies. As an owner, you are most likely to get the greatest return on trades during these peak times.
Also shop players before agreeing to a deal. Putting a guy on the trade block may generate multiple offers. Even if no offers are received, the owner you are negotiating with may feel pressured to sweeten his offer to ensure he gets his guy. Let owners bid against themselves in these situations.


Conclusion
As with all advice, it is important to extract what information is most applicable to your current situation. Understand that these are guidelines, not hard and fast rules. Use this information to shape how you view your actions in dynasty leagues.


Follow On Twitter: @Goal2Goalpost
Never miss ASL's latest fantasy sports news. Send us an email at This email address is being protected from spambots. You need JavaScript enabled to view it. and list the sports you are interested in (NFL, NBA, MLB, NHL, EPL) to start receiving ASL's newsletter.