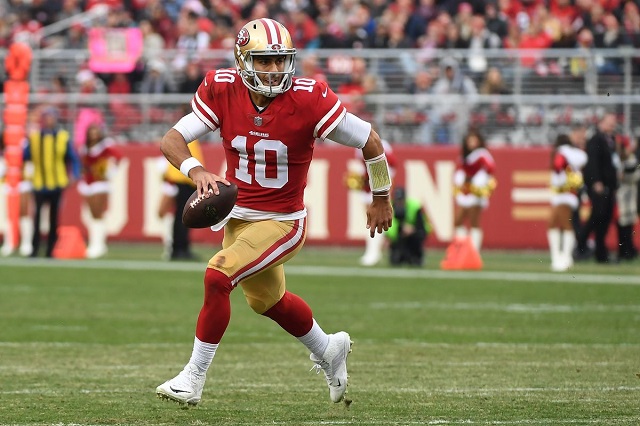 Written by Etan Mozia
30 June 2018
Going with the herd mentality oftentimes supports only those who perpetrated the original thought. While there is obvious merit to the originator's beliefs, the mainstream idea already exists and has been acted upon by the masses. To gain an advantage in these situations, one must make the decision to break off from the crowd and formulate a new plan. Fantasy strategy is no different. Let's examine a couple of contrarian plays for this year's fantasy football season.
Buy Jordan Howard
The Twitterverse's narrative surrounding Howard is that he is an outdated version of an effective NFL runner. His lack of soft hands in the passing game, noted by his below-average 63.4 career catch rate, is stated to be his death knell as negative game script can often take him out of action in favor of the quicker and more sure-handed Tarik Cohen. The Bears' new head coach, Matt Nagy, has fanned the flames, commenting earlier this month that "… we all know what [Cohen] can do with the ball."
The problem with completely discounting Howard is that he fulfills a unique role on his team. Compared to the 5-foot-6, 181-pound Cohen, Howard's 6-foot, 224-pound frame, is a force at the goal line. Historically, he's been no slouch either. In the two years Howard has played in the NFL, he has finished among the top 10 in rushing yardage. Moreover, his 71.9 catch rate in 2017 was vastly better than his 2016 percentage.
The Bears' offense as a whole should also experience some positive regression this year. Under previous head coach, John Fox, the Bears went 3-13 and 5-11 in the past two seasons. With few legitimate threats to throw to last season, rookie QB Mitchell Trubisky failed to show the promise that made him the No. 2 overall pick. This year, the Bears have aimed to strengthen their receiving corps by signing WR Allen Robinson and TE Trey Burton as well as drafting WR Anthony Miller in the second round. Because of these additions, Chicago's passing offense should be much better than last year's edition, which ranked dead last in the league. Even a moderate improvement into the low teens would mean much more goal-line work for Howard. If Chicago's defense continues to play as an upper-third unit, Howard's should be in line for a significant statistical bump.


Temper Expectations for Jimmy Garoppolo
Jimmy G fever has officially reached nonsensical levels. Ranked as highly as the No. 5 QB by some big names in the fantasy football community, Jimmy GQ has yet to show he is worthy of such high praise. Don't get me wrong, I am not advocating for selling the 49ers' signal-caller this season. Rather I feel that he is more of a strong "hold" candidate at this point. Let's delve into why.
Garoppolo was traded to San Fran from the New England Patriots on Oct. 30 for a 2018 second-round draft pick. He made his first start in Week 13 and went 5-0 to close out the season. Immeasurable traits such as poise, command of the huddle and leadership ability were rightfully often used to describe Jimmy's play. That said, it's the numbers that give me some pause.
Garoppolo passed for at least 250 yards in four of his five starts but had trouble finding the end zone. His TD-to-interception ratio of 6:5 is not quite to the level of a top-tier QB yet. The fault wasn't all his; his receiving corps in 2017, featuring wideouts Marquise Goodwin, Trent Taylor, Kendrick Bourne and tight end George Kittle, didn't incite fear in defensive backs leaguewide. The return of Pierre Garcon and the addition of rookie Dante Pettis will help, but it's fair to question whether they will be consistent scoring threats. Garcon has never topped six TDs in any of his 10 pro seasons. Head coach Kyle Shanahan will really have to work to mold this crew into a high-scoring unit, and it is for that reason I believe Jimmy G may not truly "hit" for one more year.


Follow me on Twitter: @Goal2Goalpost

Never miss ASL's latest fantasy sports news. Send us an email at This email address is being protected from spambots. You need JavaScript enabled to view it. and list the sports you are interested in (NFL, NBA, MLB, NHL, EPL) to start receiving ASL's newsletter.