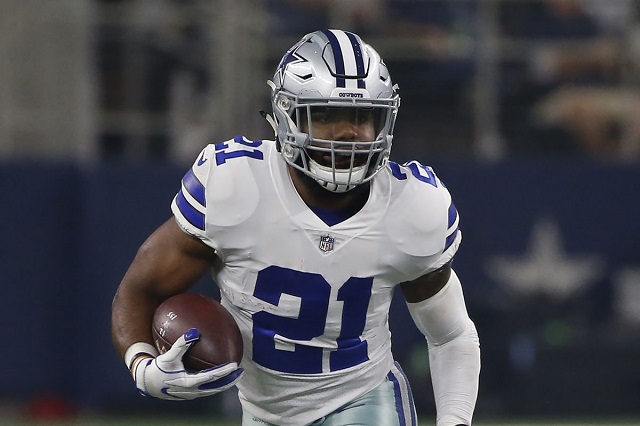 Written by Etan Mozia
07 June 2018
We all know the saying: "One man's trash is another man's treasure." Why? Well, that old adage describes it all. Even at an early age, it is clear to all of us that value can mean vastly different things to different people. Heck, value can even differ with the same person at different times circumstances. Professionals like real estate appraisers and stockbrokers spend the majority of their 9-to-5 working to find accurate standardized values for their clients.
The problem is value is fluid and can be hard to pinpoint without deciding which factors should matter in an evaluation. With this understood, it is easy to see how dynasty league mates can greatly differ in their opinions of their players. These differences in evaluations have massive effects on nearly every decision a dynasty league owner makes. Today, we'll examine a few of the main factors you can account for to make informed decisions regarding dynasty player value.
To be successful in a dynasty league, it is necessary to study your league's specific rules. Are you playing in a two-QB superflex? What about a TE-premium league? Standard or PPR settings? These questions can go a long way in helping you decide how to value positions in your league relative to one another.
For our purposes, we'll examine a 12-team, PPR league with one QB, two RBs, three WRs, one Flex, one K and one D/ST
Here are those positions rated from most valuable to least valuable.


1. WIDE RECEIVERS
Upside
The justification for wide receiver being ranked as the most valuable position group in a dynasty league is most notably tied to its potential for longevity. Generally drafted into the NFL between the ages of 20-23, wide receivers likely peak during their age-26 season and maintain their prime through the last game they play at age 29. Many top receivers still contribute well into their 30s and can reasonably be expected to give owners a minimum of WR2 numbers until their age-32 season. Larry Fitzgerald, a 34-year-old receiver for the Arizona Cardinals, represents the extreme nature of this trend as he continues to produce at a WR1 level well past his expected prime.  Receivers also tend to have a lower injury risk than their RB or TE counterparts; they have an approximate 4.5 percent chance to sustain an injury serious enough to cause them to miss a game. All of this information points to the fact that young, stud wide receivers are worth their weight in gold in dynasty leagues.
Risk 
NFL teams trotted "11" personnel groupings (1-TE, 1-RB, 3-WR setup) an eye-opening 59 percent of the time in 2017 per SharpStats. This allowed even the No. 3 wideout on a team's depth chart to participate in more than half their team's plays on a game-by-game basis. This abundance of opportunity is probably the largest factor that's bringing down WR value. Simply, there are a large number of startable receiver options in any given week. In addition to this trend, receivers tend to take 2-4 years to develop on average, highlighting the need for patience when drafting to fill this position. Be sure to also proceed with caution if a receiver changes teams as the general trend states that they tend to do worse in their new locations.


2. RUNNING BACKS
Upside
Running backs accrue their value mainly through the scarcity of quality options at the position. In 2017, Todd Gurley, the No. 1 PPR RB, finished with 383.3 points per FantasyPros. Le'Veon Bell, the No. 2 RB on that list, finished more than 40 points behind him. Worse still, Ezekiel Elliott finished with 203.2 points (180.1 points behind Gurley), making him the last RB1 in a 12-team league even though he was suspended for six games. What this data shows us is that the dropoff in RB quality is extremely steep as you go down the list. In our given scenario, only 24 running backs can be considered reasonable starting options in a 12-team dynasty league. Not getting one of the top 12 at the very least has an enormous impact on your ability or inability to contend. As a point of comparison, Amari Cooper, the No. 36 WR, was only 151.9 points behind leader Antonio Brown. As fantasy football is, at its core, about points above replacement on a position-by-position basis, it's important to understand and internalize this trend.
Risk
The downside for running backs is their potential for volatility in their expected levels of production throughout their time on a dynasty roster. Injury risk for this position is an alarming 5.2 percent, per ProFootballLogic. This injury risk places RBs firmly atop the list when it comes to their propensity to miss starts. RBs also don't age as well as those at other positions. Running backs generally peak in their age-26 season and, in rare circumstances, can contribute RB1 numbers through their age-29 season. Exceptions such as Frank Gore do exist but don't represent the norm. Running backs are also more easily supplanted than their WR counterparts as there often is only one spot for them on any given play. Two-back personnel groupings do occur but not nearly at the same frequency as two- or three-WR sets. As rookies arrive on the scene, running backs outside of the elite few are constantly fighting to keep their jobs. For this reason, their value can fluctuate greatly from year to year.


3. TIGHT ENDS
Upside 
The tight end position is another one marked by quality scarcity. After Rob Gronkowski, Travis Kelce, Zach Ertz and maybe Evan Engram, all other available starters can best be described as shots in the dark. TEs also don't usually start to provide TE1 production until their age-25 season and taper out after age 32. Though the dropoff isn't as severe as at running back, the oscillating nature of their seasonal production makes most tight ends hard to trust each year.
Risk
Tight ends aren't an extremely risky bet in dynasty leagues as they usually don't come at a high cost. In most circumstances, nothing more than a third-round rookie draft pick will be required to roster a top rookie TE. Going the veteran route is also an option. In all but the deepest leagues, TE streaming is a usable strategy, too. However, like running backs, all but the elite tight ends tend to get phased out of starting positions fairly frequently relative to their peers.

4. QUARTERBACKS 
Upside
The quarterback position scores the most points on a fantasy team and is a necessary component of a winning squad. QB careers can span more than a decade and elite QBs such as Tom Brady and Aaron Rodgers can be expected to contribute well into their late 30s or early 40s. QBs usually don't peak until their age-27 season and can maintain their peak much longer than any other position group. Their scoring is also relatively consistent compared to those who play other positions. As an added bonus, even league-average quarterbacks rarely get injured (2.5 percent of the time) and don't need to worry about losing their jobs at a rate anywhere near any other position group. The quarterback is as stable a dynasty asset as they come.
Risk
If QBs are so stable, why the low ranking, you ask? Well, it's a simple case of supply and demand. In a 12-team, one-QB league, the top 12 quarterbacks are immediately startable. If we assume that every team grabs a backup, there should still be eight starting NFL QBs not rostered in the league. Even more concerning, the difference between QB1 and QB 24 in 2017 was a mere 160.6 points. It is clear that this deep position is the easiest of the four mentioned to stream in fantasy. Outside of the top 24, there are a number of QBs every year who sporadically provide high-end QB1 numbers. Attentive owners will be able to identify these opportunities.


In-depth analysis of kickers and team defenses/special teams aren't necessary because of the bevy of streamable options.

I hope you found this information useful and urge you to factor in these guidelines when making decisions about value in your dynasty leagues
Keep crushing it out there. Talk to you again soon.
Etan Out.


Follow me: @Football2Ways
Never miss ASL's latest fantasy sports news. Send us an email at This email address is being protected from spambots. You need JavaScript enabled to view it. and list the sports you are interested in (NFL, NBA, MLB, NHL, EPL) to start receiving ASL's newsletter.