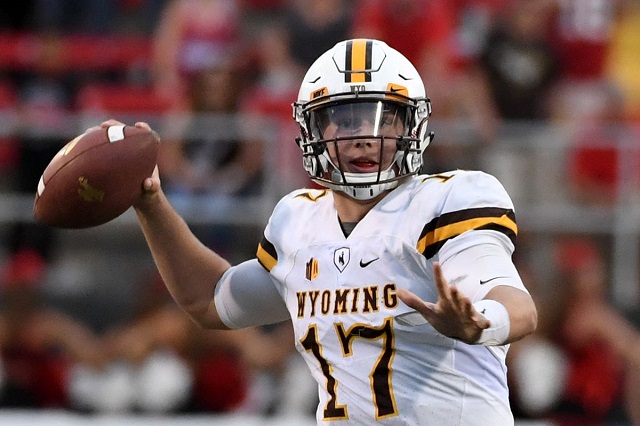 Written by Michael Nease
24 April 2018
On every apple tree, there is a mix of beautifully ripe apples ready to be eaten and a few less attractive ones that can still be put to good use in pies and applesauce. The NFL has its own apple tree with this week's draft from which some lesser-known, late-round players may very well emerge and prove to better than many of their highly touted counterparts when we look back in a couple of years.
Professional sports leagues have utilized an annual player draft in a futile effort to establish and maintain parity. You don't believe parity exists? Me neither. The more well-managed and well-coached teams get better ... and the others? They SUCK, big time. Don't let anyone fool you! See the 1-31 Browns over the last two seasons as Exhibit No. 1 as evidence. The old adage of you can lead a horse to water, but you cannot make it drink certainly applies here.
After reading my articles recently, you have begun to see a method to my madness. I am big on analyzing history and using that to understand the present and foresee the future. I strongly adhere to the principle that events do not always happen at random and much of that which has already happened repeats itself as part of a pattern.
Examples, as they apply to the NFL, would include:
Offensive and defensive schemes evolve, but new strategies still integrate with old ones that were and remain successful.

No matter how the rules change to protect players, we are going to see a plethora of injuries every year that will affect our chances of winning championships.

The NFL Draft will occur every year with more scrutiny and rating of prospects than ever and a large percentage of the hot-shot rookies will be busts. By the way, many undrafted youngsters will become standout players.
Let's take a look at the offensive skill-position players who were drafted in 2017's first round:
1.02: QB Mitchell Trubisky, CHI (Scoring Rank: #11; Total Pts: 169; Avg. PPG: 11)
1.04: RB Leonard Fournette, JAC (Scoring Rank: #5; Total Pts: 230; Avg. PPG: 18)
1.05: WR Corey Davis, TEN (Scoring Rank: #32; Total Pts: 72; Avg. PPG: 7)
1.07: WR Mike Williams, LAC (Scoring Rank: #49; Total Pts: 21; Avg. PPG: 21)
1.08: RB Christian McCaffrey, CAR (Scoring Rank: #4; Total Pts: 231; Avg. PPG: 14)
1.09: WR John Ross, CIN (Scoring Rank: #85; Total Pts: 1; Avg. PPG: 1)
1.10: QB Patrick Mahomes, KC (Scoring Rank: #59; Total Pts: 14; Avg. PPG: 14)
1.12: QB Deshaun Watson, HOU (Scoring Rank: #7; Total Pts: 196; Avg. PPG: 28)
1.19: TE O.J. Howard, TB (Scoring Rank: #22; Total Pts: 105; Avg. PPG: 8)
1.23: TE Evan Engram, NYG (Scoring Rank: #9; Total Pts: 174; Avg. PPG: 12)
1.29: TE David Njoku, CLE (Scoring Rank: #26; Total Pts: 95; Avg. PPG: 6)


Recap: 11 players; three QBs, three WRs, three TEs, two RBs


A quick glance shows us that there are three QBs developing, all with high expectations. Both RBs are off to a solid start. The three WRs scored fewer than 100 fantasy points combined, with Davis garnering 72 of them. At TE, Engram had a really good first season while Howard and Njoku showed considerable progress heading into 2018.
On the surface, the analysis tells us that first-round wideouts were BAD fantasy commodities in 2017. After playing this game since 1985, that does not surprise me at all. First-round WRs have a traditionally high initial failure rate. While they may develop well (remember the third-year WR theory many follow), their start as a group was not too impressive. All three players enter 2018 as low picks in re-draft leagues. In a dynasty league, outside of Davis, neither of the other two have any trade value whatsoever. Personally, I would keep them all for the start of the 2018 season and then decide their fates individually as the weeks pass.
The other eight picks above are progressing about as expected. Now let's go a little deeper and look at the rookies who scored at least 150 fantasy points last year, regardless of where they were drafted:
RB Alvin Kamara, NO (Total Pts: 322; Avg. PPG: 20; Pick 2.03)
RB Kareem Hunt, KC (Total Pts: 297; Avg. PPG: 19; Pick 3.22)
QB DeShone Kizer, CLE (Total Pts: 239; Avg. PPG: 16; Pick 2.20)
RB Christian McCaffrey, CAR (Total Pts: 231; Avg. PPG: 14; Pick 1.08)
RB Leonard Fournette, JAC (Total Pts: 230; Avg. PPG: 18; Pick 1.04)
WR JuJu Smith-Schuster, PIT (Total Pts: 198; Avg. PPG: 14; Pick 2.30)
QB Deshaun Watson, HOU (Total Pts: 196; Avg. PPG: 28; Pick 1.12)
WR Cooper Kupp, LAR (Total Pts: 179; Avg. PPG: 12; Pick 3.05)
PK Harrison Butker, KC (Total Pts: 170; Avg. PPG: 13; Pick 7.15)
QB Mitchell Trubisky, CHI (Total Pts: 169; Avg. PPG: 13; Pick 1.02)
RB Tarik Cohen, CHI (Total Pts: 156; Avg. PPG: 10; Pick 4.12)


Recap: 11 players; five RBs, three QBs, two WRs, one TE


Wow, what a hodgepodge, eh? The first thing that jumps out is that only four of the top 11 rookie scorers came from our 11 first-rounders. There were three second-rounders and two each from the third and fourth rounds. We even find a seventh-round kicker.
Amazingly, Butker had the best rookie season ever from a kicker, jumping ahead of Justin Tucker's 2012 season. There are two bizarre notes about that fact:
Butker was signed in Week 4 to replace the injured 

Cairo Santos

, making the rookie's scoring stats even more impressive.

There were actually five kickers who scored more points, led by the Rams' 

Greg Zuerlein

with 193. This was the strongest group of fantasy kickers that I can remember.
Now that we've seen what happened last year, let's consider the skill-position players who are projected to be first-rounders this week. This is from a CBS Sports mock draft and in no way represents my predictions. I am smart enough to admit that I have no idea who will go where. Mock drafts have been changing faster than diapers on a baby. Quite frankly, as far as accuracy goes, I believe you get the same product out of both -- phooey!
2018 Projected First-Round Offensive Rookies
1.01: QB Josh Allen, Wyoming — CLE
1.03: QB Baker Mayfield, Oklahoma — NYJ
1.04: QB Sam Darnold, USC — BUF
1.05: RB Saquon Barkley, Penn State — DEN
1.06: QB Josh Rosen, UCLA — ARI
1.09: WR Courtland Sutton, SMU — SF
1.16: WR Calvin Ridley, Alabama — BAL
1.17: QB Mason Rudolph, Oklahoma State -- LAC
1.19: WR D.J. Moore, Maryland — DAL
1.27: QB Lamar Jackson, Louisville — NO
1.28: RB Derrius Guice, LSU — PIT


Recap: 11 players; six QBs, three WRs, two RBs


By Sunday, we will finally have answers. Then the real analytical work begins as we assimilate the players into our player pool. At that point, we can start to make some sense of each rookie's fantasy value.
With just about three months until training camps open, my colleagues and I at Advanced Sports logic are intent on helping you become the champion you want to be. Between our top-rated software and our poignant articles, we will be with you for the 2018 season in its entirety. What happens afterward? That, my friends, is easy: We start over and do it all again in 2019!
Player scoring statistics were obtained from the FanEx Experts' League (commonly used PPR scoring) as managed on MyFantasyLeague.com. Rookie draft information for 2017 is from NFL.com and CBS Sports.


Over the years many readers have contacted me personally for fantasy football questions throughout the year. I look forward to helping you in your quest to win championships this year. You can contact me with any questions or comments you may have at This email address is being protected from spambots. You need JavaScript enabled to view it., follow me on Twitter @mikeinsights, or join me as a member of Couch Tomatoes, my fantasy football discussion group on Facebook.
https://www.facebook.com/groups/330237687362965/.
Never miss ASL's latest fantasy sports news. Send us an email at This email address is being protected from spambots. You need JavaScript enabled to view it. and list the sports you are interested in (NFL, NBA, MLB, NHL, EPL) to start receiving ASL's newsletter.
Good luck! Have fun!