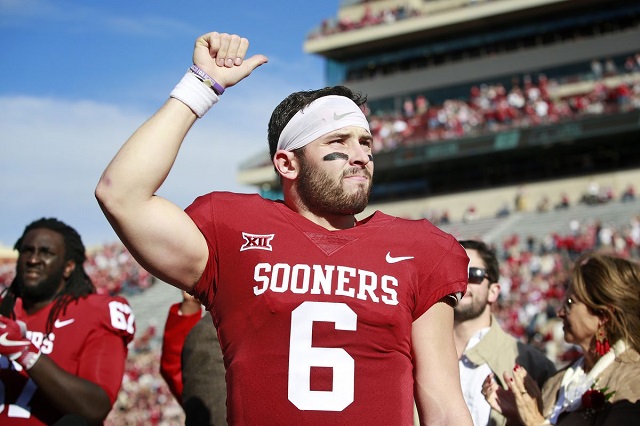 Written by John Adams
19 April 2018
There's been plenty of talk about the "big four" as we close in on this year's NFL Draft. Of Baker Mayfield, Josh Allen, Josh Rosen and Sam Darnold, at least three of those quarterbacks are expected to go within the first five picks. Their probable destinations seem to change with each passing day as NFL teams try to bluff their competitors on whom they may or may not draft. Let's look at three of these four newcomers.
Baker Mayfield, Oklahoma
Mayfield has already announced to the world that he will definitely be one of the first five picks in this year's draft. The brash and confident Mayfield was on the cover of Sports Illustrated earlier this week and is obviously the talk of the town. But some of his on- and off-field antics may spook some teams from going with a quarterback who could become a problem child. The kid has the brains and a love for the game, but the question is whether or not he has the discipline and maturity to take over and lead a struggling team and put them on the right track. In the end, it doesn't matter. Mayfield is right -- someone is going to take him with a top-five pick.
Josh Allen, Wyoming
No one can deny that Allen's arm is a long-range cannon, but his success will depend largely on if he lands with a team that is able to protect him or let him sit for a while and adjust to the speed of the game. The knock on Allen is that he folds under pressure, and that's a real problem for an NFL quarterback. If the Cleveland Browns don't trade down and actually hold onto their No. 1 overall pick, it's because they want to draft Allen. The Browns are not known for their patience, but if they can ease Allen in while Tyrod Taylor starts at quarterback, the team might finally find their quarterback of the future.
Sam Darnold, USC
Darnold is certainly another player who could really use some time on the bench while learning from a veteran quarterback. At 20 years old, he is still a work in progress. The kid is a classic gunslinger, but he may be too reckless to be a starter on Opening Day. He played in two seasons for USC and turned the ball over a whopping 43 times, throwing 22 interceptions and losing 21 fumbles. He might be a top talent, but he needs some serious coaching to help him address his turnover issues.
Josh Rosen, UCLA
The hype and interest surrounding Rosen seem to be on the decline, but that doesn't mean he won't get scooped up in the first round. The Patriots have expressed interest in Rosen, but they would likely have to move up in the draft if they really want him. There's no question that the Bills are in dire need of a quarterback, so that could also be a potential landing spot for him if Buffalo moves up from the 12th pick. The NFL has a long, sorry history of not being able to evaluate which quarterbacks coming out of college will have the most success and I believe that is the case with Rosen. Just because he comes from a more affluent background and has interests outside of football, some knuckleheads see this as a red flag. The reality is that he's probably better prepared for the NFL than any of the other quarterbacks in this year's draft and he'll be sure to remind the teams that passed on him every time they meet on the field.


Never miss ASL's latest fantasy sports news. Send us an email at This email address is being protected from spambots. You need JavaScript enabled to view it. and list the sports you are interested in (NFL, NBA, MLB, NHL, EPL) to start receiving ASL's newsletter.