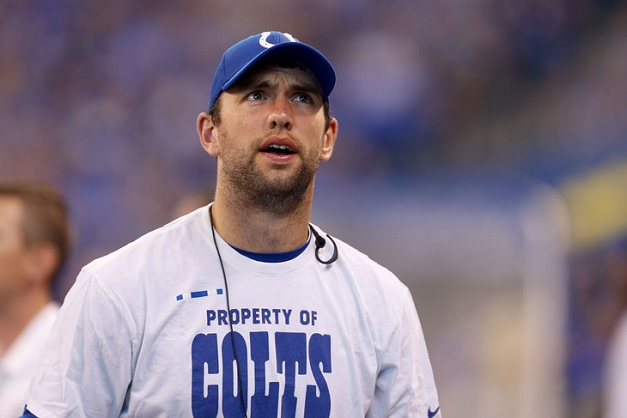 Written by John Adams
10 April 2018
It's time to say what everyone is thinking, but no one wants to say out loud: Indianapolis Colts quarterback Andrew Luck is probably a BUST coming into this season! Despite all the mystery and false reports being circulated into the media by the Colts organization, Luck is no closer to playing in the NFL right now than the team's water boy.
It's been more than 15 months since Luck had shoulder surgery and he still can't grip or throw a football. Luck says there's a timetable for his recovery, but he's keeping it a secret for a good reason. Luck knows as well as the Colts that when he does return to the playing field, he will likely be a shadow of the player who took the NFL by storm in 2012.
"I'm not a perfect-feeling athlete right now," said Luck. The 28-year-old admits that because of his injury, he's been forced to change the way he throws the ball to keep any significant stress off of his throwing shoulder. That's a major red flag.
Several top-notch quarterbacks have returned from shoulder surgeries in the past, but they didn't have to change the way they threw the ball. Luck insists that's he will be able to alter his technique without changing his throwing motion. Good luck with that. When passes start sailing long or falling short, the first thing any proven athlete does is revert to the technique that they know will work.
So instead of trying to find a quarterback for the future, the Colts will cling to the Andrew Luck pipe dream and keep pushing out the company line that he will miss only a game or two. The team said the same thing last season, and Luck never even took the field. Luck says he expects to be ready to play by the time training camp starts this summer. However, until he can actually throw a real football, there's no reason for him to even speculate.


Never miss ASL's latest fantasy sports news. Send us an email at This email address is being protected from spambots. You need JavaScript enabled to view it. and list the sports you are interested in (NFL, NBA, MLB, NHL, EPL) to start receiving ASL's newsletter.