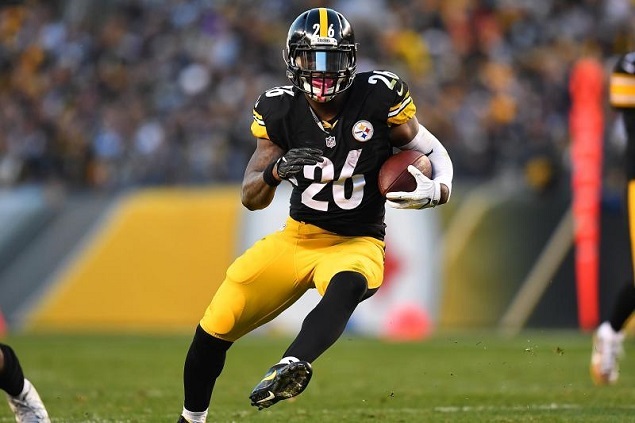 Written by Michael Nease
03 April 2018
For those new to fantasy football, ADP (average draft position) is the tool most people use in order to have a successful draft. Sorry, but I must beg to differ from that standpoint and, today, I will tell you why.
ADP is a rating that is developed like this:
Countless "experts" build player rankings based on their personal viewpoints. Not all experts really have a clue as to what they are doing.

Many of us view our favorite rankings list as though it is the gospel. "Because [so-and-so] says it, it must be true." That is some really bogus reasoning.

We talk about players with considerable bias, both favorably and unfavorably. Face it: Over-the-hill players we like are not dropped during the season in redraft or dynasty leagues when they really should be. We also are very lenient with the prospect of potential, erroneously in many cases. "He'll finally tap into his talent next year," we think, whimsically, year after year.

We have blinders on when it comes to assessing a player's future injury risk, their improvement due to unexpected playing time, etc. Statistical growth through increased experience should be expected, not just a surprise.
There is a train of thought in ranking players that there are many who remain in the elite tiers for their entire careers, once they have attained that lofty status. After all these assorted ranking variables are piled on top of each other, league drafts are held. Then we see ADP numbers created using several, unpredictable factors. Is the reinforcement of bad data by the masses enough to make ADP a reliable, necessary drafting tool? My opinion is that it is the blind leading the blind.
League management platforms give us cheat sheets. We are influenced by the ADP rankings placed on our draft screen when we are clueless as to whom to pick next.
Looking at the top 10 ADP favorites from last year, Le'Veon Bell was the only player who finished among the top 10 in preseason ADP and end-of-year scoring rankings. Only three of the top ADP choices made the top 20 in scoring. Ouch!
RB David Johnson, ARI: 15 fantasy points, scoring rank #467
RB Le'Veon Bell, PIT: 345 fantasy points, scoring rank #5
WR Antonio Brown, PIT: 310 fantasy points, scoring rank #16
WR Julio Jones, ATL: 252 fantasy points, scoring rank #35
WR Odell Beckham Jr., NYG: 74 fantasy points, scoring rank #279
WR Mike Evans, TB: 203 fantasy points, scoring rank #58
RB Devonta Freeman, ATL: 202 fantasy points, scoring rank #60
WR A.J. Green, CIN: 231 fantasy points, scoring rank #43
RB Melvin Gordon, LAC: 288 fantasy points, scoring rank #20
RB LeSean McCoy, BUF: 266 fantasy points, scoring rank #25
OK, here are the top 10 fantasy scorers from last year. We see two things in common here: All players were basically healthy, and eight are QBs. Two out of the top 10 in ADP were injured early and became worthless, fantasy-wise.
QB Russell Wilson, SEA: 405 fantasy points, ADP #54
RB Todd Gurley, LAR: 387 fantasy points, ADP #18
QB Tom Brady, NE: 356 fantasy points, ADP #27
QB Cam Newton, CAR: 351 fantasy points, ADP #70
RB Le'Veon Bell, PIT: 345 fantasy points, ADP #2
QB Alex Smith, KC: 343 fantasy points, ADP #185
QB Matthew Stafford, DET: 343 fantasy points, ADP #100
QB Kirk Cousins, WAS: 342 fantasy points, ADP #77
QB Philip Rivers, LAC: 329 fantasy points, ADP #107
QB Carson Wentz, PHI: 328 fantasy points, ADP #120
Yes, this is certainly slanted and begs the question: Why aren't QBs taken heavily in the first round? That looks logical but is far from true. With such a plethora of high-scoring QBs, it is not necessary to take one so early. One can easily see that in a 12-team league, there are plenty of high-caliber QBs, so fantasy owners can afford to wait at that position.
I am not trying to bash ADP or those who use it. I just want to point out that as far as fantasy ranking tools go, it is not the fantastic league-winner that many think it is. I see many people who disdain drafting on their own instead rely on auto-draft. If you don't want to really play the game, why bother?
Fantasy football is a game where accumulated knowledge is power. Winning championships is accomplished by having power over your opponents. Of course, luck is a factor, as it is in life in general. Nevertheless, the power one has through knowing the game inside and out, coupled with having a solid grasp of the entire player pool is what makes the difference between winning and losing over the long haul. To those with the power go the championships.


Scoring statistics are derived from the FanEx Experts' League (commonly used PPR scoring) as managed on MyFantasyLeague.com. ADP data is taken from MyFantasyleague.com as well, based on all players in all 3,310 MFL 2017 re-drafter drafts, excluding mock drafts.
Over the years many readers have contacted me personally for lineup and other fantasy football questions throughout the season. I look forward to helping you in your quest to win championships this year. You can contact me with any questions or comments you may have at This email address is being protected from spambots. You need JavaScript enabled to view it., follow me on Twitter @mikeinsights, or join me as a member of Couch Tomatoes, my fantasy football discussion group on Facebook.
https://www.facebook.com/groups/330237687362965/.


Never miss ASL's latest fantasy sports news. Send us an email at This email address is being protected from spambots. You need JavaScript enabled to view it. and list the sports you are interested in (NFL, NBA, MLB, NHL, EPL) to start receiving ASL's newsletter.
Good luck! Have fun!