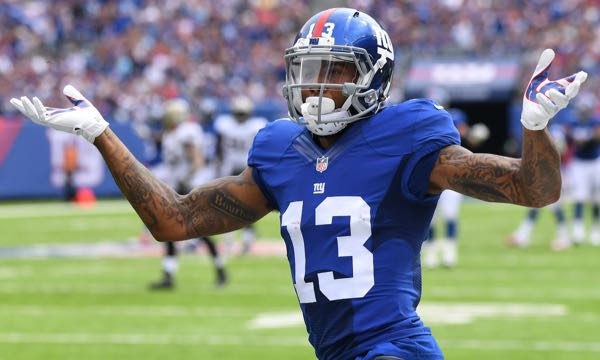 Written by John Adams
30 March 2018
Giants co-owner John Mara is understandably tired of dealing with Odell Beckham Jr.'s boorish behavior, but is he really ready to deal away one of the most talented players in the NFL? That's the question driving several teams around the league to play, "Let's Make a Deal."
From acting like a urinating dog in the end zone to a video showing him near a mirror covered with white powder, Beckham has proven himself to be an immature player who is NOT capable of making good choices. Mara basically put Beckham on notice last week when he said, "I'm tired of answering questions about Odell's behavior. He knows what is expected of him and now it's up to him."
The reality is that Beckham is probably staying right where he is and will likely play for the New York Giants during the upcoming season, but there are at least four teams who are ready to deal.
The top two teams who have the most legitimate shot of pulling off a blockbuster deal for Beckham would be Los Angeles Rams and the San Francisco 49ers. The Rams are making plenty of noise, but the 49ers would probably benefit more than any other team from adding Beckham. Quarterback Jimmy Garoppolo and Beckham would be a match made in heaven for the Niners. San Francisco has money to burn and is an organization that is not afraid to roll the dice on a troubled child like Beckham.
The Rams are in a big-time market where Hollywood Beckham would get all the attention he so desperately craves. Just like the 49ers, the Rams have a plenty of 2019 cap space, and the team is publicly welcoming him with open arms. The question is whether or not they have the long-team capital to pay such a top-flight talent.
The Cleveland Browns have the most draft picks to trade, but I can't imagine that Beckham would ever agree to be traded to a city like Cleveland. Beckham is good friends with Cleveland's newest wideout, Jarvis Landry, but he would likely kick and scream before taking a gig in a small-market city in Ohio.


Never miss ASL's latest fantasy sports news. Send us an email at This email address is being protected from spambots. You need JavaScript enabled to view it. and list the sports you are interested in (NFL, NBA, MLB, NHL, EPL) to start receiving ASL's newsletter.