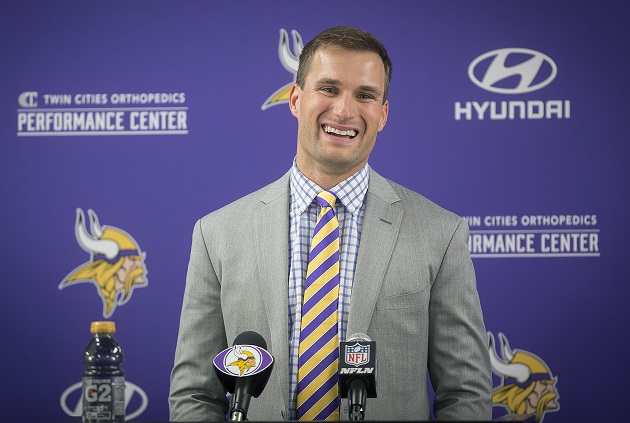 Written by Michael Nease
20 March 2018
As the spring equinox has arrived, we start to see longer periods of sunlight and warmer days. And like a cherry on a sundae, sports fans marvel at the way many major sporting events cross seasons this month. It is a time to celebrate.
With NFL free agency opening with flurry and Major League Baseball's Opening Day on the horizon, we pause for three weeks to be enraptured by March Madness. All this goes on while the NBA and NHL prepare for their playoffs; NASCAR and IndyCar get into gear; the Masters' pageantry captivates, and the MLS kicks off.
What always amazes me is how NFL free agency grabs a plurality of the headlines. It must seem odd to many how a league that won't play a meaningful game for roughly half a year takes up so much space in the arena of sports discourse. It reinforces the fact that the NFL is king in America's sports landscape.
Every year, teams have needs and repeatably return to the trough to gobble up other team's discards. In a lot of ways, it resembles a big-bucks version of a garage sale. Some general managers have developed this quest for improvement into an art form. Others seemingly throw money into the wind as they pick up has-beens or basically injury-plagued veterans with dubious futures.
Free agency success gives us a feeling of elation. We love it when our favorite team strikes it rich, and we feel a gut-wrenching pain when someone leaves our team for greener pastures and, of course, more moolah.
While many teams ignore the tempting player additions, others jump into the free-agent pool with open checkbooks. With the spending cap growing at a rate of around $10 million per year and now at a per-team level of about $177 million, general managers are compelled to spend big to win now.
But a player's salary and his winning percentage aren't tied together.
Does Kirk Cousins really merit being the highest-paid QB in the NFL? Who can believe that Jimmy Garoppolo, with seven starts in his career, was the QB he surpassed? Cousins, who will turn 30 just before the season starts, has solid career numbers with a 65.5 completion percentage, more than 16,000 yards passing and a 99:55 TD:INT ratio. On the other hand, his great stats have yielded a career passer rating of only 93.7, far below the leaders. Last year, he ranked No. 12 in QBR.
Case Keenum led the Vikings to a 13-3 record in spectacular fashion last year. Cousins has a losing record thus far in his career. If you are a Vikings fan, which QB would you want for 2018?
In Kansas City, the Chiefs went for speed and signed WR Sammy Watkins, who is 25 years old. The only problem is they already have their home run wideout in Tyreek Hill, to say nothing of RB Kareem Hunt. It looks like the Chiefs will rely more than ever on TE Travis Kelce as their possession receiver.
In his four-year career, after gaining the "injury prone" label in Buffalo, Watkins has compiled a career stat line of 192 catches, 3,052 yards and 25 touchdowns, Hill is just five total TDs behind Watkins after playing just two seasons. Even though Watkins stayed relatively healthy in 2017, giving him a three-year, $48 million contract was a risk that Kansas City did not need to take.
The Bears have a potentially very good young QB in Mitchell Trubisky. Unfortunately, due to injuries and bad personnel management, Chicago's receiving cupboard finished 2017 bare. The obvious reaction by general manager Ryan Pace was to completely rebuild the team's receiving corps.
I like the pickups of WR Taylor Gabriel and TE Trey Burton. But I am sort of scratching my head over the signing of former Jacksonville Jaguars WR Allen Robinson. His 2015 season stat line -- 80-1,400-14 -- jumps out. He was an up-and-coming fantasy stud. However, his four-year numbers of 202-2,848-22 leave much to be desired.
Robinson has played in only 43 of 64 games. He picked up much of that missed time last season when he suffered an ACL tear in Week 1, an injury that occurred on his only catch of the year. Although Watkins is considered more of an injury risk, he has played in more games than Robinson over the last four seasons.
Again, we are as a nation of sports fans less intrigued by the final playoff drives in the NBA and NHL and the start of the baseball season than we are over seeing the new destinations of flawed NFL players who, after being discarded by their former teams, are snapped up by new teams willing to spend big bucks with few questions asked.
Last year, we watched players such as Jordy Nelson, Jonathan Stewart, LeGarrette Blount and countless other older players begin their fade into oblivion. Now teams are reaching out and almost literally throwing dollars at them to come in, finish their great careers and perhaps display flashes of their former glory.
It's hard to blame the players for taking the money. If teams are stupid enough to throw money away, players would be fools not to take it. Of course, when the next CBA is being negotiated, we will hear cries of being impoverished from both sides.


Over the years many readers have contacted me for lineup and other fantasy football advice throughout the season. I look forward to helping you in your quest to win championships this year. You can contact me with any questions or comments at This email address is being protected from spambots. You need JavaScript enabled to view it., follow me on Twitter @mikeinsights, or join me as a member of Couch Tomatoes, my fantasy football discussion group on Facebook: https://www.facebook.com/groups/330237687362965/
Never miss ASL's latest fantasy sports news. Send us an email at This email address is being protected from spambots. You need JavaScript enabled to view it. and list the sports you are interested in (NFL, NBA, MLB, NHL, EPL) to start receiving ASL's newsletter.